COVID
We asked, you answered: Here's what readers want to keep from pandemic life
"If it weren't for the looming shadow of mortality, the pandemic would be awesome."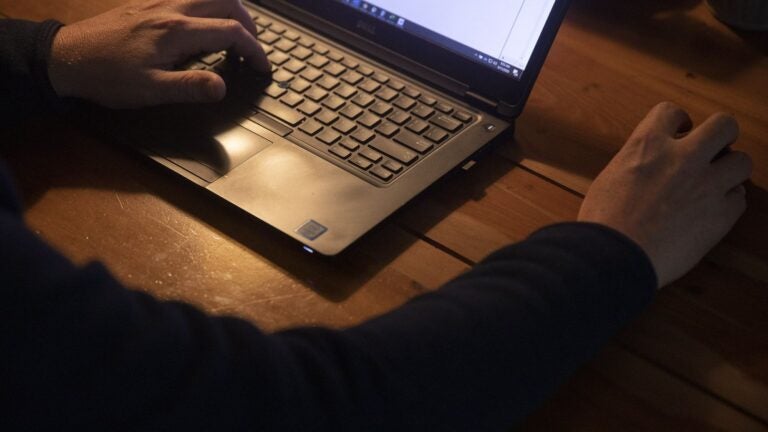 We've heard you loud and clear, Boston.com readers. We asked what facets of pandemic life you'd want to keep once life goes back to some semblance of pre-COVID-19 normalcy, and working from home easily sailed past all other options.
While people did bring up some other things they would like to keep, like reservations at zoos or curbside pickup from stores or restaurants, working from home was the clear favorite among the more than 100 responses we received for our survey.
When describing why they want to work from home, reader responses did vary a bit. One reader cited a 90-minute, cringe-worthy commute on the MBTA Commuter Rail.
"I want to keep working from home as much as possible," Wayne from Tewksbury said. "My office is in the Seaport area of Boston, so it is a 90-minute commute each way to get to/from work, costing $375 per month. Being at home also means I can work later as needed since I am not tied to the commuter rail schedule. One day a week at the office would be good, the rest at home."
Another described how workers have proven they can be efficient outside the office.
"Working from home, even part-time, and bosses trusting their workers to get their tasks done without needing to sit at a desk for 8 hours," the unidentified respondent cited. "This pandemic pretty much proved that many companies CAN work from home, simple emails work better than long in-person meetings, and the traditional 40-hour work week needs to die."
Another had an opposite reason for loving working from home: the empty office.
"Would love it if more people worked from home," they said. "Love being in the office with only a handful of people!"
Outside of the work-from-home crowd, there were a variety of things that readers hope to keep.
Dana from Burlington would actually like personal Zoom calls to remain part of daily life.
"I'd like to keep personal Zoom chats — I now have a great group of folks across the country that we keep in touch weekly, a bunch of folks I never knew well before," they said. "We've become a family!"
There's also the time spent outdoors:
"I'd love to keep outdoor play dates in (almost) any weather," one reader said.
Then, there was the wholesome, more-family-time response:
"The time spent together as a family," Amanda from Plymouth said. "We chose to homeschool and had the ability to work from home which is giving us time that we could never have imagined before, with long commutes and busy school days for our young four boys. We can't imagine returning to seeing each other only for dinner and bedtime."
Here are some of the other notable responses from Boston.com readers:
"I would like to remain working at home for most days of the week. I can wake up later, work a little longer, and get a few household chores done during breaks.
"Social distancing is another habit we should continue. While waiting in line at coffee shops and grocery stores, people have generally become accustomed to paying attention to the 6-foot marks that have been placed on the ground. I rather like not having someone on my heels when waiting in line.
"Wearing masks when sick (even with a common cold) is a courtesy we should all adopt. Many Asian countries do this as a common practice. I will probably wear a mask when traveling on airplanes as well.
"Finally, it's great that stores, restaurants, hotels, etc. have an enhanced sense of cleanliness. There's even talk of deploying germ killing UV lighting systems in buses and subways cars. I hope they will continue sanitizing public spaces to keep customers safe and healthy." – Joe, Melrose
"I don't want to be the sunshine in the pandemic but I am lucky. I'm lucky enough to have a good paying job with a flexible schedule. As a result, I have found a lot of good in this pandemic. Not having to be at a physical work place has improved my life. The 2+ hours of commuting (by T) every day is gone and my sense of self, family and my happiness has replaced that soul-sucking ride. I see my kids and am more involved with them than ever. I have time to go over my children's homework ensuring that they excel. This in turn has improved their attitude toward school, albeit remote. Having an extra 2 hours a day because I am no longer commuting has been life changing."
"Cutting my husband's hair! We save time and money and it's a sweet, personal moment of connection."– Kate, Jamaica Plain
"Not touching strangers. I'm happy to permanently eliminate hand shaking, excessive hugs, and close talking. I'm also happy to continue wearing a mask in public and overusing hand sanitizer! One of the silver linings of this year is that no one has gotten sick with anything! We haven't just avoided COVID, we've avoided almost all common colds and bugs that usually make their way around, especially with toddlers around!" – Shea, Boston
"Most things, really. More home-cooking. Short/non-existent commute. Dog by my side all day. Larger home vegetable garden. No obligatory holiday/weekend parties (I'm an introvert by nature, and while I "guest" and "host," it really saps my spirit). Less city traffic (wishful thinking). If it weren't for the looming shadow of mortality, the pandemic would be awesome." – Mrs. A. Lincoln, Revere
"I want to continue reflecting on the small moments that comprise a well-lived life, rather than constantly looking to the next 'big thing' for my happiness." – Mark, Falmouth 
Get Boston.com's browser alerts:
Enable breaking news notifications straight to your internet browser.