Coronavirus
Live updates: The latest on the coronavirus pandemic in Massachusetts
Follow the latest news on COVID-19 from around the state below.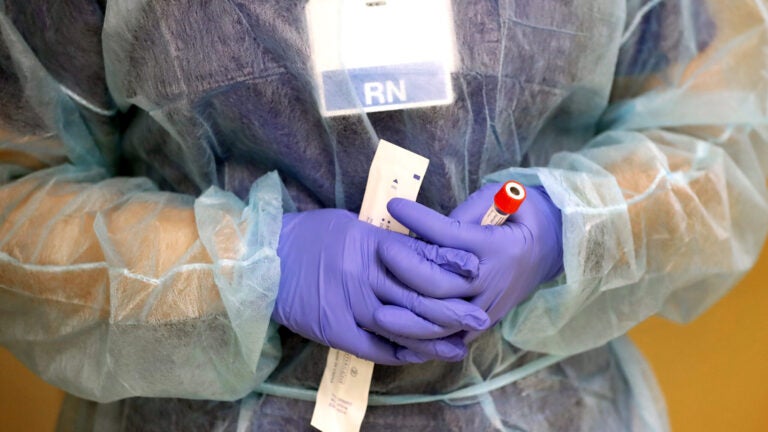 The Broad Institute in Cambridge is aiding efforts to track the emerging COVID-19 variant (Jan. 8)
The Broad Institute of MIT and Harvard is helping state health officials track the variant of COVID-19 that is believed to be more transmissible and look out for its arrival in Massachusetts, Cambridge Day reports. 
More cases of the virus variant, which was initially identified in the United Kingdom, have been reported in the United States in recent weeks, including two in Connecticut. The variant is believed to spread more easily, but so far it does not appear to cause more severe illness. Still, experts say its emergence is concerning, since a more infectious variant means more cases, which will inevitably lead to more hospitalizations and deaths.  
So far, experts believe existing COVID-19 vaccines will be effective against the new variant. 
The Cambridge-based lab is also helping monitor for other variants of the virus, according to the Day.
Melrose teachers' union pushes for remote learning until widespread testing available (Jan. 7)
The Melrose Education Association says that while its teachers want to teach in person, they're concerned about an uptick in COVID-19 cases brought on by the holidays and want schools to remain fully remote until there's widespread testing.
A statement from the union obtained by Patch indicates that educators want there to be  "ongoing, regular testing" before in-person learning is brought back.
Superintendent Julie Kukenberger, in response, said in a statement that while the district is looking at testing initiatives, the district also wants to look at how to bring back students in person, which "must remain an option," she told Patch.
Melrose schools have been fully remote for the first time this week as the district rolled out free optional testing for staff and students, but the union is advocating for "ongoing, regular testing" citywide. 
Kukenberger said she intends to talk about testing at the school committee meeting on Tuesday.
Cambridge schools look to expand number of students attending in-person learning (Jan. 6)
In February, Cambridge school leaders are hoping to bring back more students for in-person learning, according to a decision by the city's school committee late Tuesday night.
WBUR reports that children in grades 2 through 5 would attend school in person more as the district looks to keep schools open during higher rates of COVID-19 cases. A report published in December, which included some Harvard researchers, found that schools can stay open during times of higher rates of virus spread as long as the schools follow protocols.
The discussion drew mixed opinions, including those from parents who said remote learning has been frustrating for their children.
"Sometimes he cries in frustration — and rightfully so," Sandra Santos said, according to WBUR. "Because a 6-year-old is not equipped to interact with his teachers and peers as two-inch squares on a computer."
CEO of Brockton health center says doses of COVID-19 vaccine thrown out after no-show appointments (Jan. 6) 
Several doses of the COVID-19 vaccine had to be thrown away at the Brockton Neighborhood Health Center last month after health care workers failed to show up for their vaccination appointments on Christmas Eve, NBC10 Boston reports. 
The health center's CEO, Sue Joss, told the outlet that she believes less than nine doses were wasted. 
Each vial of the Moderna vaccine contains 10 doses that, once thawed, have to be used in six hours, Joss said. 
"We weren't expecting any no-shows, but we did have a couple, so we did end up, at the end of the day, with a partial vial," Joss said of the no-show appointments on Christmas Eve. 
The health center now has a plan in place for avoiding such situations in the future, according to NBC10 Boston. Patients are being booked in groups of 10, and there is a wait list with individuals ready to come at the last minute for shots in the event of no-shows. 
"For our staff, that vaccine is just like gold," Joss said. "They're protecting it like nothing else. And yet, I think, at the same time, just by the fragility of the vaccine, I think it's probably, it's probably going to happen here and there."
88 percent of residents at a Webster rehab center have tested positive for COVID-19 (Jan. 6)
Eighty-eight percent of the residents at Brookside Rehabilitation and Healthcare in Webster have tested positive for COVID-19, town officials announced Tuesday. About 20 percent of the facility's staff have also contracted the virus. 
"It appears that the virus was brought into the facility by one of the staff nurses," town officials said in a statement. "The first staff member to test positive was in early December. The first notification that a resident tested positive was a couple weeks later on December 22nd."
Three residents have died in connection with the outbreak and six others are hospitalized, WHDH reports. Fifty-one of the 58 residents have contracted the virus. 
"Our residents, they're not … they're not our patients … they're our family," Felicia O'Keefe, director of nursing at the center, told the station. "There are many we consider more like grandparents than patients. So, it's definitely hitting us very hard right now."
The National Guard, as well as the state's mobile rapid response unit, have responded to the facility to assist with handling the outbreak, according to the town. 
"Our condolences go out to the friends and family members of those that lost a loved one from this horrible disease," town officials said. 
Prior to the start of the outbreak in December, the facility had seen no positive cases during the pandemic. 
As COVID surges, Cape Cod sees a record-high number of hospitalizations (Jan. 5)
Amid a surge in coronavirus cases, Cape Cod is experiencing its highest number of hospitalized patients ever recorded, Boston 25 News reports.
"In the last week we have seen a 90 percent increase in our hospitalizations," state Sen. Julian Cyr, of the Cape and Islands District, told the news station. "We have never had more people hospitalized on Cape Cod than we do right now."
Nine deaths were reported in Barnstable County on Sunday, according to the outlet. 
Barnstable Town Manager Mark Ells said he hopes residents will take precautions as they await vaccines to arrive.
"We ask our public to remain diligent, to follow those safety protocols," Ells told Boston 25 News. "Hopefully, this vaccine will arrive and be distributed and certainly be successful in helping us combat this."
The Nantucket Health Department told the news station the island currently has available beds, but is bracing for an uptick in cases. Patients with severe illness could be brought to Boston hospitals by MedFlight if needed, officials said.
In the meantime, Cape Cod officials have requested the state reopen an unused nursing home in Falmouth to provide additional capacity to patients who do not require acute care, according to the outlet.
"Two hundred thirty four Cape Coders have died because of COVID-19 and I really fear that number is only going to continue to climb as we are really in this dark winter," Cyr said.
Ashland High School goes remote as superintendent pleads with families to cooperate with contact tracers (Jan. 5)
Ashland High School reverted to remote learning on Monday and will continue virtual learning through at the least the end of the week, a change the school superintendent, Jim Adams, said in a letter to parents is due to health officials being unable to complete contact tracing for "numerous cases" of COVID-19. 
In a message on Sunday to the school community, Adams reminded families that each household is responsible for allowing in-person learning to continue by following guidelines for preventing the spread of COVID-19 and cooperating with contact tracing efforts. 
"I believe that during the recent break, the majority of people kept their circles tight and practiced great caution in order to reduce transmission of COVID-19," Adams said. "However, I am not naive to the fact that others traveled during this vacation, attended parties with people outside of their household, and/or did not adhere to the strictest of guidelines recommended by our health professionals and government."
More than 100 families reported traveling during the holidays, and students in those households will be quarantining before returning to school, Adams said. 
The superintendent asked that anyone else who didn't adhere to public health guidelines to "stay home for the foreseeable future."
"We want our schools open and do not want to run the risk of having to move to a remote only setting due to the spread of COVID-19," he said. "I believe our schools are safe, especially if those who are attending have followed all protocols. I also get that it has been a challenge to stay in, not gather, etc. I am not judging what folks did or did not do. I am asking that we not put our fellow school community members at any greater risk."
In announcing the decision to go remote on Monday, Adams said the step is necessary to keep staff and students safe until contact tracing is completed and the test results from close contacts of positive cases are returned. 
Five COVID-19 cases were reported among Ashland High School families on Monday alone, he said.
"If your child is exhibiting symptoms or is a close contact of someone who has tested positive, please cooperate with the contact tracing process and have your child tested," Adams said. "Your cooperation is critical to our ability to safely return to a hybrid model. If someone from the school district or board of health calls please answer and provide any relevant information."
NECN reports that in a separate communication on Monday, Adams informed the community that some families have not been cooperating with the board of health and nursing staff for contact tracing. 
"It is upsetting that some in our community will not openly cooperate, thus their selfishness is putting the entire school system at risk," he wrote. 
First responders will begin vaccinations next week under new state plan (Jan.4)
First responders in Massachusetts will begin signing up for their COVID-19 vaccination appointments as soon as Jan. 11. 
Governor Charlie Baker's administration ironed out some of the final details and on Monday announced the new outline for vaccinating the Commonwealth's first responders, who are the next priority group within Phase One of the state's distribution plan.
The state administration said in a statement that after talking with first responder organizations and local departments about the best ways to vaccinate their staff members effectively and safely, officials settled on three vaccination routes. 
The first option allows qualified departments to request vaccines that they can administer on-site and among their own first responder staff. To do so, local departments would have to have the capacity to vaccinate 200 people and would need to follow state guidance.   
Baker's administration said another option allows first responders, who are also the third priority group within Phase One, to schedule an appointment at any designated vaccination site. 
As a third choice, first responders could also head to one of the state's mass vaccination sites, which officials said will be launched in the coming weeks. 
Baker's office said there are over 45,000 first responders across the Commonwealth, and those included in this first phase are police, firefighters, EMTs, all interfacility transport workers, MedFlight staff, college or university campus police, and 911 dispatch employees. 
Marshfield schools move to fully remote learning for 2 weeks after town records 32 new COVID-19 cases (Jan. 4)
Marshfield Public Schools began school remotely on Monday after the town recorded 18 COVID-19 cases between Christmas and New Year's Eve and another 14 between New Year's and Sunday, according to a letter to the community from Superintendent Jeffrey Granatino.
The remote learning period is planned to run through Friday, Jan. 15, with hybrid learning set to begin again the following Monday, Granatino said.
Along with the new COVID-19 cases, Granatino noted that "a number of staff and students, at all levels," were found to be close contacts of those infected.
The district also paused all winter sports, including games and practices.
Marshfield isn't the only district starting off the new year with remote learning. Leominster is also remote for two weeks; Reading is remote for one week. Fitchburg, meanwhile, had planned to begin hybrid learning this week but delayed for a week. Cambridge also opted for another week of remote learning, according to WHDH.
Fenway Park, Gillette Stadium reportedly among mass vaccination sites for first responders (Jan. 4)
Massachusetts officials plan to begin distributing the COVID-19 vaccine to emergency first responders this month — and some of them may receive their first shot in the shadow of the state's most well-known landmarks.
As several news outlets — including NBC10 Boston, WBUR, and the Boston Herald — recently reported, Fenway Park, Gillette Stadium, and the Big E fairgrounds are among the five proposed locations where emergency responders will be able to get the vaccine as soon as Jan. 18.
The state-run sites complement efforts by some local health departments, which will also vaccinate first responders. Gov. Charlie Baker's administration reportedly met with union leaders, chiefs, and private ambulance companies last week to finalize plans, according to WBUR.
First responders, including police, fire, and emergency medical services, are the third-highest priority group during the first phase of the state's vaccine rollout plan, following frontline health care workers and long-term care facility residents and staff. Police officers and firefighters in Quincy even began getting shots through a city partnership as early as Christmas Eve.