COVID
For months he's been sharing online the stories of people who've died from COVID-19. Here's why.
"The stories I'm posting each day are being dramatically outpaced by the increasing death rate."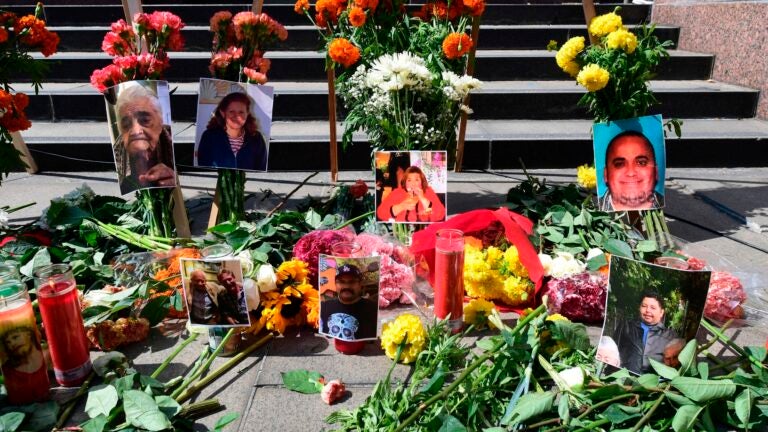 For almost 10 months, each morning has begun the same for Alex Goldstein. 
He starts the day by combing through obituaries and news reports from across the United States for an hour, searching for the names of people who have died from COVID-19. He then researches their stories and writes a memorial post for each individual to share on the Twitter account he created in late March — FacesOfCOVID. 
He returns to the task for another hour each evening after the work for his day job, as the CEO of the Boston communication and consulting firm 90 West, is done.
Goldstein started the account as the American deaths in the pandemic surged in early 2020 — and the task has grown exponentially along with the mounting toll in the months since. 
"I was having trouble processing the early days of the first surge, when there was all these statistics that are being thrown at us about new cases, about deaths," he told Boston.com. "It was terrifying, but it was also numbing. I was looking for a way, just personally, to process what was happening out there. And for me the way to do that best in moments like this is to have a sense of who the real people are who are behind the numbers."
SHABBIR MUSTAFA, 55 of Dallas, Texas died of COVID on Dec. 17.

"I can only hope to one day measure up to the person he was and how he persistently tried to become better…We are continuing to hold down the fort for you, Abbu, and we are sending all our prayers and love to you." pic.twitter.com/QirUPlQkdP

— FacesOfCOVID (@FacesOfCOVID) January 12, 2021
The U.S. has the highest number of deaths from the pandemic by far, with 380,825 fatalities as of Wednesday, according to the Johns Hopkins COVID-19 Dashboard. The seven-day average of daily deaths reported is more than 3,000, according to the COVID-19 Tracking Project, with the U.S. regularly shattering records for the number of new cases and deaths in recent weeks. 
In sharing the stories online, it quickly became apparent to Goldstein that he was not the only one looking to more intimately face the devastation happening across the country.
"We're so isolated in our homes, and yet we see these statistics that tell us how bad things are outside our homes," Goldstein said. "To me this was a way to just start to interact with the grief and the loss that we're experiencing." 
CARL PADOVANO, 33 of New Jersey died of COVID on April 30.

"My brother was a man of contrasts: strong and sensitive, gentle and rough. He valued hard work with his hands and the subtle nuance of music and poetry. He was a beloved son, brother, uncle and a compassionate friend." pic.twitter.com/6E2BH9DDRa

— FacesOfCOVID (@FacesOfCOVID) January 7, 2021
In addition to affirming the dignity of those who are dying in historic numbers and showing families that their loved one is more than a statistic, Goldstein said his goal with the project is to demand accountability. 
With each story he posts, Goldstein adds the name to a growing database he started, with the hope that the information he is collecting  — including as much demographic, racial, and geographic data as he can find for each person — will help with the future reckoning over the toll of the pandemic that he is certain will come. 
"One thing we know for sure is that many of these deaths were preventable if we had made different decisions, if our federal government had shown leadership, and if we, as members of the community, had done more to care for each other and to make decisions that kept each other safe," he said. 
WAYNE EDWARDS, 61 of Queens, New York died of COVID on April 1.

"He was a stocker and went all through the hospital to stock rooms with supplies, then he handed out masks and that's how he got exposed…I miss him so much."https://t.co/TKKresGqEu pic.twitter.com/HzkWH8580O

— FacesOfCOVID (@FacesOfCOVID) January 6, 2021
Goldstein estimates that he shares about 10 stories of people who have died from COVID-19 a day to the Twitter account, which now has more than 142,000 followers. Since the account got started, he has also added a submission form, which allows families to directly submit the stories of a loved one who has died from the virus to the project. 
He's documented almost 5,000 stories since the project began — he's received about 500 direct submissions alone since October.
To Goldstein, the attention and audience the account has gained is not an indicator that he's doing a "beautifully powerful thing." Rather, he said it's evidence that very few people are providing a centralized place where the lives of the pandemic victims can be recognized and that he's one of those who is trying to fill that void. 
"Outlets for people to connect emotionally to the losses we're sustaining are few and far between," he said. 
SARAH SIMENTAL, 18 of Tinley Park, Illinois died of COVID on Dec. 26.

"There will be more holidays, more birthdays… you have them again. This took my daughter and we're not going to be able to have those again."https://t.co/wLf0f3YGD3 pic.twitter.com/Q5gN8hJIMz

— FacesOfCOVID (@FacesOfCOVID) January 3, 2021
And even though he believes he's in possession of one of the largest databases of the names of people who have died from COVID-19 in the United States, Goldstein said he struggles with the fact that even with all the effort he's putting in, he's "barely" covering one percent of the loss being experienced. 
With case numbers, hospitalizations, and deaths surging nationally — and predictions that another tidal wave is approaching, the fallout from holiday travel and gatherings — Goldstein is already seeing an "avalanche" of obituaries. 
"The way things are trending, that's quickly going to be under one percent — the stories I'm posting each day are being dramatically outpaced by the increasing death rate," he said. 
An absolute avalanche of obituaries coming into @FacesOfCOVID through all the channels I usually find them — I haven't seen this many of folks in their 40s and 50s since April.

It is a disaster zone out there. Stay home. Please.

— Alex Goldstein (@alexjgoldstein) January 5, 2021
Still, continuing each day to face the sheer numbers and doing the best he can to highlight the lives lived behind each one is not a difficult decision, Goldstein said. 
It's what he's able to do.  
"This is my outlet to contribute something meaningfully, and I'm grateful that not only have others followed it and helped build the platform into something that has real reach, but that families have trusted me to tell their loved ones' stories sensitively," he said. "That is really rewarding … I would be really struggling if I had no means of adding anything to the conversation and just had to sit by and watch it happen to us."
MARIA JARAMILLO-REYES, 52 of Las Vegas, Nevada died of COVID on July 15.

"She was a sister, daughter, wife, mother of three, grandmother of two. She hustled harder than anyone to provide for her family. Forever missed gone too soon, so many plans ahead." pic.twitter.com/tts4YBvhZU

— FacesOfCOVID (@FacesOfCOVID) December 29, 2020
In order to not be overwhelmed by the task daily, Goldstein focuses on two elements. When a family sends in a submission, he works to get that up as quickly as possible, communicating with them to inform them when it will be posted, knowing the importance it holds for them.
"People are mourning losses by themselves, isolated from the community, many of them are deferring memorial services, many of them might not have any real funeral at all other than a graveside burial," he said. "This little moment of social media engagement where a bunch of strangers say your loved one meant something to the world and that it's a loss to all of us that they're gone is actually really significant."
The other goal, which is of the utmost importance to Goldstein, is making sure that he's collecting a picture that is reflective of what is happening on the ground nationally, making sure that communities that are bearing a disproportionate burden — specifically communities of color that have been devastated by the virus — are represented among the stories he is sharing.
At the end of the day, the history of the pandemic is being told in real time, Goldstein said, which makes centering "real people" in the telling of the events critical to understanding what is — and has — happened.
"This isn't just a pandemic that hurts and kills elderly white folks, and I think it's important that we're painting as representative a portrait as possible of the losses that we're sustaining," he said. "We need to have a serious reckoning when this over about the decisions we made from a policy perspective that brought us to this point. If we put our heads in the sand and pretend this was a pandemic that only hurt old folks who had lived a long and beautiful life and this was their time, we are doing a tremendous disservice to communities that have had to bear the biggest burdens here."
Goldstein said wants people to see themselves and their own families in the stories of people who have died and imagine how they might feel if it was their loved one who had passed away. In that recognition, he hopes that more people will be more careful with their actions and decisions related to the virus and hold leaders accountable. 
IRA GORMAN, 81 of Belmont, MA died of COVID on April 16.

"It was early in the pandemic, doctors & nurses would risk their lives, gowning up just to go into his room in ICU to hold up the phone for him. When the call came the doctor sounded so tired & sad he could barely speak." pic.twitter.com/j0qrypF0E7

— FacesOfCOVID (@FacesOfCOVID) December 28, 2020
When the project started in March, Goldstein said he didn't understand the tsunami that was bearing down upon the country and world. And ever since then, the "goal posts" for when the nightmare of the pandemic will subside have been constantly pushed back. 
If you had told him when he started the project that he would still be doing it a year later, he said he wouldn't have believed it. 
The last almost 10 months have taught him that there can be no complacency with COVID-19 and that there is no "easy way out" of the pandemic.
"Here we are almost a year later and the numbers are worse than they have ever been," he said. "That to me — that's the biggest takeaway. It's not that people are still dying. It's that more people than ever will die today from this pandemic than any other day prior. And we are in month 10. And if anybody accepts that this was just the way it had to be, they're wrong. We cannot accept that this is how it had to be."
ANAND MEHENDALE, 67 of Kerrville, Texas died of COVID on Dec. 19.

"My father was my hero. I became a neurologist because of him. He was my soft place to land, & he always listened & valued my brothers, mother & me. He was everyone's biggest champion & had the biggest heart." pic.twitter.com/lSOYIcaLd9

— FacesOfCOVID (@FacesOfCOVID) December 28, 2020