COVID
Brigham and Women's doctor says all methods for battling COVID-19 need to be ramped up as virus variant spreads
"Each of our interventions have to be that much more effective."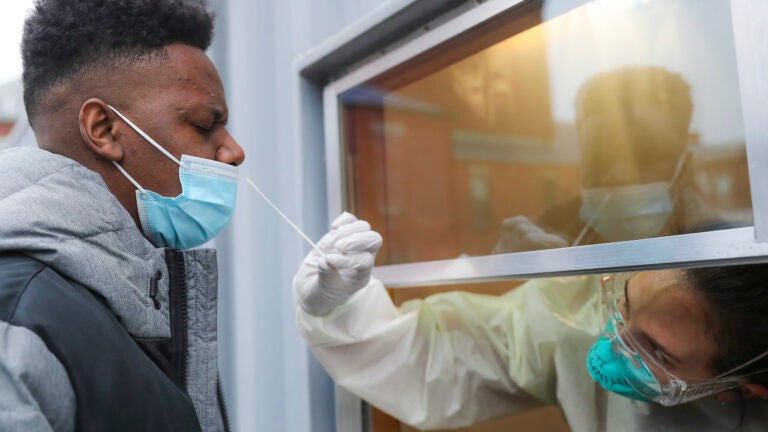 A doctor at Brigham and Women's is calling for improving the measures used to combat the spread of COVID-19 —  including masking, testing, and quarantining — after the first case of a variant strain of the virus was detected in Massachusetts. 
The first case of the coronavirus variant cluster B.1.1.7, which was initially detected in the United Kingdom, is in a Boston woman who tested positive for COVID-19 in early January. The woman, who is in her early 20s, had traveled to the U.K. but tested negative before her return to the United States. She became ill the day after she arrived in Boston.  
While the variant of the virus isn't known to cause more severe illness, it is believed to be more contagious. Experts are raising concerns that the new version will drive rising cases in the United States, which in turn will lead to more hospitalizations and deaths. 
On Friday, the Centers for Disease Control and Prevention issued a stark warning that the variant is projected to become the dominant source of infection by March in the United States.  
"I want to stress that we are deeply concerned that this strain is more transmissible and can accelerate outbreaks in the U.S. in the coming weeks," Dr. Jay Butler, deputy director for infectious diseases at the C.D.C, said, according to the New York Times. "We're sounding the alarm and urging people to realize the pandemic is not over and in no way is it time to throw in the towel."
Dr. Abraar Karan, an internal medicine physician at Brigham and Women's Hospital, wrote on Twitter Monday that with the virus variant spreading more effectively, the interventions relied on for stopping the spread of COVID-19 likewise need to be ramped up. 
"Each of our interventions have to be that much more effective," he wrote. 
Masks, testing, tracing, isolating, quarantining, and vaccinations all need to be improved, he said. 
"Other countries used isolation spaces outside of the home — our efforts here started but didn't seem to pick up," Karan wrote. 
When quarantining at home, people need to wear masks in the house, he said. Paid time off is also essential moving forward to ensure people do isolate and stay home after potential exposure. Otherwise, individuals will do what they need to do in order to put food on the table, he said. 
Karan said at this point in the pandemic, it is not enough for the public health messaging in particular to rely just on the use of masks. 
"We need to give people some additional and actionable health guidance based on scenarios that may catch them off guard," he said. 
2/
•pull down windows during ride shares or when on public transit if able

•avoid eating together indoors during lunch breaks at work

•minimize time in shared public spaces even if wearing 😷, such as at grocery stores

I'm sure collectively we can make a much longer list!

— Abraar Karan (@AbraarKaran) January 19, 2021
As an example, Karan said messages should encompass telling people to open windows on public transit or ride shares if possible, avoiding eating together indoors during work lunch breaks, and minimizing the time spent in shared public spaces (such as grocery stores) even when wearing masks. 
"Everything we are doing we need to be doing better and more effectively," Karan wrote. 
2/
•Tracing— needs to be much faster; digital tracing was used in other countries, NY & others tried an opt in system via apps, unclear how that did

•Isolating — other countries used isolation spaces outside of the home- our efforts here started but didn't seem to pick up

— Abraar Karan (@AbraarKaran) January 19, 2021
4/ Ventilation— need to encourage smarter strategies in day to day situations; windows down in ride shares; windows open at home/workplaces; reinforce notion of avoiding "shared air"

Everything we are doing we need to be doing better & more effectively #covid19

— Abraar Karan (@AbraarKaran) January 19, 2021