Coronavirus
Live updates: The latest news on the coronavirus pandemic in Massachusetts
Follow the latest reports on COVID-19 in Massachusetts below.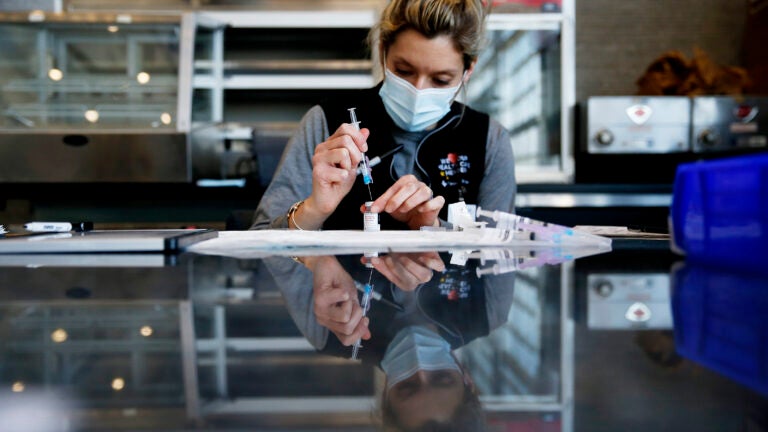 Mass vaccination site to open at Worcester State University (Feb. 5)
BOSTON (AP) — A mass coronavirus vaccination site is scheduled to open later this month at Worcester State University, city and school officials said.
The goal is to administer up to 1,000 vaccines daily at the university's 100,000-square-foot wellness center starting Feb. 16 and ramp up to as many as 2,000 doses daily if the supply is available, Carolyn Jackson, CEO of St. Vincent Hospital, said Thursday, The Telegram & Gazette reported.
The site will be available to residents statewide by appointment only, and will follow the state's vaccine rollout guidelines and prioritization. This week began Phase 2 of the rollout, which includes residents 75 years old or older.
St. Vincent Hospital will be the clinical lead with the Commonwealth Medicine arm of UMass Medical School playing a supporting role, City Manager Edward Augustus Jr. said.
The university is an ideal site because it is fully accessible and has ample parking, he said.
Fenway Park and Gillette Stadium are among the mass vaccination sites that have opened in the state.
— Associated Press
'Pooled testing' for COVID-19 could start in 120 schools this week (Feb. 4)
About 120 schools and districts have signed up to participate in Massachusetts' weekly pooled COVID-19 testing program for students and educators, according to state education officials.
Together, they represent more than a quarter of the state's public school students, a spokesperson for the state Department of Elementary and Secondary Education told Masslive.com. The department will continue to accept applications for the program through the end of the month.
Testing could start this week, spokesperson Jackie Reis said.
While Boston's school system is participating, the school districts in the state's second and third largest cities, Worcester and Springfield, are not among the initial participants.
The program intended to keep more children in the classroom during the pandemic, was announced last month. Under the pooled testing program, 10 nose swabs from one classroom or cohort of students and staff will go into one tube to be tested together. If the pooled sample is negative, all the individuals are presumed negative. If the pooled sample comes back positive, all the individuals will be re-tested with the rapid test.
The pooled tests cost at least 75% less than the cost of an individual test, officials said.
— Associated Press
Wastewater samples for Greater Boston show promising downward trend for COVID-19 (Feb. 4)
Tests for traces of COVID-19 in wastewater from communities around Greater Boston are showing a promising downward trend. 
The latest results from the Massachusetts Water Resources Authority show a continued decline in viral RNA. During the pandemic, wastewater samples have been taken from the Massachusetts Water Resources Authority's Deer Island Treatment Plant and then analyzed by Biobot Analytics, which conducts the testing, searching for viral RNA in the samples. 
Researchers have found the virus shows up in wastewater between about four and 10 days before cases are confirmed, suggesting that individuals "shed" the virus before the onset of symptoms or clinical diagnosis. 
According to Boston 25 News, Biobot is working on fine-tuning its testing of the wastewater in order to identify and differentiate potential variants of the virus. So far, two cases of the variant first identified in the United Kingdom have been diagnosed in Massachusetts.
Mass vaccination site opens in Danvers, first large site north of Boston (Feb. 3)
The DoubleTree Hotel in Danvers has opened as the first mass vaccination site north of Boston.
The new vaccination site can give up to 2,800 vaccinations per day, according to WCVB.
"We expect to have nearly 400 people coming in today, and we have the staff, we have the vaccine. It is time to get to work," said Dr. Sly Douglas, director of operations for Curative, told the news station.
Anyone looking to get vaccinated has to make an appointment — the state is currently in Phase 2 of its vaccination plan, and those 75 and over became eligible on Monday.
Gillette Stadium in Foxborough, Fenway Park in Boston, and the Eastfield Mall in Springfield have also opened as mass vaccination sites.
COVID vaccines are coming to CVS stores in Mass., Walgreens stores in New Hampshire (Feb. 3)
Under a federal program, pharmacies throughout much of New England will soon be offering COVID-19 vaccines to eligible recipients.
CVS stores will begin offering the vaccine at a limited number of stores in 11 states beginning on Feb. 11, including in Massachusetts, Rhode Island, and Connecticut, according to a press release.
In total, the pharmacy chain will have an initial 250,000 doses on hand across the country as part of the initiative, store representatives said. The in-store rollout will expand to other states and more stores as additional supply becomes available.
"Our presence in communities across the country makes us an ideal partner for administering vaccines in a safe, convenient, and familiar manner," Karen S. Lynch, president and chief executive officer of Woonsocket-based CVS Health, said in a statement. "This is particularly true for underserved communities, which have been a focus for us throughout the pandemic."
According to Boston 25 News, in Massachusetts, at least 15 CVS locations will be offering the vaccines in these communities: Boston, Chelsea, Braintree, Cambridge, Watertown, Weymouth, Hudson, Sudbury, Worcester, Medfield, Randolph, Seekonk, Palmer, North Grafton, and Holyoke.
Starting next Thursday, these CVS locations will be offering the COVID vaccine to those who are eligible. It's part of a federal program to increase vaccine rollouts across the country. @boston25 pic.twitter.com/MzliuUK5qs

— Kelly Sullivan (@ksullivannews) February 3, 2021
The vaccine will also be available at approximately four stores in Rhode Island and approximately 12 stores in Connecticut, according to CVS.
Walgreens stores will be offering the vaccine in 15 states and jurisdictions starting on Feb. 12, including in New Hampshire, Connecticut, and Vermont, according to a press release.
The pharmacy chain has also assisted in state vaccine rollout efforts so far in select stores across the country, including in Massachusetts, representatives said.
"Walgreens was one of the first pharmacies to begin administering COVID-19 vaccinations in December to long-term care facility staff and residents, and we look forward to leveraging our experience to support the federal government and CDC in expanding access to these vaccines," Walgreens President John Standley said in a statement. "Our pharmacy teams have already provided nearly two million COVID-19 vaccinations and stand ready with their expertise to help educate and vaccinate additional Americans, including those in rural and underserved communities."
Those eligible to receive the vaccine will need to schedule appointments at either store chain.
For CVS locations, appointments can be made on CVS.com, on the CVS Pharmacy app, or through customer service at 1-800 746-7287. Appointments can be made as soon as Feb. 9.
At Walgreens, appointments can be made at Walgreens.com/ScheduleVaccine once the vaccine becomes available. Walk-in appointments will not be provided.
New vaccine trial for teens to kick off in Worcester (Jan. 27)
Researchers from the UMass Medical School are planning to start a new COVID vaccine trial for adolescents ages 12 through 17 in early February, the only one of its kind in Massachusetts. 
According to TeenCove, the goal of this research study is to test the effectiveness of the Moderna-made mRNA vaccine on the prevention of COVID-19 in teens. Though the same vaccine has already been approved for use in adults 18 years or older, concerns regarding its overall effectiveness and safety measures remain for its use in teenagers. 
"Children's responses to vaccines can differ from those in adults," emphasized Dr. Katherine Luzuriaga. "The goals of the trial are to evaluate the safety profile of the vaccine, to see whether adolescents make the same level of immune responses that were observed in adults, and to see whether the vaccine protects against illness or infection."
Investigators from this study also mentioned the need to expand the racial and ethnic diversity of the teen participants, as underserved minorities have generally been impacted the most by COVID-19. 
Researchers are actively enrolling study participants from local communities. Participants in this study can expect to receive two doses of the vaccine, 28 days apart from each other. They will also be closely monitored by medical staff for a year after they receive their second dose.
Ed Markey is calling for a utility shutoff moratorium (Jan. 27)
Sen. Ed Markey is calling for government action to prevent utility companies from cutting off heat, water, and electricity, citing the economic effects of the pandemic.
On Monday, Markey tweeted, "Nearly 1 in 5 people have fallen behind on their electric and gas bills. … We need a nationwide moratorium on utility shutoffs to protect all of these families."
Nearly 1 in 5 people have fallen behind on their electric and gas bills. This is what happens when an economic crisis is allowed to continue for months without bold action and direct relief. We need a nationwide moratorium on utility shutoffs to protect all of these families. https://t.co/MatjdkqMhk

— Ed Markey (@SenMarkey) January 25, 2021
Some are pushing for President Joe Biden to accomplish this via an executive order telling the CDC to use the Public Service Act to ban companies from shutting off utilities during the pandemic. Markey has also noted that additional direct cash payments to individuals will help prevent shutoffs.
There is support for a utility shutoff moratorium on the state level as well.
The president of the fuel assistance program ABCD, Action for Boston Community Development, says relief is urgently needed.
He told Boston 25 News, "We need people to have most of their fuel bills this winter covered by LIHEAP so they can have some ability to pay the rent."
LIHEAP, which stands for Low-Income Home Energy Assistance Program, helps fund fuel assistance nationwide. Markey called for a $10 billion increase to their budget in December.
Markey has raised these concerns about the importance of utility bill relief before.
In a December statement, he said, "As utility bills pile up, legislation that does not prevent the cruel shut-off of gas, electric, or water will lead to massive, unabated energy debt."
Organization north of Boston offering seniors free rides to vaccinations (Jan. 27)
Seniors living in several communities north of Boston who need transportation to get their COVID-19 vaccine can now get free rides to any vaccination location.
Residents are eligible if they are over 60 years old and don't have transportation to their vaccination site or don't live in a building that also has a vaccination site. The service is only available to residents of Chelsea, Everett, Malden, Medford, Melrose, North Reading, Reading, Revere, Stoneham, Wakefield, and Winthrop.
To book a ride, interested seniors should call Mystic Valley Elder Services, the organization providing the transportation.
Massachusetts Gov. Charlie Baker announced on Monday the state will be moving into Phase 2 of the COVID-19 vaccine rollout on Monday, Feb. 1. Seniors are the top priorities to receive vaccines in this phase, with individuals over 75 years old and individuals over 65 years old the first and second priority groups, respectively.
The state is also continuing to expand public testing sites and is encouraging eligible residents to use its online map to book appointments.
Needham High School moves to fully online learning after COVID-19 surge (Jan. 26)
Needham High School is shifting to an all-remote learning model after Principal Aaron Sicotte reported 23 positive COVID-19 cases among students.
"Doing so allows us time to thoroughly contact trace each of our recent cases, and to reset on all of the safety measures we have followed in and out of the building that has allowed us to be safely in-person for so long this year," Sicotte announced Monday via email, as reported by The Boston Globe.
Officials also suspect that this is the school's first instance of student-to-student transmission, "although there are enough unknown variables that we can not completely confirm that," Sicotte said in his email.
In light of the new case tally, he said the school does not expect to return to its hybrid model until at least Feb. 1.
All winter sports activities have been paused through Friday as well after six students from three different varsity teams tested positive for the virus, WBZ NewsRadio reported.
None of the people who tested positive are reportedly displaying any significant symptoms as of now, Sicotte added.
Elsewhere, the King Philip Regional School District announced Monday that it would also be transitioning to a fully remote learning model for the rest of the week as officials investigate "multiple positive confirmed cases of COVID-19 within the district."
Officials said they made the move after "close consideration" with the local health boards in Wrentham, Plainville, and Norfolk.
All buildings in the school district will remain closed Tuesday through Friday as custodial staff members perform "a thorough deep cleaning," King Philip officials explained.
"The decision to close our buildings and go fully remote was made out of an abundance of caution, and is supported by the Boards of Health in each of our three communities," Superintendent Paul Zinni said in a statement. "We will continue to keep our families and staff informed as we investigate these positive cases and as the Boards of Health conduct the necessary contact tracing."
Officials noted that any staffers or students believed to be in close contact with any of the positive individuals have already been notified, and the district will reassess the situation in the coming days before making a decision on whether schools will transition back to hybrid learning models by next week.
Mass. could see over 15,000 total COVID-19 deaths by Feb. 15, new CDC projections show (Jan. 22)
New projections from the U.S. Centers for Disease Control and Prevention show Massachusetts could see at least 15,000 total COVID-19-related deaths by Feb. 15.
The forecast was compiled from nearly 30 models, which predict the Bay State could experience a weekly death count just shy of 600 by the middle of next month.
As of Thursday, Massachusetts had recorded a total of 13,622 confirmed deaths and 462,910 cases.
Nationally, the total death count is predicted to close in on 500,000 by that same time next month, with potentially close to 30,000 deaths a week, according to the CDC.
"This week's national ensemble forecast predicts that 17,000 to 29,300 new deaths will likely be reported in the week ending February 13, 2021," the CDC says. "The national ensemble predicts that a total of 465,000 to 508,000 COVID-19 deaths will be reported by this date."
99 percent of all adult hospital beds in Boston are full as city grapples with COVID-19 surge (Jan. 22)
Almost all of the adult hospital beds in Boston are full — and have remained so for about a week — as the city faces a surge in COVID-19. 
Data from the Boston Public Health Commission shows that 99 percent of all adult, non-surgical hospital beds in the city were full between Jan. 13-18, with the metrics measuring a seven-day trailing average. The city has been above the threshold of concern (95 percent) since Jan. 7.
The city still has held steady for most of January with 12 percent of hospital adult intensive care units and surgical beds available.
Hospitals told the Boston Herald the situations they face are challenging, but they still have some space. 
Terry Hudson-Jinks, chief nursing officer and chief patient experience officer at Tufts Medical Center, told the Herald her institution is at "135-145 percent" of its typical occupancy. 
"For the most part, we have been able to keep several beds open to ensure we can safely care for patients who need our care," she told the newspaper. "This situation has challenged us greatly. Our teams are outstanding and are working extra hours to support this consistent high capacity over the past number of weeks. We are hopeful we will see a decreased occupancy rate over the next month." 
As of Thursday, Boston has reported 49,840 confirmed cases of COVID-19, 42,467 people who have recovered, and 1,113 deaths from the virus. 
Boston #COVID19 numbers on January 21, 2021:
49,840 confirmed cases
42,467 recovered
1,113 deaths pic.twitter.com/r9wuOa2Td7

— Boston Public Health (@HealthyBoston) January 21, 2021
Mass. teachers making case to receive COVID-19 vaccine earlier (Jan. 19)
Teachers in Massachusetts are hoping to move up the list in groups prioritized to receive the COVID-19 vaccine.
Starting Feb. 1, the state will move into Phase 2 of its vaccine rollout, and under the current guidelines, those with two or more comorbidities, those age 75 and over, and residents and staff of senior affordable housing are ahead of teaching staff.
Teachers are currently grouped together with those who work in grocery stores, transit, restaurants and cafes, utilities, and food and agriculture as the second group to receive the vaccine in Phase 2.
But teachers say getting the vaccine would help with getting kids back to school in person more quickly, according to CommonWealth Magazine.
"We stand ready to help in any way we can to facilitate the rapid rollout of locally administered vaccines to our members," Merrie Najimy, Massachusetts Teachers Association president, said during an online event last week, the magazine reported.