COVID
In Boston's hardest-hit neighborhoods, uncertainty and refusal to take a COVID-19 vaccine
"There is a very valid concern and distrust, mistrust for our communities of color."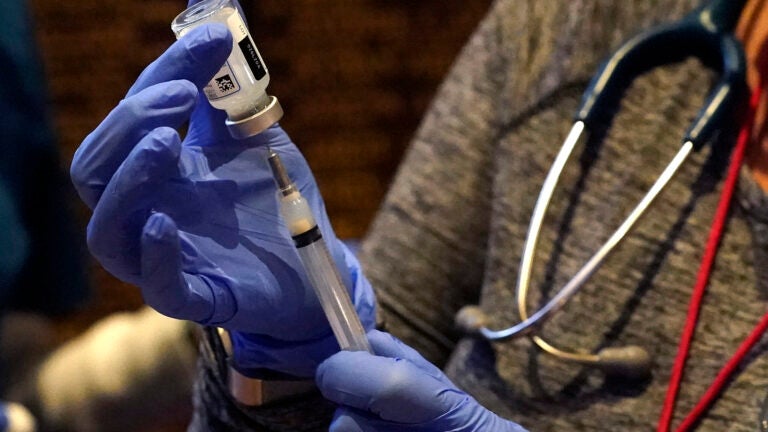 As federal regulators approved two COVID-19 vaccines for use last month, city officials found refusal and hesitancy to take the new shots remained palpable in some of Boston's neighborhoods hardest hit by the pandemic.
Preliminary findings from focus groups and surveys conducted by the Boston Public Health Commission last month show notable racial divides over trust of the vaccine, in part stemming from longstanding mistreatment of Black populations by the medical community in the United States.
Among 78 people who took part in a total of 10 focus groups in Dorchester and Mattapan, only 47 percent said they would take a vaccine, while 37 percent said they would not and another 16 percent were unsure, according to a presentation given by Triniese Polk, director of the BPHC's Office of Racial Equity and Community Engagement, to the commission board Wednesday.
Of the participants, 43.8 percent are Black or African American, 27.4 percent are white, 13.7 percent are two or more races, 12.3 percent are Latinx, and 2.7 percent are Asian.
Meanwhile, of 145 residents in Dorchester and Charlestown who completed surveys, 82.8 percent indicated they will take a vaccine and 17.2 percent indicated they would not or were unsure if they would, Polk's presentation showed.
For that survey, white residents made up the majority, or 55.9 percent of survey respondents, while Black and African American residents made up about 19.3 percent; Latinx residents made up 11 percent; Asian residents made up 6.2 percent; and residents of two or more races accounted for 3.4 percent. Just over 4 percent of respondents selected "other" for their race/ethnicity.
"For those folk who will not take or who are unsure (of the vaccine), some themes that surfaced are medical mistrust and history of medical experimentation, underlying health conditions, rapid vaccine development process, and a lack of long-term evidence that the vaccine is going to be effective," Polk said.
As of Jan. 14, the virus positivity in parts of Dorchester was higher than other neighborhoods in the city. BPHC data shows 11.6 percent of those tested in zip codes 02122 and 02124 over the previous week were positive for the virus, as well as 10.2 percent of those tested in zip codes 02121 and 02125.
In Mattapan, the rate hung at 8 percent while in Charlestown, officials recorded a notably lower rate at 5.4 percent, though still higher than Fenway, Allston/Brighton, the South End, Jamaica Plain, and other areas.
"Our communities of color have been most greatly affected, disproportionately affected by this pandemic," BPHC Medical Director Dr. Jennifer Lo told the board Wednesday. "And in addition to that, there is a very valid concern and distrust, mistrust for our communities of color, you know, based on historical wrongs that have been done in this population."
The BPHC, officials say, is keeping that in mind as the city considers how to get messaging about the vaccine's effectiveness and availability out to residents in the coming weeks.
Community health centers and primary care physicians will also play an important role in building trust around the vaccine, Lo said.
"We know that primary care providers in community health centers have a very close relationship with their patients," Lo said. "And in order to address the mistrust that I discussed earlier, they will be a very key factor in ensuring that our communities of color do want to get vaccinated and have the ability to do so."
Participants in the focus groups and survey offered some ideas for how public health and medical professionals can work to earn trust, including translating vaccine trial data "into plain language;" creating a 24-hour vaccine hotline; reporting the percentages of the population that have received the vaccine; and providing definitive information about what the vaccine does and does not do, Polk said.
According to Caitlin McLaughlin, director of media relations for the BPHC, the commission began to roll out a social media campaign Thursday — one of several avenues, from billboards to media interviews and other materials, that officials will use to get information out to the public as vaccine distribution continues.
"I got vaccinated because I miss my 80-year-old parents." – Dr. Jennifer Lo, Medical Director at BPHC.

When it is your turn Boston, why will you get vaccinated? Learn more about the #COVID19 vaccine and when it will be available to you: https://t.co/A4Pduf3uAW pic.twitter.com/dlRckhUTP9

— Boston Public Health (@HealthyBoston) January 21, 2021
"The goal of this is to put real people, real faces out there," McLaughlin said.
As for where vaccines will be available as larger portions of the population become eligible to receive them, Lo said the city is in the process of identifying locations for mass vaccine distribution.
On Tuesday, state leaders announced Fenway Park will be one of those sites.
Lo acknowledged that in their consideration of other locations, officials are taking into account how each is accessible, given transportation barriers in the city.
"We know that we need another site, and we've been working very diligently to identify one," she said.