Coronavirus
Phase 2 of the Massachusetts vaccine rollout begins Feb. 1. Here's who that includes.
The first — and initially only — new group eligible in Phase 2 is individuals 75 or older, who weren't already prioritized in Phase 1.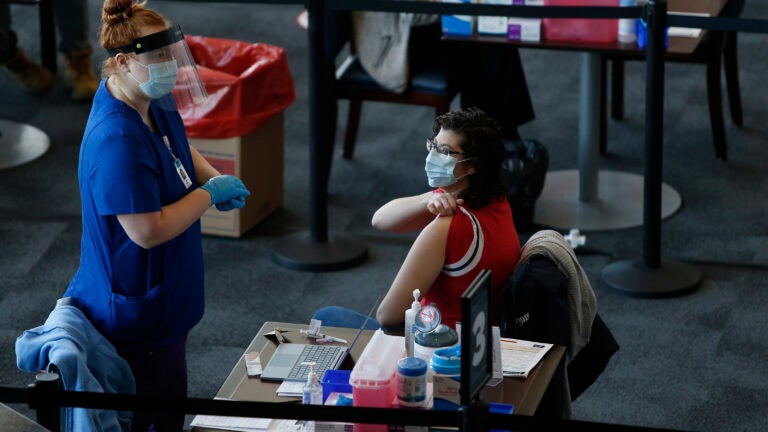 Massachusetts Gov. Charlie Baker announced Monday that Phase 2 of the state's COVID-19 vaccine rollout will begin next Monday, Feb. 1 — a significant expansion of who is eligible to get immunized against the disease.
The announcement Monday comes as the state also expands its public vaccination sites. Officials are encouraging individuals, once eligible, to use the state's online map of public vaccination sites to book their appointments. However, some residents may be able to schedule an appointment through their employer or primary care physician.
The first — and initially only — new group eligible in Phase 2 is individuals 75 or older, who weren't already prioritized in Phase 1. The roughly 170,000 residents in that group should be able to book an appointment beginning this Wednesday, officials said.
Under the state's updated priority list, individuals over the age of 65 and those with multiple medical conditions that make them vulnerable to COVID-19 will become eligible in the second part of Phase 2, which will begin "later in February," officials said.
The phase will then move on to certain workers — from teachers to store employees to meatpackers to Uber drivers to funeral directors. The final group eligible in Phase 2 will be individuals with a single comorbidity, before the rollout opens to all members of the general public in the spring.
Read the full list of Phase 2 groups below:
Listed in order of priority:
Individuals age 75+
Individuals age 65+, individuals with 2+ comorbidities (only those conditions listed as at increased risk for severe illness)
Other workers, including:

Early education, K-12, transit, grocery, utility, food and agriculture, restaurant and cafe workers;
Employees across the food, beverages, agriculture, consumer goods, retail, and foodservice sectors;
Meatpackers;
Sanitation, public works and public health workers;
Vaccine development workers;
Food pantry workers and volunteers;
Transit/transportation: Uber/Lyft/ride share services/pharmacy delivery drivers, workers in the passenger ground transportation industry (e.g. paratransit for people with Disabilities, food delivery, non-urgent medical transport), Massport workers other than police;
Convenience store workers (under grocery workers);
Water and wastewater utility staff
Court system workers (judges, prosecutors, defense attorney, clerks), other than court officers who are listed under first responders
Medical supply chain workers
Funeral directors and funeral workers
Shipping port and terminal workers

Individuals with one co-morbid condition
Phase 2 vaccination settings:
Individuals will get vaccinated either by their employer, primary care physician, pharmacy or public clinic.
Treating clinicians/health systems, health insurers (including MassHealth), and patient advocacy groups will reach out to individuals with co-morbidities to encourage them to receive COVID-19 vaccination. Individuals in the various worker groups will likely be reached via their employers and unions.
 At this time, the Department of Public Health is not scheduling appointments directly.