COVID
Massachusetts announces 3 additional mass vaccination sites, in preparation for Phase 2
The second phase means an additional 2.5 million residents will become eligible to get a coronavirus vaccine, and the state is working to build capacity.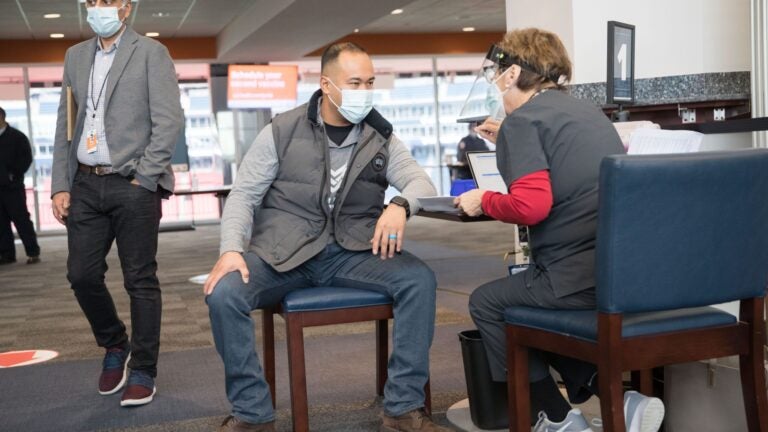 Massachusetts officials are planning to set up a total of seven mass COVID-19 vaccination sites — and Gov. Charlie Baker announced three of them Monday.
As the state's vaccine rollout gradually expands to new populations, officials plan to open sites at Eastfield Mall in Springfield this Friday, Jan. 29; at the Double Tree Hilton Hotel in Danvers on Feb. 3; and at the Reggie Lewis Center in Boston sometime next week.
The locations join the state's two existing mass vaccination sites at Gillette Stadium in Foxborough, which opened earlier this month, and Fenway Park in Boston, which will begin taking appointments this Thursday for its Feb. 1 opening day.
Baker told reporters that he would have details on the two remaining yet-to-be-announced mass vaccination sites "in the near future."
"These sites will begin vaccinating around 500 people per day, and some sites will ramp up to as many as 5,000 per day pretty quickly, with a total weekly capacity of 76,000 per week by the middle of February," the governor said Monday afternoon.
The news comes as officials prepare to begin Phase 2 of the state's vaccine rollout next Monday, Feb. 1, meaning that residents over the age of 75 years old will be eligible to schedule an appointment as early as Wednesday.
Phase 2 will also include individuals over the age of 65, people with medical conditions making them vulnerable to COVID-19, and certain workers who may face exposure to the disease. However, those groups won't be eligible until "later in February," Massachusetts Health and Human Services Secretary Marylou Sudders said Monday.
Altogether, more than 2.5 million residents will eventually become eligible to get a shot during Phase 2.
The mass vaccination sites are hardly the only option; as officials announced last week, the state is also working to expand appointment-based vaccination sites at pharmacy and grocery chains around Massachusetts, in addition to other health care clinics.
Baker's administration says they expect to have 165 publicly available vaccination sites, 44 of which will open this week. Additionally, the state announced 11 new "restricted" vaccination sites — located at local schools, town halls, and libraries — that, due to their smaller size, are only available to eligible residents in certain cities or towns.
While individuals in certain worker groups may be contacted by their employer or union about arranging their shots, Baker encouraged other individuals, when they're eligible, to find a location and schedule appointments through the state's online map of vaccination sites.
Until Wednesday, appointments remain open only to individuals in Phase 1. The website also notes that individuals should schedule their second dose at the same vaccination site as their first dose.
Between the public vaccination sites, hospitals, and other providers, officials say Massachusetts will have the capacity to administer 305,000 doses of the vaccine per week by mid-February.
However, Baker also cautioned that "capacity to vaccinate is not the same as shots administered." The weekly 305,000 figure is far more than the 189,640 doses that state officials expect to receive from the federal government in mid-February, as officials across the country deal with a constrained vaccine supply.
"If we continue to get the same number of doses we're getting now, we may end up with some empty seats and empty appointments at some of our sites," Baker said. "But we think it's better to over-plan at this point in the process, and hope that the feds can get there."
While the administration itself has come under scrutiny for its relatively slow vaccination rollout during Phase 1, Baker suggested that, in the coming weeks, the federal government would be the biggest limiting factor. State officials are already privately warning that shipments may be "capped going forward through February."
"Our goal is to keep building capacity, but we can only move as fast as the federal government ships vaccines to the commonwealth," Baker said.
Get Boston.com's browser alerts:
Enable breaking news notifications straight to your internet browser.