COVID
3 reasons why the Massachusetts coronavirus vaccine rollout has gone so slowly
"That's a lot of outreach and a lot of work."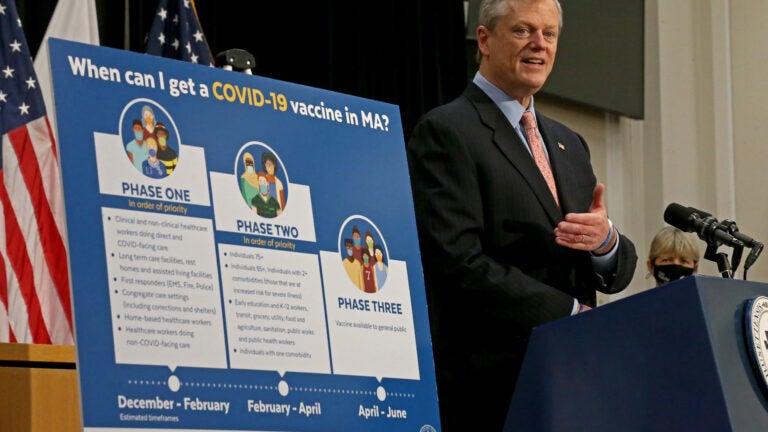 Officials in Massachusetts are working to ramp up the state's COVID-19 vaccine rollout.
But so far, the state — known for being an international hub of medical expertise — has lagged remarkably behind its peers.
According to federal data, 5.2 percent of Massachusetts residents have received their first vaccine dose — a rate that is 32nd in the country and lags behind every neighboring state, except for Rhode Island. As of Sunday, the Bay State had administered 49 percent of its allotted doses, 38th out of 50 states.
"If we don't do something really quick, and fast, and soon, we will end up still having to provide doses at the end of this year," Bill Walczak, a former healthcare executive and community activist, told The Boston Globe in a front-page story Sunday.
Gov. Charlie Baker's administration announced several moves Monday aimed at speeding up the process, with plans to expand eligibility to new populations and open up dozens of public vaccination sites over the coming month. And while Baker has stressed that the national vaccination tracking data itself lags behind reality, he did say Monday that it's not "hugely different" and is "absolutely" useful for comparing states.
So how did Massachusetts find itself in this position?
As with the massive rollout itself, it's a bit complicated.
1. There's national supply constraints at play
For starters, there are some things that are out of the Bay State's control.
Even the states with the highest vaccination rates have struggled to get enough vaccines from the federal government to meet demand, as manufacturers increase production.
"We can only move as fast as the federal government ships vaccines to the commonwealth," Baker told reporters Monday afternoon.
Last month, Massachusetts had its overall shipment of the Pfizer vaccine doses unexpectedly reduced by 20 percent. And according to the Centers for Disease Control and Prevention's new director, federal officials are scrambling to develop a national vaccination plan in the wake of President Donald Trump's administration.
"One of the biggest problems right now is, I can't tell you how much vaccine we have," CDC director Dr. Rochelle Walensky said Sunday on Fox News. "And if I can't tell it to you, then I can't tell it to the governors, and I can't tell it to the state health officials. If they don't know how much vaccine they're getting, not just this week but next week and the week after, they can't plan."
Baker has said the lack of clarity about future shipments has made it difficult for the state to definitively spell out its rollout. Even as the state works to set up public vaccination sites with the ability to administer more than 300,000 total doses a week by mid-February, officials repeatedly cautioned that, at the current rate, the federal government will only fulfill around 60 percent of those doses.
"We will have empty seats, and open appointments that we won't be able to fill," Baker said.
It's a problem the administration apparently expects to persist. According to the Globe, a top state health official sent an email Sunday night informing cities and towns that vaccine shipments would be "capped going forward through February" due to the "lack of vaccine allocated by the federal government" to Massachusetts.
2. The state prioritized specific vulnerable groups over larger at-risk populations
Still, those national supply constraints don't explain why Massachusetts has been so slow to actually put the shots it does have in the arms of its residents
For example, Connecticut has administered 63 percent of its allotted doses, compared to 49 percent in Massachusetts. And residents of the Nutmeg State are 50 percent more likely to have gotten their first dose than Bay Staters.
Pressed on the subject Monday afternoon, Baker said the reason was that Massachusetts, unlike states like Connecticut, prioritized congregate care settings — like homeless shelters, domestic violence shelters, and prisons — ahead of elderly members of the general public. And while he defended it as the "right decision" to prioritize those "hard-to-reach" and "vulnerable" populations, the governor said that the more targeted approach resulted in a "slower rollout and a slower ramp up."
"Mobility is a big deal," Baker said, adding that the state had to distribute vaccines to hundreds of different congregate care settings.
"That's a lot of outreach and a lot of work," he said.
Massachusetts also put a wide range of health care professionals in Phase 1 of its rollout. Phase 2 will begin next Monday with individuals over the age of 75, before moving on to those over the age 65, people with high-risk medical conditions, and other frontline workers.
3. Prioritized groups had lower than expected uptake rates
The decision in Massachusetts not to open up the rollout to broader populations was exacerbated by another national trend: A surprisingly high number of employees who declined to immediately take the vaccine.
The Baker administration prioritized frontline healthcare workers ahead of all other groups, before moving to longterm care facilities like nursing homes late last month.
Additionally, as the Globe noted, Massachusetts started vaccinating nursing home staff and residents a week later than other New England states. Baker said Monday that was because they didn't initially have the required number of doses to participate in the federal government's pharmacy partnership for longterm care facilities until the second week of eligibility.
Officials said that initial vaccine rates were especially low in the longterm care industry, which accounts for more than 100,000 people between residents and workers. While around 80 percent of residents have gotten the vaccine, Baker said the uptake rate among staff was "more like 50 percent."
Health and Human Services Secretary Marylou Sudders said hospitals also overestimated the uptake rate among staff when calculating their initial allotment requests, though she didn't have specific numbers.
"In the beginning, people were enthusiastic about vaccines and anticipated an amount that turned out not to match what the acceptance rate was," Sudders said. "And so we've now gone back with folks to readjust it significantly. And that is all part of the maturation of the vaccine program."
From the beginning of the rollout, the Baker administration repeatedly said they expected some "bumpiness" in the early stages. As they work to ramp up capacity next month, Sudders cautioned against early conclusions.
"Again, we're like, what, five weeks into vaccination," she said.