COVID
Here's what Anthony Fauci said Massachusetts should expect as the vaccine rollout progresses
As the state builds out its vaccination program, Fauci says the initial shortage of doses will look "profound."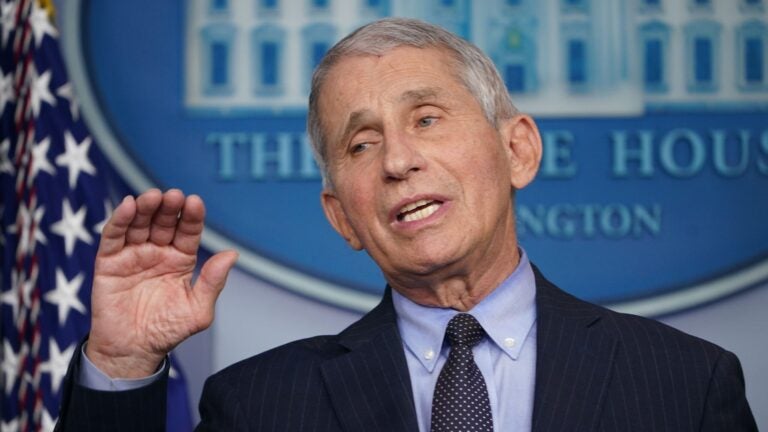 Gov. Charlie Baker said Monday that Massachusetts will likely see "empty seats" at its public vaccination sites next month due to the federal supply of vaccine doses not meeting the state's capacity to administer the shots.
According to Dr. Anthony Fauci, he's probably right.
Fauci, the director of the National Institute of Allergy and Infectious Diseases and top medical adviser to President Joe Biden on COVID-19, told WBUR in an interview Monday afternoon that Massachusetts has done "a really good job  in being able to put up a structure to be able to vaccinate," but that "supply will not meet the demand" in what so far has been an uneven national rollout.
"You have the capability," Fauci said of Massachusetts. "But that's not uniform throughout the country."
While the Baker administration has faced criticism for the slow pace of the rollout's first phase, officials announced plans Monday for additional public vaccination sites with the expected capacity to administer more than 300,000 shots a week by mid-February. State officials also cautioned that, at the current rate, they only expect to be receiving 180,000 shots — or 60 percent of their expected capacity — through the federal government.
At the same time, Fauci said other states are facing the opposite problem with vaccine doses "lying around" due to a lack of resources for the final stage of distributing and administering the shots.
Massachusetts has also faced issues with unused doses, and on Monday officials announced they would cut distribution to hospitals and nursing homes, due to unexpectedly high rates of staff turning down the vaccine. But in the coming month, as the rollout expands to broader populations, officials say they expect national supply to be the most limiting factor.
Fauci said Monday that he expects it to take a "month or two or three" before officials are more able to evenly match supply and demand — and that the initial shortage will be particularly noticeable in places like Massachusetts.
"If you look at the restrictions [on vaccine supply] we had very early on, they were rather profound," he said. "They got less and less. When you have capabilities like Boston and the state of Massachusetts has of being able to put the vaccines into people's arms, the discrepancy between supply and demand looks more acute and profound, where in other areas it doesn't. All that having been said, as we get into February, March, April, and May, it will ease up. I can tell you that because there will be much more availability of vaccines than we have right now."
Fauci has called the Biden administration's goal of administering 100 million COVID-19 vaccine shots in their first 100 days "a floor, not a ceiling." According to The Washington Post, modeling by Biden's team estimates that about 33 million people would be fully immunized — and a total of 67 million would be fully or partially immunized — by the two-shot vaccines out of roughly 260 million people in the United States considered eligible for vaccination.
During the WBUR interview, Fauci said he believes the country will have to vaccinate between 70 percent and 85 percent of the population to effectively reach herd immunity.
However, he acknowledged that reaching that threshold could be challenging due to vaccine hesitancy, with polls showing around a quarter of Americans saying they probably or definitely would not get a COVID-19 vaccine. Fauci recently spoke to a Boston church, urging the mostly Black congregation to get vaccinated when eligible, amid evidence that communities of color, which have been hit hardest by the pandemic due to structural inequities, have high levels of distrust in the vaccine (recent polling has also found that vaccine distrust is highest among Republicans and rural residents).
Fauci said it would be "doubly painful" for the communities that have suffered disproportionately from COVID-19 not to "afford themselves for protection of a highly efficacious and safe vaccine."
"If they don't utilize that tool, you know, that makes me very sad," Fauci said.
Still, he said there's reason for optimism going forward, particularly in Massachusetts. Fauci noted that he spoke with Baker multiple times over the past year and that the governor "understands the situation." He also urged people against falling victim to COVID-19 fatigue during the crucial window of time as vaccinations ramp up.
"My message to the people of Massachusetts, particularly in Boston, is hang in there, because it will improve," Fauci said. "But it will improve because we adhere to public health measures and because we get vaccinated."
Fauci, who went to Holy Cross in Worcester for his undergraduate degree, noted that he has "a very special interest" in the Bay State.
"I went to school in Massachusetts, my daughter lives in Massachusetts," he said. "So go ahead, Massachusetts, and do it right."