COVID
Boston will move forward in COVID reopening plan on Feb. 1
The city will advance to Phase 3, Step 1 of the state's reopening plan after hitting pause in mid-December, Mayor Marty Walsh said Tuesday.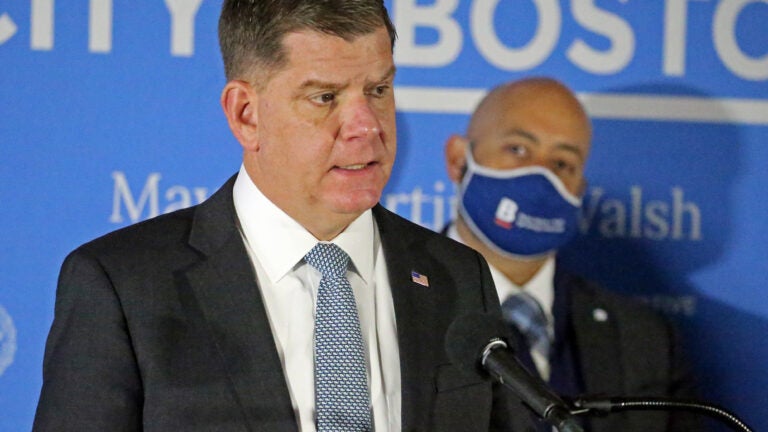 Boston will advance to Phase 3, Step 1 of Massachusetts's coronavirus reopening plan beginning on Monday, Feb. 1, rejoining the majority of the state and allowing businesses such as gyms, movie theaters, museums, and others to reopen with capacity limits after forcing those places to close last month.
Mayor Marty Walsh said Tuesday those venues and others will need to heed a 25-percent capacity limit in order to open their doors again — a state measure in place through at least Feb. 8. Indoor gatherings will remain limited to 10 people, while outdoor gatherings will be capped at 25.
"Throughout the pandemic, Boston and our public health department have taken a cautious approach," Walsh said. "We will only move forward with reopening if the public health experts feel that it's safe to do so."
The city and other communities rolled out the restrictions in mid-December, essentially pausing reopening at a "modified" Phase 2, Step 2 of the state's reopening procedure. Boston had previously operated under Phase 3, Step 1 since early July.
The regulations were extended for another three weeks earlier this month amid rising COVID-19-related hospitalizations following the holiday season. The rules were slated to expire on Wednesday but are now extended through the end of January.
Industries in Boston that may reopen on February 1 at 25% capacity include:
☑️ indoor fitness centers and health clubs
☑️ movie theaters
☑️ museums
☑️ aquariums, and
☑️ indoor recreational and athletic facilities.

For more info, visit: https://t.co/n91H7rgQ5S pic.twitter.com/IJk3oKEJAV

— City of Boston (@CityOfBoston) January 26, 2021
Driving the decision to move forward is a recent dip in cases citywide. A press release announcing the reopening changes noted that virus data is trending "modestly downward."
As of Jan. 17, Boston saw an average of 415.6 cases per day — a drop from a mid-month high of 590.4, according to officials. The city's positivity rate meanwhile hung at 7.2 percent — down from 8.9 percent earlier this month.
"We're encouraged by seeing these numbers go down a bit — still high, too high for where we want to be right now," Walsh said. "But the numbers are definitely … going in the right direction a bit here."
Marty Martinez, the city's chief of health and human services, told reporters at a press briefing the drop is a levelling off of the swell of cases that rushed in after the winter holidays. 
"Testing has stayed constant," Martinez said. "So we're catching cases, and we're making sure that we can contain it."
He noted that the city has seen nearly 80 less patients in its hospitals on average this week than two weeks before. The uptick earlier this month did not result in a "surge on top of a surge," although many remain hospitalized, Martinez said.
According to Boston Public Health Commission data, 99 percent of adult, non-surge intensive care unit hospital beds were occupied as of Jan. 21. Meanwhile, 12 percent of adult ICU and medical/surgical beds were available at that same time.
"There's still a lot of folks that are battling COVID, and our hospitals are working through the capacity limits," Martinez said. "But again, we're grateful that we didn't see the surge on the surge. 
"We're not out of this by no means, and I don't want to send that message," he continued. "But with a little bit of progress, we're hopeful that we're going to keep seeing it."
Here's what can reopen in Boston on Monday under a 25 percent capacity limit:
Movie theaters

Indoor fitness centers and health clubs, including gyms currently using "alternative spaces"

Aquariums

Museums

Indoor athletic and recreational facilities, including those with "potential for low-contact" such as batting cages, bowling alleys, driving ranges, and rock-climbing

Indoor historical sites and spaces 

Sightseeing and organized tours

Indoor event spaces, including ballrooms, meeting rooms, private party rooms, and social clubs (which are limited to 10 people)

Indoor and outdoor gaming arcades