COVID
Massachusetts lawmakers call on Charlie Baker to improve vaccine program as signups for residents over 75 begin
"My office has heard from dozens of frustrated constituents, and I expect that is only the tip of the iceberg."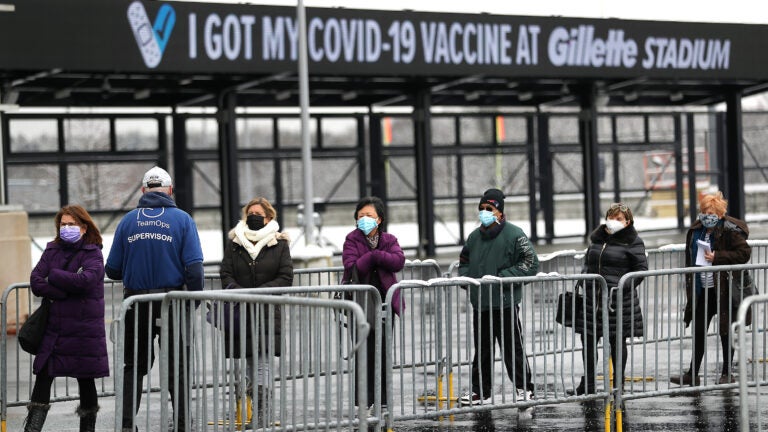 Massachusetts residents over the age of 75 could begin scheduling appointments on Wednesday to get the first shot of a COVID-19 vaccine as soon as next week.
However, as the state prepares for Phase 2 of the rollout, local lawmakers are venting concerns and frustrations about the accessibility of vaccination appointments.
According to The Boston Globe, individuals who stayed up until midnight Wednesday to schedule an appointment next week complained about a lack of available time slots, out-of-date information pages, and glitchy websites. And the issues have persisted into the morning; several readers told Boston.com that they couldn't find any open appointments Wednesday at any of the local clinics, pharmacies, or grocery chains where vaccines are being administered.
State Sen. Harriette Chandler, an 83-year-old Worcester Democrat and former Senate president, tweeted Wednesday morning that she "personally struggled" with the state's appointment website.
"My office has heard from dozens of frustrated constituents, and I expect that is only the tip of the iceberg," Chandler wrote.
Her comments were echoed by a number of lawmakers on Twitter.
"My inbox is full of stories like these this morning," Framingham state Rep. Maria Robinson wrote. "For another data point, someone 75+ did successfully get an appointment — for the week of February 21. So don't expect an appointment next week."
Both state and federal officials have cautioned that available appointments in Massachusetts won't meet demand for weeks, if not months, due to a current lack of vaccine doses nationwide. As the state announced plans earlier this week to open more than 160 public vaccination sites next month, Baker said to expect "empty seats."
However, the Republican governor has defended the state's online appointment portal. The administration has set up a webpage and online map where individuals can see if they're eligible to get a vaccine, click on one of the dozens of state public vaccination sites, and then register for an appointment on a third-party site.
"How much more streamlined would you like it to be than that?" Baker asked rhetorically during a press conference earlier this week, adding that the process should be "pretty easy" for "most folks."
However, for many, that was not the case Wednesday. To register for an appointment, individuals must click through multiple websites to check if a specific vaccination site has available appointments. As of Wednesday morning, the webpages of several of the local pharmacy and grocery chains that had partnered with the government to administer vaccines displayed no open time slots in Massachusetts.
During a press conference Wednesday afternoon, Baker attributed some of the bottleneck to the fact that individuals prioritized in Phase 1 — which includes a broad range of health care workers, first responders, and long-term care facility staff and residents — are still getting their first and second shots. According to the State House News Service, a top Baker administration health official said Wednesday that the state is about a third of the way toward completing its Phase 1 vaccination goal.
"That's one of the reasons why this is going to feel constrained for people, and one of the reasons why it will absolutely feel frustrating," Baker said.
"It's going to require a certain amount of patience for people to understand that it may take several trips to the website before they're going to be able to get an appointment," he noted.
Still, some lawmakers raised concerns about the accessibility of the multi-step process, especially for elderly populations, which have been hit the hardest by the pandemic.
"We are trying our best to help, but this website is simply ineffective," Chandler wrote Wednesday.
I have personally struggled to use state's #COVID19MA vaccination website.

My office has heard from dozens of frustrated constituents, and I expect that is only the tip of the iceberg. We are trying our best to help, but this website is simply ineffective. #mapoli https://t.co/0k0ngDNXb5

— Harriette Chandler (@Sen_Chandler) January 27, 2021
Robinson tweeted Wednesday that she had constituents going to Connecticut for a vaccine due to struggles with the process in Massachusetts.
"We need to meet people where they are, and a lot of people over 75+ cannot use this interface," she wrote. "The map doesn't work on all browsers. We need phone access for appointments. We need more available slots. We need more information."
Health and Human Services Secretary Marylou Sudders said Monday that the administration was "putting out a massive communication" to local aging councils and community groups to distribute information to those over the age of 75. And during the press conference Wednesday, Baker said the state is working to create "additional resources" to help people book appointments.
"In the meantime, we certainly urge family members and friends to help support older residents — help them book their appointments through that website — if you can get that done for them," he said.
The frustrations come after members of the state's federal delegation raised alarms about the process.
In a statement Tuesday afternoon, Rep. Katherine Clark called on the state to "do more" to accelerate vaccinations.
"Massachusetts needs a centralized, accessible sign up system: a one-stop shop with both online and phone-based options where residents can pre-register, receive notification of eligibility, and schedule an appointment," said Clark, who also expressed concerns about the state's decision to move residents in the 65 to 74 age group ahead of frontline workers, like teachers and transit workers, later in the Phase 2 prioritization.
Some states, like New Mexico, have created a centralized website where residents can pre-register for a vaccine and schedule an appointment when available, without having to check with specific providers. According to Clark's office, the absence of such a system will ultimately result in Massachusetts residents waiting longer to get a vaccine.
Earlier on Tuesday, Rep. Seth Moulton publicly urged local veterans to seek a vaccine through the Department of Veterans Affairs, rather than the state's vaccination sites, due to his frustration with the pace of the Baker administration's rollout. Rep. Ayanna Pressley also sent a letter to the governor Tuesday imploring him to expand vaccine accessibility and outreach in communities of color.
Baker noted Wednesday that many residents were able to schedule an appointment to get a vaccine. However, he said efforts to increase access ultimately hinge on vaccine supply. In her statement, Clark also acknowledged that states need more support from the federal government, both to increase vaccine shipments and help coordinate distribution.
Amid the complaints of shortages, newly inaugurated President Joe Biden announced Tuesday that his administration would purchase 200 million additional vaccine doses and expedite shipments to states.
Baker said Wednesday that his administration had yet to hear how many additional doses they would get from the federal government's bulk purchase, but hoped to have an answer this week. The governor said that the additional clarity about the size of the shipments in the coming weeks would allow the state to open up more future appointments.
"The biggest way to make it easier is to have more sites and more seats and more vaccine," Baker said.