COVID
Massachusetts lawmakers call on Charlie Baker to create a centralized website and phone number for vaccine appointments
Baker says that the state is working to set up a call center next week.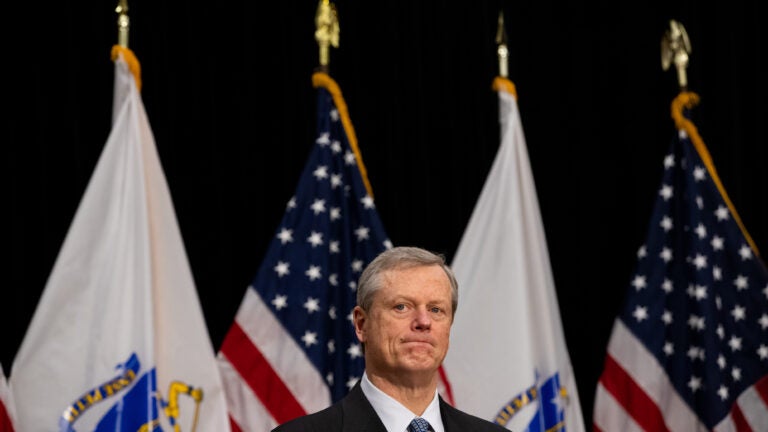 Dozens of Massachusetts lawmakers are calling on Gov. Charlie Baker's administration to create a more centralized system and phone number for COVID-19 vaccine appointments, after residents reported widespread problems with the state's current online portal on the first day that anyone over the age of 75 was allowed to sign up.
When it comes to the hotline, Baker says he agrees.
Signed by a total of 85 state representatives and senators, including Democrats and Republicans, a letter Thursday urged the administration to set up "a user friendly 1-800 number" and a centralized online system to make the process easier.
"The system in use, while made to be expedient and accessible, has created barriers for our aging population, those who have limited access to technology, and those who struggle to use it," said the letter, which was led by Sen. Anne Gobi.
"Currently, residents must choose a location, and then follow one of many links to separate entities to book appointments," lawmakers wrote.
The news comes after many seniors reported frustrations with the multi-step process Wednesday, which was the first day all residents over the age of 75, the first group prioritized in Phase 2 of the rollout, could begin signing up for appointments as soon as next week. Those frustrations were only compounded by a scarcity of available appointments, long wait times, and online glitches.
Lawmakers wrote Thursday that the Baker administration's current vaccine website, which includes an online map with links to the third-party sites of vaccine providers, also "inadvertently" puts the state's senior population "at risk" to scams.
"In searching for the official online tool, the query also provides results not affiliated with the Commonwealth," they wrote. "This makes residents vulnerable to scams, and exposes them to undue online risks."
During a press conference Wednesday afternoon, Baker indicated that the state does at least plan to create a call center for COVID-19 vaccine signups, as part of additional resources for seniors that the administration will announce early next week.
"That'll be happening next week," the Republican governor said, noting that he agreed with the calls for a call center.
Baker also expressed confidence that the administration would be able to set up the hotline in a short period of time, noting the state has staffed coronavirus-related call centers throughout the pandemic.
"We're pretty good at it," he said. "We're late, but we're pretty good at it. I don't worry about whether or not the call center will be able to serve people appropriately. It will."
Baker also said the state is working with public and private senior organizations to facilitate additional support and information sharing.
While the administration has worked to expand the number of vaccination sites across Massachusetts, officials have repeatedly warned that the initial supply of doses will not meet demand for weeks, if not months. Baker did say that the state saw a 25 percent boost this week in the number of doses it got from the federal government, but stressed that appointments remain "limited."
According to the governor, 45,000 people did successfully book appointments over the past few days. However, those successes were drowned out Wednesday by the complaints of those who struggled to navigate the booking system, including some elected officials themselves.
"It was a very frustrating day — we know that — for everybody, especially for those who are looking to book an appointment and couldn't find one," Baker said.
Baker also said that the state's five mass vaccination sites will list new appointments each Thursday for the following week, based on how many doses the state hears it will get from the federal government.
State officials expect more groups — residents over the age of 65, individuals with co-morbidities, and certain workers who face risk of exposure to COVID-19 — to become eligible over the coming months as the state moves through Phase 2.
Altogether, officials estimate that Phase 2 includes more than 2.5 million residents. And officials said Wednesday they're still just a third of the way to their vaccination goal for individuals in Phase 1.
"It's going to take a while for that collection to work their way through a system, where we went from getting 80,000 first doses a week to getting 100,000 first doses a week," Baker said Thursday. "That's better. But you're still talking about 100,000 first doses in a circumstance and a situation where you have almost 10 times that many people who are eligible. So that's why I keep saying this requires a certain amount of patience."