Coronavirus
Here's what to know if you're in line to get the COVID-19 vaccine Monday
Massachusetts residents aged 75 and older will soon begin receiving their first shots.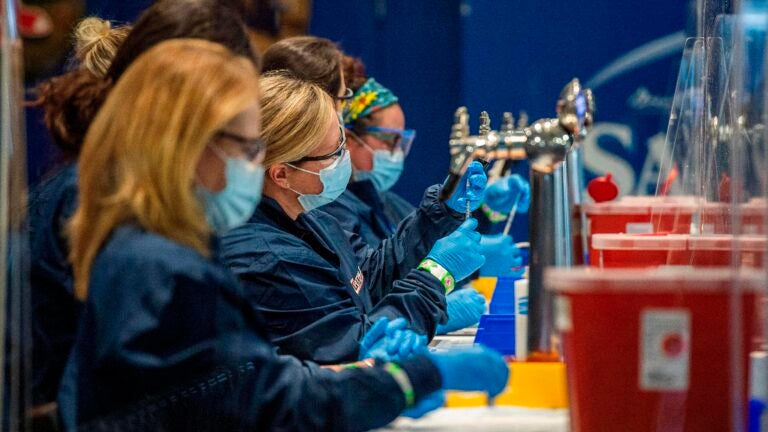 Monday marks the first time members of the general public can begin receiving their COVID-19 vaccines, as Phase two of Massachusetts' vaccination plan begins.
Residents aged 75 and older will soon begin receiving their first shots, and each Thursday thousands of new appointment slots for the coming week will open up at the state's mass vaccination sites, which include Gillette Stadium, the Eastfield Mall in Springfield, the DoubleTree Hilton Hotel in Danvers, the Reggie Lewis Center in Boston, and Fenway Park. 
With a major snowstorm looming ahead of initial appointments, and meteorologists predicting about a foot or more of snow through Tuesday, officials at the Fenway Park site said some contingency plans are currently underway. 
"We do understand that maybe the weather gets so bad that we have to either cancel some appointments, reschedule appointments, or maybe someone can't make it to the site safely and we will be able to support them," Rodrigo Martinez told Boston CBS. 
As chief marketing and experience officer for CIC Health — which runs the Gillette Stadium and Fenway vaccination sites — Martinez told the station that additional staff and wheelchairs will be available, and assured that the space is set up so no lines will be forming outside. He added that CIC Health's outreach team will be rescheduling any canceled appointments for the following week. 
In anticipation of the winter storm on Monday, February 1, CIC Health, with the support of the Commonwealth of Massachusetts, is making the following changes to Monday's vaccination schedule: pic.twitter.com/Gf0jBhOQb1

— CIC Health (@CIC_Health) February 1, 2021
In addition, Boston's Reggie Lewis Center vaccine clinic will be closed Monday due to the snowstorm. All scheduled appointments will be pushed to next Monday.
For the safety of residents and staff, the #COVID19 vaccine clinic at the Reggie Lewis Center will not open tomorrow due to the storm. Appointments scheduled for 2/1 will automatically be rescheduled for 2/8.

— Boston Public Health (@HealthyBoston) February 1, 2021
Gov. Charlie Baker said Monday that, if the storm forces any other closures, vaccination sites will directly contact individuals who have appointments and help them reschedule. Additionally, if individuals feel they can't safely travel to their appointment due to the snow, they'll be allowed to reschedule. Baker said resident should reach out directly to the vaccination site.
"Most of these folks are going to try and reschedule people this week," the governor told reporters. "It's going to depend to some extent on how much they can get done today, and how much they need to reschedule."
➡️ If #COVID19MA vaccination locations close due to weather, locations will reach out to individuals with appointments to reschedule. If you can't safely get to your appointment, you can reschedule. Reach out to your location with questions.#MAsnow❄️https://t.co/jcmB36rZ10

— Charlie Baker (@MassGovernor) February 1, 2021
State officials noted that because vaccine supply is severely limited, many residents still looking to schedule an appointment may need to wait several weeks before finding an opening.
The state has also published a virtual map listing the roughly 100 public vaccination sites, both big and small, located across Massachusetts. Officials said they are still planning to launch more than 160 sites by mid-February.
Below, see a rundown of what you need to know if you're heading to an upcoming appointment:
What should I bring? 
To be vaccinated in the first or second phase, you will need to confirm that you are part of a currently eligible group, according to the state. Depending on the vaccination site location, you will need to attest to your eligibility either while scheduling your appointment online or when you arrive for your first dose.
Most sites, the state noted, will accept the Commonwealth's self-attestation form, which can be filled out online and brought to the appointment.
Residents with identification and an insurance card are asked to bring that information with them, though people do not need to be insured to receive the vaccine, state officials said.
You can still receive a vaccine if you do not have insurance, a driver's license, or a Social Security number.
Finally, don't forget your mask. The state requires that you, and the healthcare worker administering your vaccine, both wear a face covering that cloaks your nose and mouth during the appointment. 
Will I need to be tested for COVID-19 before getting the vaccine? 
No, according to the state, a previous coronavirus test is not needed. 
If I am currently positive for the virus, can I receive the vaccine? 
People who are symptomatic should hold off on getting vaccinated until after they no longer have symptoms. Residents who have previously tested positive for COVID-19 but are no longer symptomatic, however, should still schedule their appointments.
Can I choose which vaccine I receive?
Patients will receive whichever vaccine is offered to them when they arrive at their chosen vaccination clinic, according to the state. 
How long do I need to stay at the vaccination site after receiving my shot?
Anyone who receives the COVID-19 vaccination should be monitored on-site for at least 15 minutes afterward, according to the Centers for Disease Control and Prevention. 
This allows for the healthcare worker at your appointment to stand by in case you have an allergic reaction to the shot. 
"People who have had severe allergic reactions or who have had any type of immediate allergic reaction to a vaccine or injectable therapy should be monitored for at least 30 minutes after getting the vaccine," the CDC explained.  
When will my second dose be? 
The Pfizer vaccine requires two doses to be given 21 days apart, according to the state, while the Moderna vaccine requires two doses to be given 28 days apart.
"You should get your second shot as close to the recommended 3-week or 1-month interval as possible," the CDC wrote on its website. "However, there is no maximum interval between the first and second doses for either vaccine. You should not get the second dose earlier than the recommended interval."
The CDC added that people should get both doses of the vaccine for the full process to be effective. 
Massachusetts also requires that residents receive their second shot at the same vaccination site where they received their first.
Will I get any proof of vaccination? 
State officials said residents should receive "a vaccination card" or printout that explains which COVID-19 vaccine they received, the date they received it, and where. 
You should also receive a fact sheet that details the specific COVID-19 vaccine you are offered, whether it's from Pfizer or Moderna. 
What happens if I experience symptoms after the shot? 
"If you have any significant pain or discomfort, talk to your healthcare provider, who may recommend over-the-counter medicine, such as ibuprofen or acetaminophen," the state explained on its website. "To reduce pain and discomfort where you got the shot, apply a clean, cool, wet washcloth over the area, and use or exercise your arm.  To reduce discomfort from fever, drink plenty of fluids and dress lightly."
In most cases, state officials said discomfort from fever or pain is normal, though side effects should go away within a few days.
For the Pfizer vaccine, the most common side effects are pain at the injection site, tiredness, headache, muscle pain, chills, joint pain, and fever, according to the state, though more people experienced these side effects after the second dose. 
For the Moderna vaccine, officials noted that the most common side effects are pain, tenderness, swelling, and redness at the injection site, as well as fatigue, headache, muscle pain, joint pain, chills, nausea and vomiting, and fever.
If you do have any side effects after getting the vaccine, you can tell the CDC through v-safe, a smartphone-based tool that "uses text messaging and web surveys to provide personalized health check-ins after you receive a COVID-19 vaccination," according to the state.
How long does it take for the vaccine to be effective? 
The state said it typically takes a few weeks for the body to build immunity after a vaccination — which means it's possible someone could be infected with COVID-19 just before or just after their first dose and still get sick. Officials said this is because the vaccine has not had enough time to provide protection. 
Similarly, the state added that it's too soon to tell how long the COVID-19 vaccines will provide protection from getting sick with the coronavirus, though experts are continuing to conduct studies on how the vaccine will keep people from spreading the disease.