COVID
Bernie Sanders among Democrats urging Biden to deliver higher quality masks through USPS
"We have no time to waste."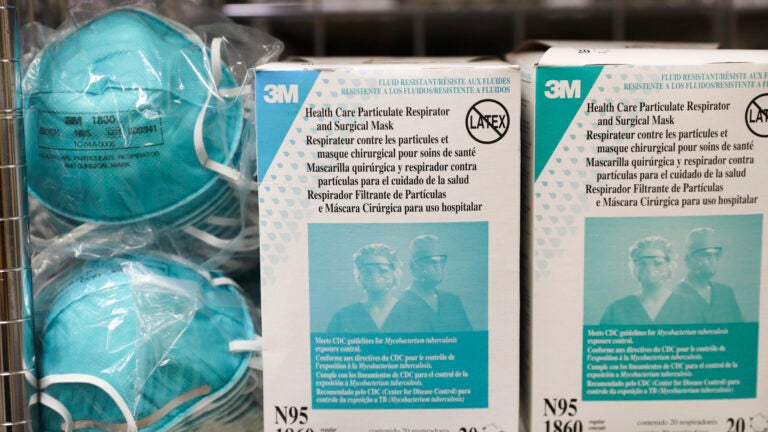 Vermont Sen. Bernie Sanders and a handful of his Democratic colleagues are urging President Joe Biden to explore options for making higher quality masks available to the public through the U.S. Postal Service to help stop the spread of COVID-19.
Calls have been growing from public health experts for the federal government to provide updated guidelines on the use of better quality masks and rollout a national effort to get high-filtration face coverings, like N95s, to the public as the pandemic continues to rage. 
In a letter sent to Biden on Monday, Sanders, Reps. Adam Schiff and Ro Khanna, both of California, and Sen. Brian Schatz of Hawaii asked that the new administration prioritize educating Americans about higher quality masks. They also encouraged the president to examine options for using the USPS to distribute medical masks and for making them available for pick up at locations in local communities. 
"Wearing a cloth face mask is still the official recommendation of the CDC, but there has been little education or outreach about what kind of masks are most effective," the politicians wrote. "While many Americans understand that wearing a mask can help prevent transmission of the disease, many don't realize that a high quality mask can make it far less likely that the wearer will contract the disease, even if exposed to an infectious person. The White House has recognized this fact by requiring staff to wear N95 masks on the premises. Other nations, including Germany and France, have provided their citizens higher quality masks, or reimbursed them for the purchase."
The lawmakers also called on Biden to consider invoking the Defense Production Act to increase the available supply of higher quality masks.
"As more Americans are vaccinated each day, there is a light at the end of the tunnel." they wrote to the president. "But with over 150,00 Americans still being infected each day, thousands are dying, and there is rising concern about variants of the virus that may be significantly more infectious. We must do more to reduce the spread of this virus. We have no time to waste."
As new COVID-19 variants spread, evidence shows that higher quality masks provide much better protection.

That's why @RepRoKhanna, @SenSanders, @SenBrianSchatz and I are urging @POTUS to increase the distribution and supply of higher filtration quality masks.

Mask up, America. pic.twitter.com/rFnrFod04t

— Adam Schiff (@RepAdamSchiff) February 1, 2021
Experts who have been pushing for such moves by the federal government hailed the letter as a big step forward for getting more people wearing higher quality masks.
"The momentum is seriously shifting," Dr. Abraar Karan, a physician at Brigham and Women's Hospital, wrote of the letter. 
BREAKING

Huge push on the #BetterMasks front today!!@RepAdamSchiff @BernieSanders @RoKhanna @brianschatz pen letter urging @POTUS to distribute high-grade masks via USPS + community locations & use DPA to scale up N95 & medical grade mask production! https://t.co/u3m3suAhr3 pic.twitter.com/6aOj50pTtb

— Abraar Karan (@AbraarKaran) February 2, 2021
Karan, with his Brigham and Women's colleague Dr. Ranu Dhillon, has been pushing for a national high-filtration mask program in the United States that would have medical masks, like N95s, distributed to households across the country. 
Joseph Allen, an associate professor and the director of the Healthy Buildings program at the Harvard T.H. Chan School of Public Health, also hailed the development. In an op-ed for The Washington Post last week, Allen presented the case for why "everyone" should be wearing an N95 mask at this point in the COVID-19 pandemic.
The call for better masks has reached Biden's desk 🙌

3 requests:
1) provide clear guidance to public on most effective masks and where to get
2) distribute via USPS and in communities
3) consider invoking the Defense Production Act to increase the supply of higher quality masks https://t.co/Xj5CKMCmd2

— Joseph Allen (@j_g_allen) February 2, 2021