COVID
Charlie Baker to ease capacity limits on businesses as COVID-19 trends improve
"Overall, we think it worked."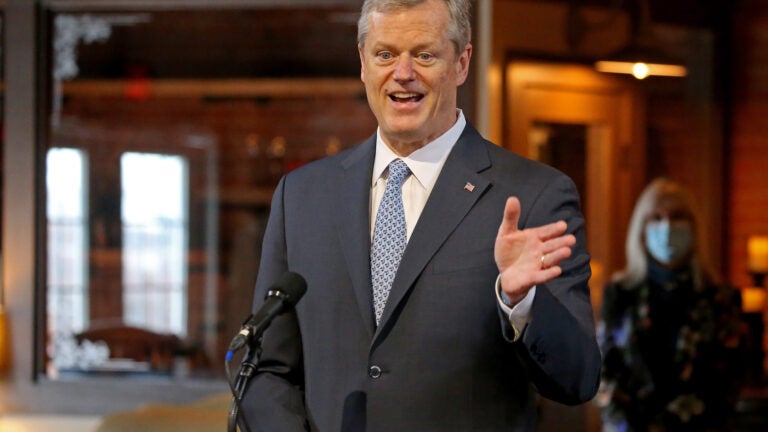 Citing a weeks-long downward trend in statewide COVID-19 rates, Massachusetts Gov. Charlie Baker announced plans Thursday to roll back the tightened occupancy limits imposed on many indoor businesses in December.
According to Baker, the 25 percent capacity limit — which applies to offices, restaurants, retail businesses, grocery stores, places of worship, gyms, movie theaters, casinos, close-contact personal services, libraries, arcades, hotel common areas, and driving and flight schools — will revert to 40 percent on Monday.
Baker said no other changes were being made to the state's existing sector-specific COVID-19 safety rules. All cities and towns in Massachusetts will remain in the first stage of Phase 3 of the administration's reopening plan. The state's tightened gathering order — limiting private indoor gatherings to 10 people and outdoor gatherings and events to 25 people — will also remain in place.
"We know that these restrictions have been and continue to be enormously difficult for large and small businesses, their employees, and for individuals everywhere," Baker said during a press conference Thursday afternoon. "But we're making progress in this battle against COVID."
The state's seven-day average positive COVID-19 test rate has dropped from 8.7 percent on Jan. 1 to 3.3 percent as of this week. Hospitalizations due to the virus, which peaked during the second surge at 2,428 on Jan. 4, are down to 1,635 as of Tuesday. And for the first time since early December, the state is averaging less than 50 deaths per day due to COVID-19.
According to the Department of Public Health's daily dashboard, there were an estimated 64,431 active COVID-19 cases in Massachusetts as of Wednesday.
The 25 percent capacity limits took effect on Dec. 26 in the midst of the second surge, amid concerns that the holiday season was exacerbating the pandemic.
"Overall, we think it worked," Baker said.
Employees at restaurants and close-contact personal services, like hair salons and barbershops — which weren't subject to percentage-based capacity limits prior to Dec. 26 — will continue not to count toward the 40 percent limit. Smaller businesses without a numerical fire occupancy limit are subject to a limit of five people per 1,000 square feet.
No capacity limits are in effect for manufacturing businesses, construction, and laboratories.
Baker, who has repeatedly blamed private gatherings for driving the second surge this fall, declined to speculate on what exactly caused the drop in overall coronavirus rates over the past month, which he noted was much sharper than the decline after the first surge in the spring. He suggested it was due to a "a number of factors," including a change in the public mindset's following the post-Thanksgiving spike in cases.
Still, the move comes at a time when health experts are raising alarms about the rise of several more transmissible COVID-19 variants.
Baker, however, said that state officials have assumed the variants have been present in Massachusetts since at least December, as researchers in the United States work to increase their ability to detect mutated versions of the virus.
"And yet we have seen dramatic declines in both hospitalizations and case counts since sort of early January," Baker said. "We obviously know how important it is for everybody to continue to be vigilant and continue to do the things that we all know prevent the spread, but I think the variants have been with us for a while, during a period of time in which we have seen pretty significant drops."
Asked if relaxing capacity limits sends the wrong message, Baker noted that the intention was always to roll back restrictions if trends improved.
"The data has gotten better. And because the data got better, we are making some adjustments," he said. "These are very difficult decisions and very tough times for many people who are involved in these businesses."
Research has found that dramatically reduced capacity limits — in addition to face -covering and social-distancing rules — are one of the more effective ways to stem the spread of COVID-19, without ordering businesses to completely close.
A study this past fall found that occupancy limits as low as 20 percent at places like restaurants, gyms, churches, hotels, and grocery stores reduced the number of new infections by more than 87 percent, while resulting in 42 percent fewer overall visits. Forty percent capacity limits resulted in a 58 percent reduction in infections, and a 16 percent reduction in customer visits.
Baker noted Thursday other business restrictions, including the 90-minute dining time limit and six-person table limit at restaurants, remain in place. He also argued that the state's efforts to vaccinate hospital workers resulted in a reduction of staff outages across the state, which had "fortified the hospital community's ability" to take care of both COVID and non-COVID patients.