Coronavirus
These 153 Mass. communities have the highest rates of COVID-19
Here's a look at each of the communities in the state's red zone and their average daily case rates for the last two weeks.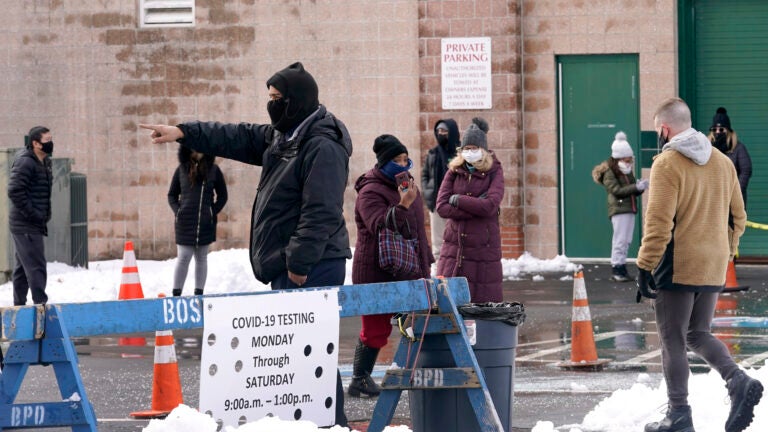 This week, a total of 153 Massachusetts are at high risk for COVID-19, according to state data released on Thursday, 39 fewer communities from the 192 placed in the red zone last week.
This is a drop of about 20 percent, and a continued decline over the past weeks – there were 222 communities on the list from data released on Jan. 21.
The state's overall average case rate for the last two weeks was calculated at 48.9.
Here's a look at each of the highest risk communities, and their average daily case rates for the past two weeks:
1. Gardner
Average daily case rate: 96.7 per 100,000 residents
2. Orleans
Average daily case rate: 96.6 per 100,000 residents  
3. Chelsea
Average daily case rate: 92.9 per 100,000 residents
4. Dedham
Average daily case rate: 91 per 100,000 residents
5. Raynham
Average daily case rate: 86 per 100,000 residents 
6. Great Barrington
Average daily case rate: 84 per 100,000 residents
7. Fall River
Average daily case rate: 83.6 per 100,000 residents
8. New Bedford
Average daily case rate: 83.4 per 100,000 residents 
9. Acushnet
Average daily case rate: 82.7 per 100,000 residents
10. Webster
Average daily case rate: 81.9 per 100,000 residents 
11. Springfield
Average daily case rate: 81.8 per 100,000 residents 
12. Berkley
Average daily case rate: 80.7 per 100,000 residents
13. Randolph
Average daily case rate: 80.7 per 100,000 residents 
14. Lawrence
Average daily case rate: 80.5 per 100,000 residents
15. Middleton
Average daily case rate: 78.8 per 100,000 residents 
16. Winthrop
Average daily case rate: 77.6 per 100,000 residents 
17. Swansea
Average daily case rate: 75.2 per 100,000 residents 
18. Revere
Average daily case rate: 74.5 per 100,000 residents 
19. Somerset
Average daily case rate: 72.9 per 100,000 residents 
20. Stoughton
Average daily case rate: 72.5 per 100,000 residents  
21. Saugus
Average daily case rate: 72 per 100,000 residents 
22. Rochester
Average daily case rate: 71.7 per 100,000 residents 
23. Everett
Average daily case rate: 71.5 per 100,000 residents
24. Walpole
Average daily case rate: 71.3 per 100,000 residents  
25. Lynn
Average daily case rate: 71.2 per 100,000 residents
26. Holyoke
Average daily case rate: 69.8 per 100,000 residents
27. East Bridgewater
Average daily case rate: 67.7 per 100,000 residents
28. Norwood
Average daily case rate: 67.5 per 100,000 residents 
29. Hanover
Average daily case rate: 67.1 per 100,000 residents
30. Bridgewater
Average daily case rate: 66.1 per 100,000 residents
31. Oxford
Average daily case rate: 65.5 per 100,000 residents
32. Palmer
Average daily case rate: 65.3 per 100,000 residents  
33. West Bridgewater
Average daily case rate: 64.7 per 100,000 residents 
34. Fairhaven
Average daily case rate: 63.8 per 100,000 residents
35. Lowell
Average daily case rate: 63.2 per 100,000 residents
36. Westwood
Average daily case rate: 62.7 per 100,000 residents 
37. Plymouth
Average daily case rate: 62.6 per 100,000 residents  
38. Brockton
Average daily case rate: 62.3 per 100,000 residents
39. Nahant
Average daily case rate: 61.8 per 100,000 residents 
39. Southbridge (tie)
Average daily case rate: 61.8 per 100,000 residents 
41. Paxton
Average daily case rate: 60.6 per 100,000 residents 
42. Weymouth
Average daily case rate: 60.5 per 100,000 residents 
43. Rutland
Average daily case rate: 60.3 per 100,000 residents 
44. Berlin
Average daily case rate: 59.8 per 100,000 residents
44. Chicopee (tie)
Average daily case rate: 59.8 per 100,000 residents
44. Leominster (tie)
Average daily case rate: 59.8 per 100,000 residents
47. Nantucket
Average daily case rate: 59.4 per 100,000 residents 
48. Haverhill
Average daily case rate: 58.7 per 100,000 residents
49. Marlborough
Average daily case rate: 58.6 per 100,000 residents
50. Worcester
Average daily case rate: 58.5 per 100,000 residents 
51. West Brookfield
Average daily case rate: 57.9 per 100,000 residents 
52. Taunton
Average daily case rate: 57.4 per 100,000 residents 
53. Canton
Average daily case rate: 57.3 per 100,000 residents
54. Avon
Average daily case rate: 57.1 per 100,000 residents
55. Chatham
Average daily case rate: 56.4 per 100,000 residents
56. West Springfield
Average daily case rate: 56 per 100,000 residents 
57. Lakeville
Average daily case rate: 55.9 per 100,000 residents
58. Sutton
Average daily case rate: 55.8 per 100,000 residents  
59. Dartmouth
Average daily case rate: 55.6 per 100,000 residents
60. Malden
Average daily case rate: 55.5 per 100,000 residents
61. Brewster
Average daily case rate: 55.4 per 100,000 residents
62. Clinton
Average daily case rate: 55.3 per 100,000 residents
63. Foxborough
Average daily case rate: 55.3 per 100,000 residents
64. Wrentham
Average daily case rate: 54.5 per 100,000 residents 
65. Marion
Average daily case rate: 54.4 per 100,000 residents
65. Methuen (tie)
Average daily case rate: 54.4 per 100,000 residents 
67. Salisbury
Average daily case rate: 54.1 per 100,000 residents 
68. Holbrook
Average daily case rate: 53.6 per 100,000 residents
69. Wakefield
Average daily case rate: 53.5 per 100,000 residents 
70. Mansfield
Average daily case rate: 53.2 per 100,000 residents
71. Lynnfield
Average daily case rate: 53 per 100,000 
72. Freetown
Average daily case rate: 52.9 per 100,000 residents
72. Whitman (tie)
Average daily case rate: 52.9 per 100,000 residents 
74. Braintree
Average daily case rate: 52.6 per 100,000 residents
75. Rockland
Average daily case rate: 52.5 per 100,000 residents 
76. Hanson
Average daily case rate: 52.4 per 100,000 residents
77. Peabody
Average daily case rate: 52.2 per 100,000 residents 
78. Ludlow
Average daily case rate: 52.1 per 100,000 residents
78. Oak Bluffs (tie)
Average daily case rate: 52.1 per 100,000 residents  
80. Norton
Average daily case rate: 52 per 100,000 residents 
81. Hull
Average daily case rate: 51.8 per 100,000 residents
82. Blackstone
Average daily case rate: 51.4 per 100,000 residents
82. Halifax (tie)
Average daily case rate: 51.4 per 100,000 residents
84. Edgartown
Average daily case rate: 50.7 per 100,000 residents
85. Abington
Average daily case rate: 50.6 per 100,000 residents
86. Auburn
Average daily case rate: 50.3 per 100,000 residents
86. Westport (tie)
Average daily case rate: 50.3 per 100,000 residents
88. Winchendon
Average daily case rate: 48.4 per 100,000 residents  
89. Kingston
Average daily case rate: 48.1 per 100,000 residents
90. Charlton
Average daily case rate: 47.9 per 100,000 residents
90. Pembroke (tie)
Average daily case rate: 47.9 per 100,000 residents 
92. Dighton
Average daily case rate: 47.8 per 100,000 residents
92. Fitchburg (tie)
Average daily case rate: 47.8 per 100,000 residents
94. Carver
Average daily case rate: 47.2 per 100,000 residents
95. Seekonk
Average daily case rate: 46.9 per 100,000 residents 
96. Hamilton
Average daily case rate: 46.5 per 100,000 residents
96. Hudson (tie)
Average daily case rate: 46.5 per 100,000 residents
98. Lunenberg
Average daily case rate: 45.9 per 100,000 residents
98. Middleborough (tie)
Average daily case rate: 45.9 per 100,000 residents
98. Templeton (tie)
Average daily case rate: 45.9 per 100,000 residents
101. Tyngsborough
Average daily case rate: 45.3 per 100,000 residents   
102. Hampden
Average daily case rate: 45.2 per 100,000 residents
103. Agawam
Average daily case rate: 45.1 per 100,000 residents
103. Barnstable (tie)
Average daily case rate: 45.1 per 100,000 residents
103. Quincy (tie)
Average daily case rate: 45.1 per 100,000 residents 
106. Dracut
Average daily case rate: 45 per 100,000 residents
107. Groveland
Average daily case rate: 44.9 per 100,000 residents
108. Cohasset
Average daily case rate: 44.7 per 100,000 residents
109. Boylston
Average daily case rate: 44.5 per 100,000 residents
109. Southwick (tie)
Average daily case rate: 44.5 per 100,000 residents
111. Westminster
Average daily case rate: 43.9 per 100,000 residents   
112. Attleboro
Average daily case rate: 43.6 per 100,000 residents
113. Westfield
Average daily case rate: 43.5 per 100,000 residents 
114. North Brookfield
Average daily case rate: 43.2 per 100,000 residents 
115. West Boylston
Average daily case rate: 42.8 per 100,000 residents  
116. Ayer
Average daily case rate: 41.5 per 100,000 residents
117. Georgetown
Average daily case rate: 41.3 per 100,000 residents
117. Marshfield (tie)
Average daily case rate: 41.3 per 100,000 residents
119. Framingham
Average daily case rate: 41 per 100,000 residents
120. Ashburnham
Average daily case rate: 40.9 per 100,000 residents
120. Sterling (tie)
Average daily case rate: 40.9 per 100,000 residents 
122. Milford
Average daily case rate: 40.4 per 100,000 residents 
123. Dennis
Average daily case rate: 39.8 per 100,000 residents
123. Maynard (tie)
Average daily case rate: 39.8 per 100,000 residents 
125. Chelmsford
Average daily case rate: 39.7 per 100,000 residents
126. Hopedale
Average daily case rate: 39.3 per 100,000 residents
127. Douglas
Average daily case rate: 39.2 pre 100,000 residents
127. Monson (tie)
Average daily case rate: 39.2 per 100,000 residents
127. Southampton (tie)
Average daily case rate: 39.2 per 100,000 residents  
127. Spencer (tie)
Average daily case rate: 39.2 per 100,000 residents 
131. North Attleborough
Average daily case rate: 39.1 per 100,000 residents 
132. Sandwich
Average daily case rate: 39 per 100,000 residents  
133. Millbury
Average daily case rate: 38.7 per 100,000 residents 
134. Wareham
Average daily case rate: 37.5 per 100,000 residents 
135. Barre
Average daily case rate: 37.3 per 100,000 residents
136. Topsfield
Average daily case rate: 37.1 per 100,000 residents 
137. Bellingham
Average daily case rate: 36.9 per 100,000 residents
138. Boxford
Average daily case rate: 36.5 per 100,000 residents
139. Rehoboth
Average daily case rate: 36 per 100,000 residents  
140. Mendon
Average daily case rate: 34.6 per 100,000 residents 
141. Harwich
Average daily case rate: 34 per 100,000 residents
142. Southborough
Average daily case rate: 32.5 per 100,000 residents 
143. Millis
Average daily case rate: 31.8 per 100,000 residents 
143. Shirley (tie)
Average daily case rate: 31.8 per 100,000 residents 
145. Merrimac
Average daily case rate: 31.5 per 100,000 residents 
146. Granby
Average daily case rate: 30.4 per 100,000 residents
147. Plainville
Average daily case rate: 30.2 per 100,000 residents 
148. Adams
Average daily case rate: 29.5 per 100,000 residents
149. Uxbridge
Average daily case rate: 28.8 per 100,000 residents 
150. Littleton
Average daily case rate: 28.6 per 100,000 residents
151. Lancaster
Average daily case rate: 27.4 per 100,000 residents
152. Pepperell
Average daily case rate: 27.3 per 100,000 residents
153. Townsend
Average daily case rate: 23.5 per 100,000 residents