COVID
Massachusetts has launched a vaccine hotline. Here's what to know.
"We still recommend using the website, if it's possible to do so."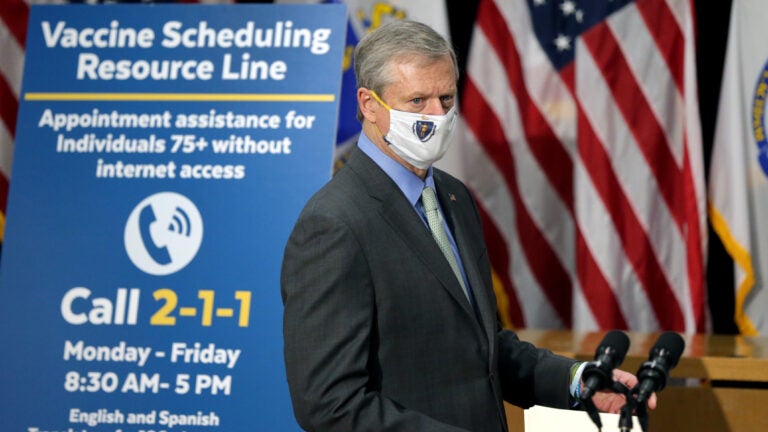 BOSTON (AP) — Massachusetts launched a new hotline Friday aimed at helping those 75 and older who are trying to schedule a COVID-19 vaccination appointment and are having trouble navigating the state's vaccine website.
Those 75 and older can connect with a hotline operator by dialing 2-1-1 Monday through Friday from 8:30 a.m. to 5 p.m. (press 2 for the call center).
Operators won't have any special access to appointments, but instead will walk individuals through the same state website available to the public to help them make an appointment, Gov. Charlie Baker said at a Statehouse press conference Friday.
"We still recommend using the website, if it's possible to do so, because you may experience, at least as this thing starts to get going, significant wait times using the call center, and the website will remain the quickest and fastest way for someone to find and schedule an appointment," he said.
The hotline will be staffed with both English- and Spanish-speaking operators who will have access to translators who can cope with about 100 additional languages, Baker said.
Those who can should still use the state's vaccine map website to help ensure that the hotline is available to those who most need the extra help, Baker said.
"We believe this resource will be a huge help for individuals over 75," the Republican said.
When vaccines become available to those 65 years old and older, the hotline will become available to that group, he added.
Baker also announced the launch of a public information campaign Friday aimed at members of the Black, Latino and other minority communities who may be more skeptical of getting vaccinated.
The main focus of the campaign includes television ads in English and Spanish, including one that will run during the Super Bowl kickoff ceremonies Sunday, Baker said. Other ads in multiple languages will also be running online and in print.
Baker said the campaign will feature a diverse group of doctors explaining that the vaccine is safe and effective.