COVID
The state is easing capacity limits on some indoor businesses Monday. Here's what Boston doctors want you to know.
"I wouldn't participate in some of the activities that are now allowed to be open, as an infectious diseases doctor."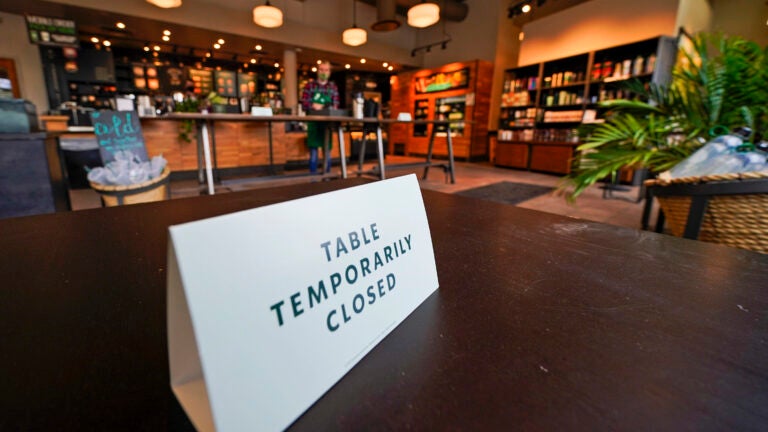 Capacity limits on some indoor businesses — including restaurants, gyms, and grocery stories — are easing in Massachusetts on Monday, a move state officials have said is spurred by the downward trend in COVID-19 rates seen in recent weeks. 
The 25 percent capacity limit, which was imposed on many businesses in December amid a surge in the virus, is reverting back to 40 percent for offices, restaurants, retail businesses, grocery stores, places of worship, gyms, movie theaters, casinos, close-contact personal services, libraries, arcades, hotel common areas, and driving and flight schools.
In announcing the update, Gov. Charlie Baker cited the downward COVID-19 trends and said December-imposed capacity limits have proved "enormously difficult" for businesses. The state's updated gathering order — limiting private indoor gatherings to 10 people and outdoor gatherings and events to 25 people — remains in place. And all cities and towns will remain in the first stage of Phase 3 of the administration's reopening plan. 
And while it appears most cities and towns, including Boston, will be increasing their capacity limits in accordance with the state's move, Somerville is not among them. Mayor Joe Curtatone blasted easing the restrictions last week, saying doing so makes "no sense."
He's not the only one who is concerned.
Local infectious disease doctors are worried the move sends a mixed message to the public about the safety of indoor activities — even with the downward trend in cases. 
"I wouldn't participate in some of the activities that are now allowed to be open, as an infectious diseases doctor," Dr. Louise Ivers, executive director of Massachusetts General Hospital Global Health and interim head of MGH's Division of Infectious Diseases, told Boston.com. 
The doctor said she doesn't believe the restrictions were "nuanced enough" in the first place. Rules for indoor activities, such as capacity limits, are not particularly useful if they are not also combined with information about what activity is occurring in the space, physical distancing, ventilation, masking, and other efforts like the routine screening of employees, she said. 
"Obviously, responding to pandemics is very complicated, there's multiple moving parts," Ivers said. "It is reasonable to open some restrictions if they're not effective restrictions in the first place — I couldn't tell you how any of these individual restrictions actually specifically helped because I don't know if it's the same to have a 40 percent capacity in a gym [as] to have 25 percent. I think it depends on the building and the space and the ventilation and so many other [things]."
Ivers stressed that she's not opposed to the reopening process. But with the state continuing to see thousands of new COVID-19 cases daily — many times more than the summer lull when it was believed the state had control over the virus — "something still just doesn't make sense" with the message such a move sends to the public, she said. 
Given the volume of daily new cases, citing a downward trend as the reason to relax restrictions is too "simplistic," the doctor said. 
What should be asked is whether the restrictions have contributed to the cases going down or if the cases are only declining because after the holiday surge, people were more strictly following infection control measures and weren't going out as much, Ivers said.
"I don't think we've had very clear messaging … the public is very smart — and when they see things that don't quite fit, it actually really diminishes trust in the whole endeavor," Ivers said. "So I think if you're going to change restrictions on certain issues, and yet you also have a narrative about variants and your vaccination rollout is quite slow and inequitable, it seems to me that it's important as a leadership to address all those things in a single conversation and a single narrative, and I think that's what we're missing."
Her concern is that the update might make people misunderstand what activities are safe and those that are risky — regardless of the rules in place. She said the public should continue to avoid groups and gatherings, especially indoors, and that people should not be dining indoors at restaurants. 
At this point, Ivers said it's been known for almost a year that indoor activities where individuals are unmasked — such as indoor dining — are "very high risk."
"It's totally different to think about indoor dining than it is to think about going to a library where you wear a mask and the building has ventilation and no eating is allowed," she said. "So I think when you make restrictions that are written about things like 'no more than 50 people in a movie theater,' I don't think that's a really super helpful restriction because it depends on the size of the theater, it depends on the ventilation. So I feel confused when I hear the state's output, and I'm engaged full-time in understanding the literature and public health. So I can only imagine what it means for the public."
'We cannot let our guard down'
Like Ivers, Dr. Cassandra Pierre, associate hospital epidemiologist at Boston Medical Center, told Boston.com she personally will not be eating out at restaurants indoors as the the restrictions ease. But, she said, she will continue to support local establishments with takeout orders.
Pierre said that while she doesn't think easing the capacity limits will result in significant increases in people engaging in the activities, she is concerned about the impact of mixed messaging the move sends. 
"We just have to understand that we cannot let our guard down, although restaurant capacity is increasing and that is a good thing and reflective of our declining rates, it does not necessarily mean that you should have dinner with your long-lost friend or your colleagues in close proximity," she said. "It just is not the right time to do this."
The emergence of more transmissible variants of the virus only heightens the concerns about spread of the virus in indoor settings, both Ivers and Pierre said. According to the Centers for Disease Control and Prevention, Massachusetts now has seven cases of the variant first detected in the United Kingdom, known as B.1.1.7.  The CDC is predicting the more contagious variant will be the dominant source of COVID-19 infections in the United States in March. 
Indoor transmission "doesn't take a day off" regardless of whether it is occurring in a private home or a public space, like a restaurant where capacity limits have been eased, Pierre said. 
The doctor said she is particularly concerned that people from mixed households continue to eat out together, despite public health urgings not to do so.
"We know this happens," Pierre said. "It's happened before, and it will happen again. And the messaging people get is that the numbers are going down, it's safe to go out. And what that might mean is different than what is intended."
It's not difficult to imagine a scenario where individuals, fresh off their Super Bowl parties with mixed households, go out to restaurants and other retail establishments, contributing to and fueling ongoing transmission in the community, she said. 
"While this move is certainly reflective of the decline we've been seeing in numbers, I do worry that it might inadvertently serve to contribute to further spikes in cases in the future," Pierre said. 
With predictions from the CDC and others that the UK variant could become the dominant strain by the spring in the United States, Pierre said she is concerned that Massachusetts could be in a situation where indoor venues like restaurants will be even more at risk for super-spreader events with the more transmissible strain that they already are. 
"It will become more of an issue over time," she said of the variant's spread in Massachusetts. 
Between the lagging vaccine rollout in Massachusetts and the worries over the spread of the virus variants, anything that can be done to give health care workers a "reprieve" from another surge as they work to get more individuals vaccinated would be "wonderful," Pierre said. 
If people are racing to go to restaurants or other indoor public gatherings, that could set back the effort to get people vaccinated before they develop symptoms or severe complications from COVID-19, she said. 
"Now I think is not the right time," Pierre said. "I think we need to give it a little more time to get it up to speed. And the fact that our numbers are down in Massachusetts is great, but it's not the only indication that we need [when it comes to] safety to fully go out."