COVID
Harvard analysis gives Massachusetts failing grades on report card for vaccine rollout
"Massachusetts is currently earning an F."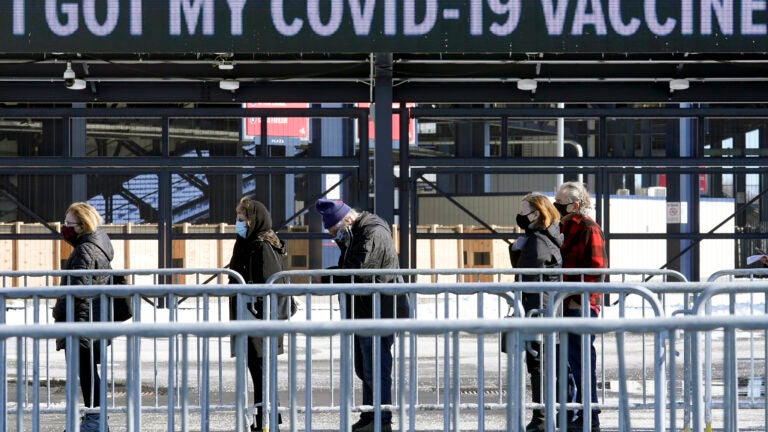 Massachusetts is earning failing grades for its COVID-19 vaccination rollout on a report card analyzing the state's progress from Harvard University. 
The poor grade from the institution follows weeks of criticism of the state's sluggish pace of vaccinations, with officials and health care providers alike expressing concerns about a lack of equity in the rollout and its slow progress.
The report card, issued this week by Harvard Kennedy School professor Graham Allison, evaluated the state across four COVID-19 performance indicators: deaths per capita, vaccines per capita, vaccinations as the percent of doses available, and months to finish vaccinating eligible individuals. 
Massachusetts was given Fs in three of the four areas, earning a D for the last metric. The state has been "stumbling in its attempt to meet the challenge posed by COVID-19," the professor wrote with the report card's release.  
"Massachusetts is currently earning an F," Allison said, comparing the Bay State's progress against both West Virginia and Connecticut. 
Massachusetts ranked 48th out of the 50 states for deaths per capita, 42nd for vaccinations per capita, 44th for vaccinations as a percent of doses available, and 33rd on months to finish vaccinating eligible individuals, according to the report card. 
Allison charged that most of the more than  460,000 American deaths from COVID-19 were "unnecessary" and could have been prevented by both federal and state actions, comparing the toll in Massachusetts to those in other countries. Since the start of the pandemic, more than 14,821 people in Massachusetts have died from the virus. 
"It is a simple fact that Singapore, with a population essentially the same as that of Massachusetts, has had only 29 deaths," Allison wrote. "Taiwan with a population three times the size of Massachusetts has allowed only 9 deaths. And South Korea, with a population of 52 million, including 28,500 American servicemen, has experienced only one-fiftieth the deaths per capita of the USA. For those who live here in Massachusetts, that means that if our fellow Bay Staters who died in the past year from COVID-19 had relocated to Taiwan or Singapore or Seoul this time last year, they would be alive on this earth today."
Allison wrote that in comparing the states to one another, like "runners in a series of marathons," it becomes clear who is leading and who is behind. 
In the initial "race to protect the lives of its citizens" — judged by having fewest deaths per capita — Massachusetts "has fallen so far behind that it is almost impossible for it to catch up," the professor wrote. 
But when it comes to the second race — to deliver vaccines to residents — Allison wrote that "every day" Governor Charlie Baker, state officials, and health care providers have the chance to make decisions that can "move [the] needle."
"If tomorrow, and the day after, and the week after that we run faster in this marathon, we will move up in the race for the highest percentage of our population vaccinated," the Harvard professor wrote. "Moreover, if the governor and his team are able to do that, they can advance the date in which we've reached the level of vaccinations that will allow us to return to something closer to normal. In sum, in this marathon, cheering from the sidelines, we should all be shouting our words of encouragement: run, Charlie, run."