COVID
Health officials, local politicians shed light on vaccine rollout inequities
"We're failing those who have kept Boston running over the last year and we need to do better."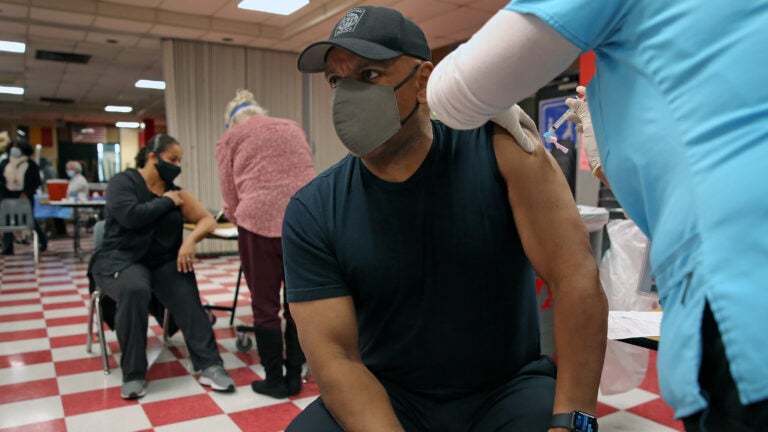 Of the thousands of Massachusetts residents vaccinated against COVID-19, only 3 percent of the individuals are Black and 3.6 percent are Latinx, compared to 45 percent of recipients who were white, according to the Department of Public Health.
The lopsided rollout when it comes to who is receiving the vaccines was widely criticized this week by state politicians and healthcare officials during a meeting of the state Legislature's Health Equity Task Force.
The task force heard from some officials who believe that vaccines should be open to all essential workers now, and that language and transportation barriers make it difficult for people of color to access the vaccine.
A Harvard analysis recently gave the state failing grades in terms of vaccinations per capita, vaccinations as percent of doses available, and time taken to finish vaccinating eligible people.
Dr. Lara Jirmanus, a family doctor at Cambridge Health Alliance who also teaches at Harvard Medical School, noted that along with the low numbers of people of color being vaccinated, vaccination  sites "are two to three times more likely to be located in neighborhoods of white than [of] Black or Latinx residents."
"While I welcome [Gov. Charlie Baker's] new multilingual call center and ad campaigns, the state is not doing enough to make sure that doses get to communities of color," she said, noting that community health centers are receiving far fewer doses than big-name pharmacies.
"Furthermore, vaccine hesitancy is much more common in historically marginalized communities of color," she said. "In our primary care clinics, BIPOC staff are also less likely to accept vaccines. However, we also see the way people change their minds as they watch their peers being vaccinated, especially when they don't have to travel to get the shot."
Jirmanus pushed for direct public outreach, like door knocking and phone calls, in these communities.
"We must partner with grassroots organizations in hard-hit communities to develop effective strategies and then we must administer the vaccines in spaces where people already gather, such as community- or faith-based organizations where they can watch their peers get the shot and be OK, and then realize that it's safe."
State Rep. Erika Uyterhoeven, who represents Somerville, said that part of the challenge in vaccinating "our most vulnerable and marginalized residents" has to do with language accessibility and transportation.
"With respect to language accessibility and the need for culturally sensitive resources, the vaccine rollout has unfortunately come up severely short," Uyterhoeven said. "The lack of language access compounds with other systemic barriers such as the difficult-to-navigate website and the less visible barriers that communities of color and immigrant communities face around stigma and fear of repercussion for reaching out to government services."
The website has come up as an area of frustration for others. Olivia Adams of Arlington, after hearing complaints, pooled all vaccination appointment site information onto a website she created to help streamline the process.
"With these barriers it should come as no surprise that vaccination rates are unfortunately and sadly far higher for white individuals compared to Black, Indigenous, and people of color," Uyterhoeven said. "We need to both dismantle barriers to language access and set up systems that are proactive and intentional in reaching out to our communities of color in the vaccine rollout."
As for transportation, Uyterhoeven said many in Somerville and the area don't have access to a car, making it difficult to get to a vaccination site.
For those who use Codman Square Health Center in Dorchester, Dr. Rohini Rau-Murthy, who practices there, told the task force that patients ask her every day when they can be vaccinated, and speak of family members they've lost to COVID-19.
"They want – need – the protective armor of the vaccine to continue their jobs, to be able to hug their loved ones in the near future, and to know that our leaders care about their lives," she said.  "But the COVID vaccination locations don't serve my patients. Dorchester has one of the highest positivity rates in the city, but there's not a single clinic or high-volume site listed here on the available list of vaccination sites.
She noted that a colleague pointed out that the closest mass-vaccination site for Dorchester residents happens to be in Roxbury. Though just four miles away geographically, it takes 17 minutes to drive there, a half hour by bus, or about an hour's walk.
"That's structural racism in practice," Rau-Murthy said.
Large vaccination sites need to be open late, and on weekends, to accommodate work schedules, Rau-Murthy said.
She pointed out that Massachusetts is often looked up to for its health care.
"But today we're disappointed," she said. "We're failing those who have kept Boston running over the last year and we need to do better."