COVID
Maura Healey, Ayanna Pressley call on Charlie Baker to add asthma to list of conditions prioritized during Phase 2 of vaccine rollout
"It's the smart and just thing to do."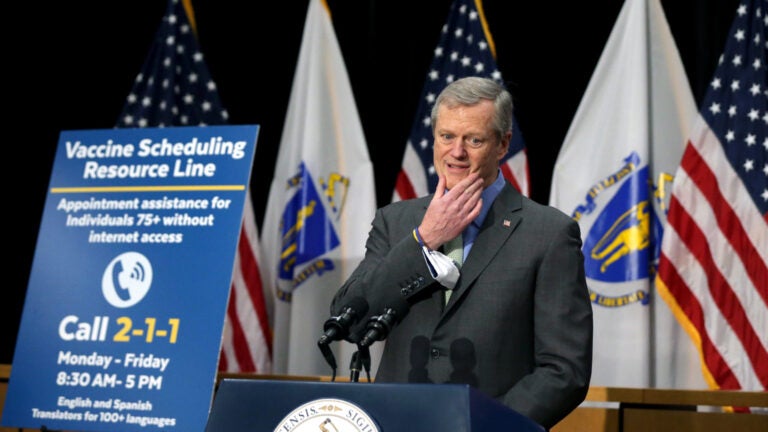 New Yorkers with asthma can sign up to get the COVID-19 vaccine as soon as next week under the state's recently released eligibility criteria.
In Massachusetts, asthmatics currently have to wait until spring with the rest of the general public.
But some of the state's top elected officials, including Attorney General Maura Healey and Rep. Ayanna Pressley, are calling on Gov. Charlie Baker to change that, particularly given the pandemic's toll on communities with high rates of asthma and other environmentally related respiratory diseases.
"The Baker Administration can and should add asthma to the list of comorbidities that qualify for the vaccine in Phase 2," Healey wrote. "It's the smart and just thing to do."
BIPOC communities—like pandemic hotspot Chelsea—have significantly higher rates of asthma. The Baker Administration can and should add asthma to the list of comorbidities that qualify for the vaccine in Phase 2. It's the smart and just thing to do.https://t.co/KDumRFJFWM

— Maura Healey (@MassAGO) February 8, 2021
The calls come after a Boston Herald article over the weekend about the concerns among community advocates over the fact that Massachusetts — unlike New York — left out moderate-to-severe asthma from its list of underlying health conditions that make individuals eligible to get the vaccine during Phase 2 of the state's rollout.
Individuals with two or more of the conditions — which range from cancer to a history of smoking — can get the vaccine in the second Phase 2 group, along with residents over the age of 65. Individuals with just one of the conditions are in the fourth Phase 2 group.
Currently, the state's list mirrors Centers for Disease Control and Prevention guidelines that say individuals with any of a dozen underlying medical conditions are at an increased risk of hospitalization or death due to COVID-19.
According to the CDC, asthma is on a separate list of conditions that "might" put individuals at a higher risk of severe illness due to COVID-19. So, as it currently stands, people in Massachusetts with asthma will not be eligible to get the vaccine until Phase 3, when the rollout expands to the general public.
The CDC notes that there's still "limited data and information about the impact of many underlying medical conditions on the risk for severe illness from COVID-19."
Indeed, the evidence on whether asthma increases the risk of COVID-19 is somewhat mixed; as Stat reported last year, it may depend on the specific type of asthma. While one study in June found that asthma was not associated with an increased risk of hospitalization among COVID-19 patients, another study in May found that non-allergic asthma — the type triggered by things like exercise, stress, and cold weather — significantly heightened the likelihood of severe illness due to the coronavirus. Allergic asthma — which is more common and set off by environmental factors like pollen or mold — did not, the study said.
Still, the June study did find "dramatic" racial disparities, with Black patients more likely to have severe COVID-19 and suffer from asthma. Researchers said they weren't surprised by that finding, given how asthma has disproportionately affected Black populations. In 2018, nearly 11 percent of all Black individuals were estimated to have asthma, compared to 7.7 percent of white individuals, according to the American Lung Association.
Researchers say they need to do more work to determine whether asthma itself — or other comorbidities, also driven by historical social inequities, that are common in people with asthma — is a factor for higher COVID-19 hospitalization rates among Black people. The study noted that conditions like obesity, hypertension, and sleep apnea were higher in patients with asthma and COVID-19 than in non-asthmatics with COVID-19.
Michael Curry, the president of the Massachusetts League of Community Health Centers and a member of Baker's vaccine advisory board, told the Herald that he's waiting to see data that support adding asthma to the list.
"Asthma has a huge prevalence in Black and brown communities that are infected, hospitalized and dying (from COVID-19) at a higher rate," said Curry, who has asthma himself. "But I try to approach these conversations with some deference to the scientific and medical community."
Others think it's past time to wait — and that adding asthma to the list of Phase 2-eligible conditions would help address the underrepresentation of people of color among those who have been vaccinated in Massachusetts. In response to the Herald's story Monday night, Rep. Ayanna Pressley tweeted that the decision not to prioritize asthmatics was "devastating" for communities in Massachusetts with the highest rates of asthma, like Chelsea and Boston.
"[Baker] must ensure those with asthma are eligible for vaccines in Phase 2," Pressley wrote. "This is both a racial & environmental justice issue."
This decision is devastating for Black & Brown communities in MA with disproportionately higher rates of asthma, like Chelsea & East Boston.
@MassGovernor must ensure those with asthma are eligible for vaccines in Phase 2.

This is both a racial & environmental justice issue. https://t.co/sfwSlZuXO6

— Congresswoman Ayanna Pressley (@RepPressley) February 9, 2021