COVID
Crowds flocked to a Danvers COVID-19 vaccination site in hopes of getting an extra dose
The scene left a line of cars "way out to the highway," one person said.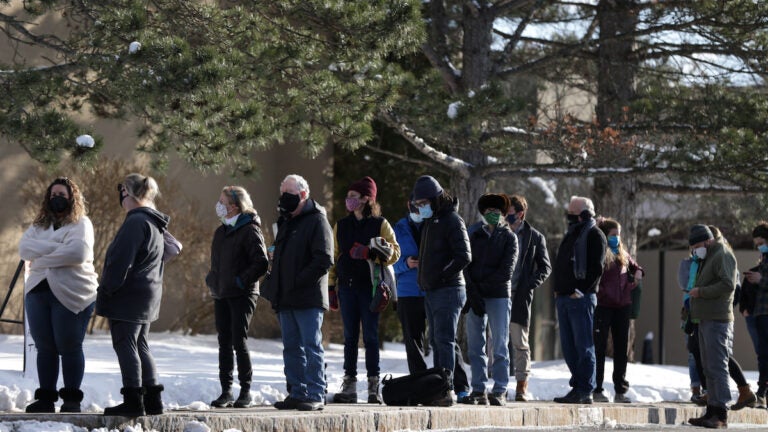 The chance of receiving one of the extra doses available at a Danvers COVID-19 vaccination site on Wednesday led to long lines and some confusion.
A spokesperson for Curative, the company managing the site, told The Boston Globe it did not want to waste any additional doses and so, it offered patients who already had appointments scheduled later in the week the option of receiving their dose that afternoon instead.
"The interest and high demand from patients to move their appointment time and receive their dose today did create a line outside of the site," the spokeswoman, Miranda Gottlieb, said in an email to the newspaper.
As word spread of the extra availability, crowds flocked to the site at the DoubleTree Hotel, prompting workers to form a line for those with an appointment for Wednesday and those with one for a later date, Gottlieb told the Globe.
"New operational protocols were put in place to accommodate more patients inside of the DoubleTree as well as requesting patients to remain in their cars until their new appointment time," after the lines formed, she said.
There are hundred of people lined up in Danvers trying to get the vaccine. They do not have appointments. They tell me they heard a rumor there were extra doses and showed up. @NBC10Boston @necn pic.twitter.com/KuSftp7vNh

— Abbey Niezgoda NBC10 Boston (@AbbeyNBCBoston) February 10, 2021
According to NBC 10 Boston, there was apparent confusion among those that turned up over whether an appointment was required.
A nurse at the site told the station that workers would attempt to vaccinate people without a scheduled appointment who had waited in line, although others who arrived without one later in the day were turned away, the news outlet reports.
🚨 I just went inside the vaccination site in Danvers. In this video, the crowd is being told if they don't have appointments, they will not get shots. However, many in line tell me they've heard conflicting information. @NBC10Boston @necn pic.twitter.com/C4nBJB5aft

— Abbey Niezgoda NBC10 Boston (@AbbeyNBCBoston) February 10, 2021
Lucie Consentino, an 84-year-old Peabody resident, told the Globe she had an appointment at the site and heard a worker inform those waiting in line that extra doses would become available and they could call loved ones to come and get a shot, regardless of their ages, if they arrived by 4 p.m.
"It's just crazy how it turned out, because when they made that announcement, I had no problem believing it because we've heard how some vaccines have been thrown away," said Consentino, who called her two daughters and some friends with the news.
Sarah Jackson, Consentino's daughter, told the newspaper a worker at the site told people without an appointment around 3 p.m. that they should go home.
"It was an abrupt change because their prior communication was that everyone in line should wait patiently and that they'd take the rest of the people without appointments beginning at 6 p.m.," said Rebecca Hains, Consentino's other daughter.
Two of Consentino's friends were also turned away, Consentino said. Another left while still on her way to the site when she saw "a line of cars way out to the highway," she said.
"We tried to honor all our appointments, and then the people who found out through Facebook and texts. We tried to honor those," nurse Rece Idongernreese told NBC 10 Boston at one point. "But families are going home. Nurses are going home. We only have a few left inside that we can actually service."
Update: all these people without appointments were turned away, after waiting in line. Turns out the rumor was false. #wbz https://t.co/M1GDdsIg7p

— Christina Hager (@HagerWBZ) February 10, 2021
Gov. Charlie Baker spoke at the Danvers hotel earlier on Wednesday, where he announced a shift in the state's vaccination protocol to begin allowing individuals who accompany Massachusetts residents over the age of 75 to a vaccine appointment to also be vaccinated, beginning Thursday.
State officials said over 53,000 appointments were slated to be posted online Thursday for mass vaccination sites in Danvers, Springfield, Foxborough, and at Fenway Park in Boston. An additional 50,000 appointments are expected to be available at local pharmacy locations by the end of the week.
"At this point, nearly a million doses have been administered here in Massachusetts," Baker said, according to the Globe. "And over the past few days, there were thousands of open slots for people to book at our mass vaccination sites."