COVID
UMass Amherst is prohibiting outdoor exercise during its lockdown. But why?
"This policy seems to be based on what's easiest to enforce, not based on actual risk or public health impacts."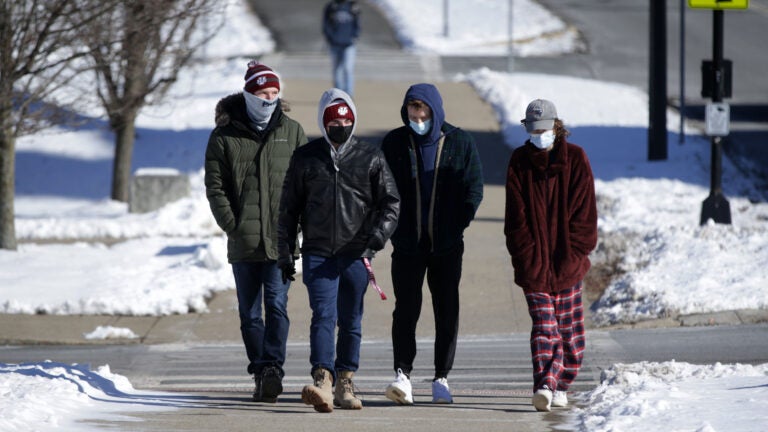 The official Twitter account of the University of Massachusetts Amherst promotes "long walks around the campus pond."
However, under the flagship university's "high-risk" operation posture due to a surge in COVID-19 cases, students on any sort of recreational stroll could face disciplinary action.
UMass officials announced Sunday that students will be required to "self sequester" for at least two weeks, after hundreds of new infections were reported following the return to campus for the start of the spring semester last week. As of Thursday, the university had 541 active cases and a 2.6 percent positive test rate.
The lockdown goes much further than any of the statewide stay-at-home orders issued across the country last spring, requiring students to stay in their residences — both on and off campus — at all times except to get meals, undergo twice-weekly COVID testing, attend medical appointments, or perform essential jobs. Athletic competitions and practices were also suspended, and all in-person classes transitioned to remote formats.
According to an FAQ page on the UMass website, students are also prohibited from leaving their residence halls to go for a walk or exercise outdoors. Punishment for violating the self-sequestration rules ranges up to suspension or removal from dorms.
"We're trying to take this as seriously as we possibly can," Steve Goodwin, UMass's deputy chancellor, told Boston.com in an interview.
While the university has put at least one fraternity on interim suspension following reports of multiple parties on students' first weekend back, Goodwin says transmission is mostly occurring in "lots of small group settings."
"So that's what we're trying to focus on," he said.
However, given the minimal risk of outdoor COVID-19 transmission, some public health experts say that going so far to prohibit things like walks, even for a short period, is misguided and threatens to undermine long-term efforts to engage students in public health measures.
"Restricting students from going outside on walks is a mistake," said Abraar Karan, an internal medicine doctor at Brigham and Women's Hospital and Harvard Medical School.
"We know that outdoor transmission is exceptionally low, and the costs of forcing students to stay indoors can become a stress on their mental health," Karan told Boston.com. "Furthermore, if we discourage socialization outdoors, it will inevitably happen indoors, because socializing is not a luxury so much as it is a necessity."
Julia Marcus, an epidemiologist and associate professor at Harvard Medical School, also called the restrictions on walking outside "misguided," even if she agreed that certain risk mitigation strategies should be implemented to stem transmission on campus. While it would be difficult to trace, Marcus noted that there are no documented cases of COVID-19 transmission happening through people briefly passing each other, much less solo exercise.
"The vast majority of transmission occurs indoors with close, prolonged contact, and policies should be designed accordingly," she said. "This policy seems to be based on what's easiest to enforce, not based on actual risk or public health impacts."
Marcus noted that restricting outdoor activity would not address the students' desire for social connection, the very thing that appears to be driving the spread of the disease. Instead, she suggested the university set up low-risk options for students to socialize, like outdoor fire pits or open-air tents
"We need to focus on smarter policies that take advantage of scenarios where transmission is less likely," Karan agreed.
The policy at UMass follows a similar lockdown at the University of California's flagship Berkeley campus, which also includes a temporary ban on solitary outdoor exercise.
UMass, which is instead offering an array of virtual fitness classes, suggests that students "view approved activities such as accessing food and participating in twice-weekly COVID testing at the Mullins Center as opportunities to take walks to support your health." Another exception is if students need to take out a pet, in which case "short walks while wearing a mask" are allowed.
Pressed on the policy, Goodwin recognized the fact that there's little evidence of outdoor transmission; he also said that, depending on how the university's COVID-19 numbers trend in the coming days, UMass officials would "definitely" consider modifying the rules before the end of the two-week period.
"We're hoping to limit the other contacts to try to bring down the rate of transmission a little more quickly," he said. "Our expectation is, as we do that, we will be able to loosen up some of those restrictions and allow students to have more outdoor time."
Still, Marcus say that "any policy that is not based on actual risk, or what will have a beneficial public health impact, runs the risk of losing trust in your community you're trying to help." Additionally, she said that addressing the root issue and providing students safer places to see each other would be a more successful longterm strategy than requiring students to stay in their rooms whenever there's an increase in cases.
"There's kind of a lack of transparency there around the objective of a policy like this," Marcus said. "In the short term, it's not necessarily going to cause massive harm, but I do question whether it's the right approach to keeping students engaged and sustaining their trust."
Get Boston.com's browser alerts:
Enable breaking news notifications straight to your internet browser.