COVID
Here are the 110 Mass. communities at highest risk for COVID-19 transmission
There are 43 fewer communities on the "red zone" list than last week.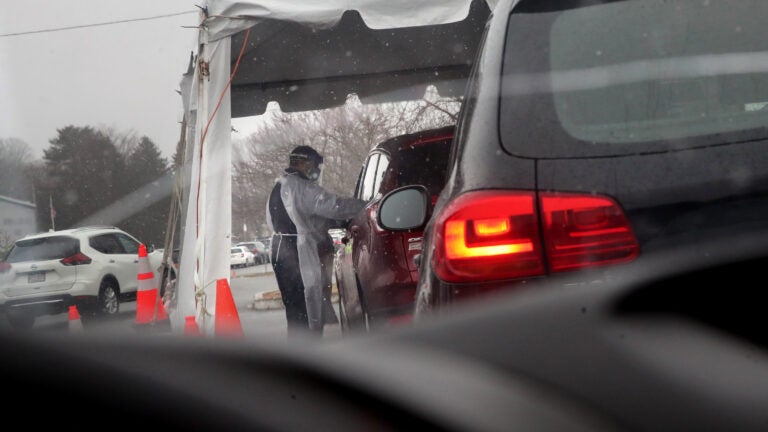 The number of Massachusetts communities with the highest risk designation for coronavirus transmission continues to drop with 110 cities and towns making the state's "red zone" list this week.
That's 43 fewer cities and towns compared to last week and a major decrease from the end of January, when over 200 communities were on the list.
The state's average daily case rate for the last two weeks is also on the decline. It currently sits at 38.5 cases per 100,000 residents, a yellow designation, compared to last week's 48.9 cases per 100,000 residents on average for the prior two weeks, which placed the state in the red zone.
A community receives a red designation based on a few factors. Small communities with under 10,000 residents are placed in the red zone if they have more than 25 cases total over the last two weeks, according to the state. For communities between 10,000 and 50,000 people, a red zone designation is given if the community has 10 or more average cases per 100,000 residents and if the positivity rate is greater than or equal to 5 percent. For communities over 50,000, they need 10 or more cases per 100,000 residents and a positivity rate of 4 percent or higher.
Here's a look at each of the cities and towns in the red zone this week. Communities are listed alphabetically; all of the state's data can be found here.
Abington
Acushnet
Adams
Attleboro
Auburn
Avon
Ayer
Barnstable
Bellingham
Berkley
Blackstone
Boxford
Brewster
Bridgewater
Brockton
Carver
Chatham
Chelsea
Chicopee
Clinton
Cohasset
Dartmouth
Dedham
Dennis
Dighton
Douglas
Dracut
East Bridgewater
Eastham
Everett
Fairhaven
Fall River
Foxborough
Freetown
Gardner 
Georgetown
Great Barrington
Halifax
Hamilton
Hampden
Hanover
Hanson
Haverhill
Holbrook
Holyoke
Hudson
Hull
Lakeville
Lawrence
Leominster
Littleton
Lowell
Ludlow
Lunenburg
Lynn
Malden
Marion
Marlborough
Marshfield
Methuen
Middleborough
Middleton
Monson
New Bedford
North Reading
Norwood
Orleans
Oxford
Palmer
Paxton
Peabody
Pembroke
Plainville
Plymouth
Quincy
Randolph
Raynham
Revere
Rochester
Rockland
Rutland
Salisbury
Sandwich
Saugus
Seekonk
Shirley
Somerset
Southampton
Southborough
Southbridge
Southwick
Spencer
Springfield
Sterling
Sunderland
Sutton
Swansea
Taunton
Templeton
Townsend
Ware
Webster
West Bridgewater
West Brookfield
West Springfield
Westminster
Westport
Weymouth
Whitman
Winchendon