COVID
Does diabetes qualify for vaccine priority in Massachusetts? Depends on which type.
"We have new data and now we're smarter, so we need to respond to that."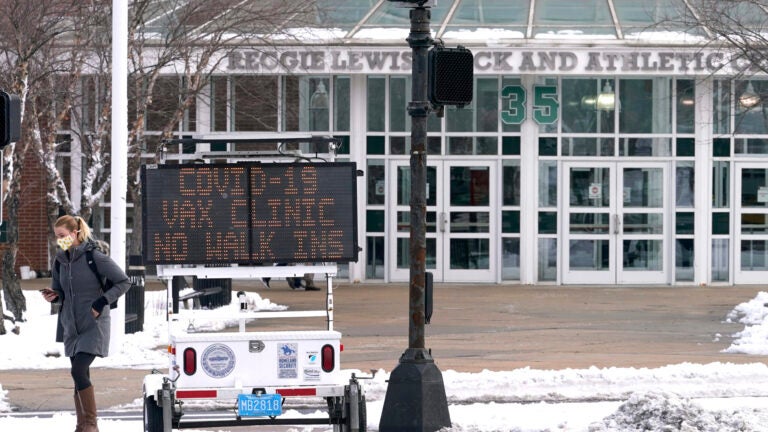 A number of studies released over the past several months suggest that people with Type 1 and Type 2 diabetes face roughly the same increased risk of hospitalization and death due to COVID-19.
If anything, Type 1 diabetics might be slightly more vulnerable.
However, under the current Massachusetts vaccine rollout, Type 2 diabetics will be eligible to get the COVID-19 vaccine during Phase 2. Type 1 diabetics are slated to have to wait until April with the rest of the general public.
That has advocates for those with the chronic condition concerned.
"Lives are at stake," says Robert Gabbay, a Boston-based doctor who serves as the chief scientific and medical officer for the American Diabetes Association, which has sent letters to Gov. Charlie Baker's administration expressing concern.
Currently, the Baker administration follows Centers for Disease Control and Prevention guidelines that classify Type 2 diabetes, which is far more common, among the 12 underlying medical conditions that put individuals "at increased risk" of hospitalization and death due to COVID-19.
Under the state's vaccine rollout, Massachusetts residents with two or more of those conditions, which range from cancer to obesity, are part of the second group in Phase 2 eligible to sign up to be vaccinated, along with anyone over the age of 65. Individuals with just one of those conditions are part of the fourth group in Phase 2.
Type 1 diabetics do not qualify, meaning they will have until Phase 3 when the rollout opens to the general public, unless they qualify for early priority for another reason.
The CDC lists Type 1 diabetes among the conditions that "might" pose an increased risk of complications due to COVID-19. According to Gabbay, the early research didn't provide clear evidence that Type 1 diabetes posed an increased risk.
However, a string of studies released over the past six months suggests that Type 1 diabetics are equally, if not more, vulnerable to COVID-19 as those with Type 2.
One study found that people in England with Type 1 diabetes had 3.5 times the odds of in-hospital death relative to people without diabetes, while Type 2 diabetics had twice the odds. Another found that people with Type 1 diabetes had 3.9 times the risk hospitalization and 3.35 times the risk for greater illness severity, "which was similar to risk in type 2 diabetes." And a third study of those hospitalized with COVID-19 in Scotland found the risk of hospitalization or death more than double for Type 1 diabetics and less than 1.5 times more likely for those with Type 2 diabetes.
On Jan. 13, the ADA led a letter to the CDC that the newer data "convincingly demonstrates" the increased risk for people with Type 1 diabetes.
"As we've all experienced, the story of COVID evolved. And now we have new data and now we're smarter, so we need to respond to that and say, people with Type 1 diabetes have that same risk and therefore should be prioritized," Gabbay told Boston.com in an interview. "All people with diabetes should be prioritized."
So far, however, the CDC guidelines have not changed. That hasn't stopped some states, such as Tennessee and New York, from including Type 1 diabetes in their lists of prioritized conditions. Officials in the United Kingdom also do not differentiate between the two types.
However, the Baker administration hasn't followed suit.
The ADA says it has sent letters to Baker, Public Health Commissioner Monica Bharel, and the state's COVID-19 vaccine advisory group urging them to prioritize Type 1 diabetics. Based on ADA data, there are somewhere around 50,000 people in Massachusetts with diagnosed Type 1 diabetes (the organization doesn't have specific numbers, but says there are 507,000 people in the state with both types; an estimated 10 percent of all diabetes cases are Type 1).
Baker's office did not respond to requests for comment specifically on diabetes, but the governor has expressed some general openness to tweaking the state's list of prioritized conditions.
The administration is also facing calls to prioritize asthma, another condition not included in the CDC's guidelines, in the vaccine rollout. Asked about adding asthma, Baker told reporters Wednesday that it was "a very top of mind issue."
"It's not consistent with the CDC guidance, but it's something we're definitely talking about," he said.
Gabbay is hoping to make Type 1 diabetes top of mind as well.
"Nationally, there are 1.6 million people with Type 1 diabetes," he said. "Some of them, without vaccination, are likely to get COVID, a subset of them will be hospitalized, and another subset, sadly, as we know, will die."
Get Boston.com's browser alerts:
Enable breaking news notifications straight to your internet browser.