COVID
Charlie Baker responds to the Massachusetts delegation's calls for a vaccine preregistration system
"I would love to have the congressional delegation urge the Biden administration to give states three or four weeks of solid, committed visibility into what's coming."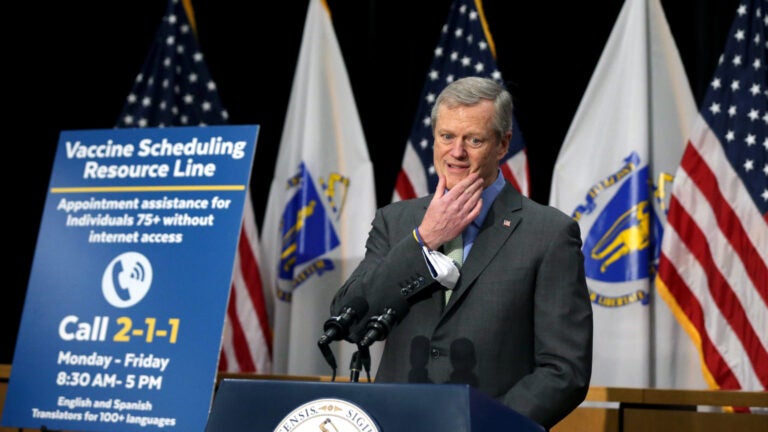 Gov. Charlie Baker says that his administration is looking at the possibility of a COVID-19 vaccine preregistration system in Massachusetts.
But he also wishes that the state's congressional delegation focused more on pushing President Joe Biden's administration, rather than himself.
After nearly every member of the all-Democratic delegation signed a letter criticizing the Baker administration's vaccine appointment process and imploring the governor to set up a preregistration system as other states have done, the Republican governor said Wednesday that "what would be really great, from my point of view, with respect to the congressional delegation," would be for more longterm visibility from the federal government into future vaccine shipments so that state officials could make appointments available further out in advance.
"I would love to have the congressional delegation urge the Biden administration to give states three or four weeks of solid, committed visibility into what's coming," Baker told reporters during a press conference Wednesday.
According to Baker, such clarity would allow state officials to make appointments available several weeks in advance and "provide a lot more certainty to the folks out there who are looking to make appointments."
Baker did note that the administration is "looking at" a potential preregistration system and "talking to folks in other states."
In a letter first reported by Boston.com earlier this week, 10 of the state's 11 delegation members, led by Rep. Katherine Clark, implored Baker to implement such a system, allowing residents to enter their information ahead of time and then get an alert when they're eligible to get a vaccine and when nearby appointments are available. Lawmakers argued that a preregistration system and more centralized website would simplify what they called a "disjointed and cumbersome sign-up process" and allow the state to distribute doses more equitably to match unmet demand.
"Why not make it easier for people?" Sen. Elizabeth Warren told WBUR in an interview Wednesday afternoon.
According to Baker, the preregistration system poses some technical challenges — particularly around creating an algorithm for individuals who live between a cluster of the state's growing number of vaccination sites.
That hasn't stopped several other states from launching preregistration systems, including West Virginia, which used a Massachusetts company's notification technology to become a national leader in vaccinations.
Still, Baker suggested a simpler fix would be more visibility into future shipments from the federal government.
"What I would really like to have the delegation do is push the administration to give states a bigger window to book appointments, because that … would solve, for a lot of people, the complexity about getting an appointment," he said.
Baker's comments came as Massachusetts plans to allow all residents as young as 65 and individuals with multiple medical conditions to begin booking appointments Thursday, effectively doubling the number of people in the state who are eligible to get a vaccine. However, state officials cautioned that it may made up to a month for newly eligible individuals to secure appointments due to immense demand and the limited supply of doses.
Currently, as the state shifts doses toward high-volume vaccination sites, appointments have been announced on a week-by-week basis.
Biden's administration has given states three-week notices on the "minimum" number of doses shipped by the federal government each week, which Baker says is "helpful," if not ideal.
"The message we get from the feds is, 'You're not going to get any less,' which is helpful, but it's not, 'You can order, now — three weeks out, four weeks out, and that order will be validated,'" Baker said. "If we could do that, then we could make decisions about where the vaccine is going to go over the next three or four weeks, we could say that to the provider community, people could then put appointments up on that, and people could then book on that."
While he acknowledged that the state could make appointments available earlier based on the federal government's three-week minimum baseline estimates, Baker said it's still "really hard to create the same certainty among the provider community" about how many doses they will actually end up with. He noted how thousands of appointments in other states were recently canceled after shipments to providers fell short.
"One thing we've tried to say from the beginning of this is, if you have an appointment, you're going to get a vaccine," Baker said.
Get Boston.com's browser alerts:
Enable breaking news notifications straight to your internet browser.