COVID
Charlie Baker plans to ramp up vaccines for hardest-hit cities. Lawmakers are asking what took so long.
"The dire situation for people on the ground demands more than a vague sketch and buzz words."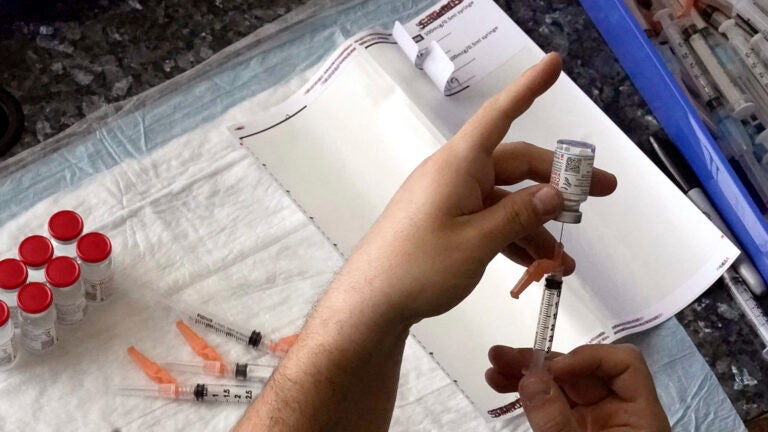 A group of state lawmakers is seeking more information on the specifics of a new state initiative spearheaded by Gov. Charlie Baker that aims to raise awarenesses of the COVID-19 vaccine's safety and efficacy in 20 communities hardest hit by the virus.
On Tuesday, the Baker Administration announced plans to try to promote the vaccine and reduce barriers facing individuals attempting to get vaccinated. The effort is targeting cities and towns "with the greatest COVID-19 case burden, taking into account social determinants of health and the disproportionate impact of COVID-19 on BIPOC (Black, indigenous, and people of color)," officials said in a press release.
Factors considered by the state included daily case rates in each city and town, as well as communities with the highest percentages of people of color among their respective populations.
The communities are: Boston, Brockton, Chelsea, Everett, Fall River, Fitchburg, Framingham, Haverhill, Holyoke, Lawrence, Leominster, Lowell, Lynn, Malden, Methuen, New Bedford, Randolph, Revere, Springfield, and Worcester.
The initiative will tap a Department of Public Health community liaison to coordinate resources and customize options for each area, such as identifying gaps and ways to reduce vaccination barriers; supporting local agencies with grassroots vaccine outreach; using DPH "vaccine ambassadors" to spread information support for local forums; and hiring local residents for "boots on the ground" outreach, among other plans, officials said.
"We recognize the deep knowledge and expertise that exists in every community and our aim is to listen, respond, and work in concert to develop a customized approach for reaching as many residents as we can to increase vaccination," Public Health Commissioner Dr. Monica Bharel said in a statement. "This approach is centered on equity, a core pillar of our vaccine distribution. Our goal is to work in collaboration with our local communities, to meet people where they are, and to reduce barriers – both physical and otherwise – to getting the COVID vaccine."
Additionally, the state is pouring $1 million into vaccination efforts at community health centers in "historically underserved communities" and those disproportionately impacted by the pandemic, according to the announcement.
But some state lawmakers say Baker's plans leave a lot of unanswered questions, even after months of public calls to ensure an equitable vaccine rollout and to build trust in communities of color.
"This afternoon's announcement by the Baker-Polito Administration shows a recognition that targeted outreach efforts are desperately needed to speed vaccination in the communities hardest hit by COVID – something we welcome as 'better late than never,'" Democratic senators Sonia Chang-Díaz and Becca Rausch and representatives Liz Miranda and Mindy Domb said in a statement. "But the announcement is exasperatingly short on specifics."
Questions raised by the four legislators include, how much money will the state throw behind the initiative; what kind of timeline is the administration anticipating; and how will people sign up for and access vaccination appointments?
The group also asked whether the initiative will include a component to help transport residents to vaccine appointments or some sort of mobile vaccination service — an idea outlined in a bill recently filed by Rausch and over 20 other lawmakers.
That proposal calls for a fleet of at least 30 buses or vans that would roll across the commonwealth to serve communities with the highest COVID-19 test positivity.
The bill would also mandate the Baker administration appoint a vaccine equity director to address disparities in vaccination rates "rooted in racism, mistrust of government, and disparate access to information and resources," lawmakers said earlier this month. A vaccine information expert would also be appointed to the state's vaccine advisory group, among other provisions.
"The Administration has had months and millions of dollars available to plan an effort like this — and, most recently, weeks since the outcry began about the absence of such an initiative," the group of lawmakers said Tuesday. "The dire situation for people on the ground demands more than a vague sketch and buzz words."
However, the group went on to praise the administration for its plans to hire local residents for grassroots outreach and its "recognition that local boards of health, faith-based organizations, and community health centers will be critical pieces of the equity solution."
"There are seeds of a good initiative in this announcement," lawmakers said. "The problem is that Black, brown, low-income, and vehicle-less Bay Staters don't need 'seeds' at this point; they need a full-grown plan with real money, real personnel, real leadership, and real commitments behind it."
The Baker Administration will also face more questions on its oft-criticized vaccine rollout from other lawmakers as soon as next week.
On Wednesday, Massachusetts Senate President Karen Spilka and House Speaker Ronald Mariano said they will convene a joint committee to seek testimony from administration officials on their vaccine distribution to date and their future plans for the system, The Boston Globe reports. The oversight hearings begin on Feb. 25.
"We have heard the frustration and anger of people across Massachusetts about the constantly changing and confusing vaccination rollout plan, and we are using the tools at our disposal to help people get answers, especially about what we can expect moving forward," Spilka said in a statement. "It is essential that we get a greater understanding of the Baker Administration's plans to improve our vaccination rates, especially for those communities and populations hardest hit, including persons who are medically fragile or with disabilities, teachers, and communities of color."