COVID
Elizabeth Warren on the vaccine rollout in Massachusetts: 'People are feeling really frustrated'
"I just can't overstate the urgency of these vaccines."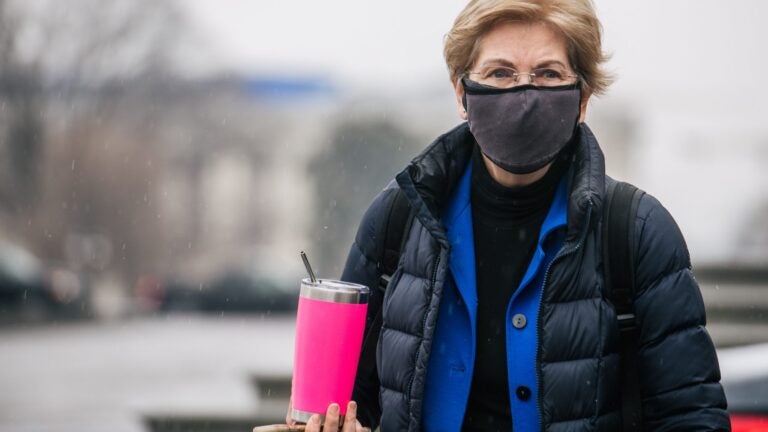 Sen. Elizabeth Warren isn't satisfied with the COVID-19 vaccine rollout in Massachusetts, and expects she is hardly alone.
"People are feeling really frustrated all around Massachusetts," Warren told WBUR in an interview Wednesday afternoon. "I mean, this has just been a very slow rollout, and a rollout that has just a lot of aggravation attached to it."
The state's senior U.S. senator was one of the 10 congressional delegation members who recently signed a letter to Baker criticizing the state vaccination signup process as "disjointed and cumbersome" and calling on the administration to establish a pre-registration system and more centralized appointment website.
"One of the things you can do is you can get one centralized place where anybody can log on get all the information and make an appointment," Warren told WBUR. "Why not make it easier for people, and then people know. 'OK, my appointment is next Tuesday; I can go' or 'Mine's a week from Thursday, and I can go.'"
While officials have made recent improvements to the state's vaccine appointment website, Warren contended that the multi-step process, which continues to direct users to third-party provider websites, "just ups everybody's degree of anxiety over this."
"Let's have a better rollout," she said. "We're Massachusetts."
Warren's comments came after the Baker administration announced Wednesday that the state would allow residents over the age of 65 and those with multiple medical conditions that put them at increased risk to COVID-19 to begin booking vaccination appointments Thursday. However, officials warned that it could take up to a month for everyone in the newly eligible group to secure appointments due to demand outpacing supply.
In response to the delegation's letter, Baker said Wednesday that he wished the state's members of Congress instead focused on pressing President Joe Biden's administration to provide more long-term visibility into the size of future vaccine shipments, which the governor said would help local officials plan the distribution of doses and open up more appointments. He has also cited technical challenges incorporating the dozens of different third-party provider sites into a centralized website or preregistration system.
"What I would really like to have the delegation do is push the administration to give states a bigger window to book appointments, because that … would solve, for a lot of people, the complexity about getting an appointment," Baker said Wednesday.
Baker has also defended the initial slowness of the rollout in Massachusetts, which he attributed to the deliberate decision to — unlike most other states — prioritize hard-to-reach, vulnerable populations during Phase 1, such as homeless shelters, prison inmates, and residential treatment programs, in addition to health care workers, first responders, and nursing homes. According to the governor, the approach meant that Massachusetts would be "slow out of the gate" because it took longer to distribute vaccine doses to thousands of different sites.
"I can get plenty of people from the mental health and developmental disability and homeless community here," Baker said Wednesday in the State House auditorium, "and we could line them up from one end of this room to the other. And they would tell you why they were both surprised and relieved and grateful that one state chose to put those folks at the head of the line. It didn't happen hardly anywhere else."
During her WBUR interview, Warren acknowledged "that there are a lot of hard choices to make when the vaccines are limited" and praised Baker for trying to "make sure that these vaccines are equitably distributed and that they go to hard-to-reach communities." However, she questioned why the state wasn't able to distribute its allotment quicker.
"It's possible to do both," Warren said, suggesting that the state should have opened more vaccination sites where doses are "going out the door as fast as people can line up for them."
"I just can't overstate the urgency of these vaccines moving quickly out to people so people can get vaccinated," Warren said, voicing concern about the spread of new, more contagious COVID-19 variants.
"Every single day that goes by that some number of people are not using those vaccines that are sitting in storage here in Massachusetts is a day that somebody gets sick, and somebody can harbor the next version of the mutation of this virus that causes a whole lot more people to get sick," she said. "We need to move these vaccines faster."
Baker did note Wednesday that Massachusetts now ranks ninth in the country for first-dose vaccinations per capita, as the state shifts resources toward mass vaccination sites.
"Well, finally, we are moving up," Warren said. "I also remember when we were 47 out of 50, and West Virginia was number one."
West Virginia was also the first state to set up a vaccine preregistration system through the Massachusetts-based company Everbridge.