COVID
Massachusetts to expand vaccine rollout to residents over the age of 65 and those with certain medical conditions
"It's just gonna take a little while."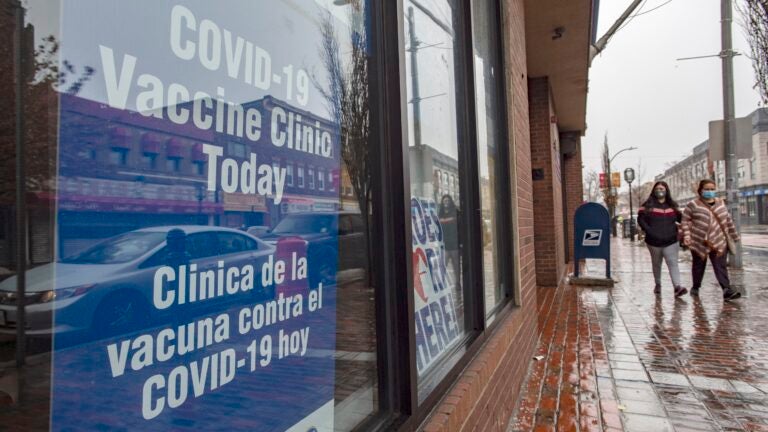 Massachusetts is set to double the number of residents who are eligible to get a COVID-19 vaccine.
Residents between the ages of 65 and 74 and those with two or more medical conditions that put them at an increased risk of severe illness due to COVID-19 will be able to begin booking vaccination appointments this Thursday, state officials announced Wednesday morning.
The new Phase 2 groups — which account for almost 1 million individuals — join residents over the age of 75 and those included in Phase 1 of the state's vaccine rollout.
With the newly eligible groups, Gov. Charlie Baker's administration said over 70,000 new appointments for the coming week at the state's current mass vaccination sites — the Eastfield Mall in Springfield, the Double Tree Hotel in Danvers, Fenway Park in Boston, and Gillette Stadium in Foxborough — will be posted Thursday morning.
Baker noted during a press conference Wednesday afternoon that, unlike previous weeks, the new appointments won't appear on the state's website until 8 a.m. on Thursday.
"There's no reason to stay up all night," he said.
However, officials cautioned that it could take more than a month for all newly eligible individuals to secure an available appointment, unless there is a significant increase in the weekly vaccine shipments through the federal government. Though state officials do expect shipments to increase by nearly 29 percent to 139,000 first doses this week, the demand for appointments is still expected to outpace vaccine supply.
"Everyone will get an appointment; it's just gonna take a little while," Baker said. "And I know, for a lot of people, that's an enormous source of frustration."
In addition to those over 65, the expansion of the rollout for the first time makes individuals of all ages with two or more comorbidities eligible. The list of qualifying conditions ranges from cancer and kidney disease to obesity and smoking.
Asthma (moderate-to-severe)
Cancer
Chronic kidney disease
COPD (chronic obstructive pulmonary disease)
Down Syndrome
Heart conditions, such as heart failure, coronary artery disease, or cardiomyopathies
Immunocompromised state (weakened immune system) from solid organ transplant
Obesity and severe obesity (body mass index [BMI] of 30 kg/m2 or higher)
Pregnancy
Sickle cell disease
Smoking
Type 2 diabetes mellitus
Residents will have to attest to having the conditions when booking their vaccination appointment, in what Baker acknowledged effectively amounts to an honor system. He noted it would be difficult, in some cases, to confirm a person's body mass index.
"People do follow the rules," Baker said. "Will there be examples or incidents or circumstances where people don't? Maybe. But I think the overwhelming majority of folks try to be honest about this stuff."
Individuals with just one of the conditions will become eligible at the end of Phase 2, after frontline workers like teachers and grocery store employees.
Massachusetts mostly follows federal guidelines on which underlying conditions are shown to put individuals at increased risk of hospitalization or death due to COVID-19.
However, Baker's administration did add moderate-to-severe asthma to the list Wednesday, amid pressure from top Democratic elected officials and community advocates who noted that the communities with the highest rates of the respiratory condition were also among the hardest hit by the pandemic.
"It really is an environmental and economic justice issue," the governor said Wednesday. "There's tons of studies that have been done that demonstrate that at-risk communities and communities of color have historically had higher rates of asthma — child asthma, adult asthma — and a lot of that has to do with decisions that were made years ago with respect to how people chose to build neighborhoods and communities, and it's a legitimate issue."
The Centers for Disease Control and Prevention has identified a number of other medical conditions, such as Type 1 diabetes, that researchers say "might" put individuals at an increased risk for COVID-19 complications. But Baker indicated Wednesday that the administration doesn't currently plan to prioritize any other condition in Phase 2.
"If we get guidance and advice from other folks in the medical community about other stuff, we'll certainly take it under advisement," he said. "But this asthma issue is a legitimate issue, and it's a legitimate equity issue and we want it dealt with right out of the gate."
Baker said he believes the state's rollout is "pretty much on track" with the timeline outlined in December, in which all residents would be eligible to sign up for the vaccine by April, regardless of their age, health, or occupation. Though he didn't say exactly when the rollout would expand to the next Phase 2 group, which includes certain frontline workers, such as teachers, grocery store employees, and others.
Much of the rollout, as Baker often notes, depends on the quantity of doses the state receives from the federal government.
"We certainly want to make sure that enough of these folks actually get their first dose so that there will be available capacity when we go to the next group," he said.
Get Boston.com's browser alerts:
Enable breaking news notifications straight to your internet browser.