COVID
Charlie Baker is under fire — again — for COVID-19 vaccine signup problems
"We expect answers from those responsible for this failure."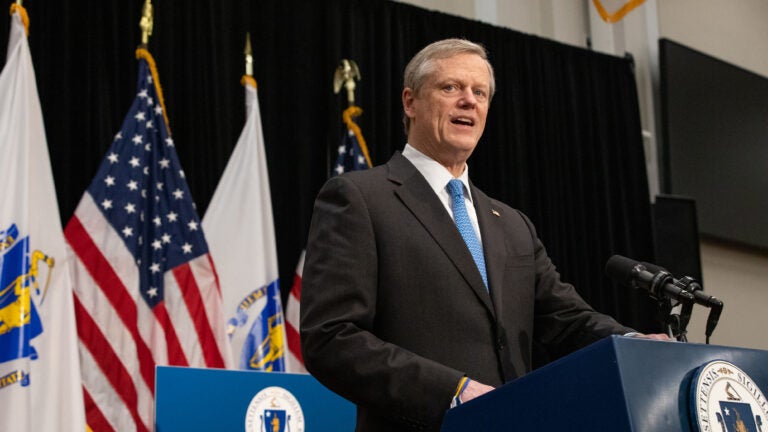 After announcing that COVID-19 vaccination appointments would open up at 8 a.m. on Thursday to Massachusetts residents over the age of 65 and those with certain medical conditions, Gov. Charlie Baker told reporters Wednesday that he thought the state's new and improved vaccine website "would be in good shape" to handle the roughly 100 percent increase in newly eligible individuals.
It wasn't.
Overwhelmed by the rush of residents seeking to book one of the limited number of appointments, the state's vaxfinder.mass.gov site crashed for more than two hours Thursday morning, eliciting a storm of frustration and criticism from residents and lawmakers alike, who said the administration should have been more prepared as it open vaccination eligibility to nearly 1 million additional residents.
"This is preventable, especially now when it's easier than ever to create a website that can scale to meet increased demand," tweeted Olivia Adams, the Arlington developer who recently created a simpler vaccination appointment website during her free time on maternity leave.
smh. This is preventable, especially now when it's easier than ever to create a website that can scale to meet increased demand. macovidvaccines is up even when hit with thousands of requests per minute. https://t.co/TKc6nzQk79

— Olivia Adams (@livgust) February 18, 2021
While the website appeared to be working by 10 a.m., Massachusetts lawmakers at both the state and federal level vented on social media that the issues should have been avoidable.
State Rep. Dylan Fernandes, a Falmouth Democrat, tweeted that the lack of preparation "for massive traffic on a website that everyone knew would experience massive traffic is baffling, inexcusable, and just poor public administration."
"It's no surprise #MA residents are eager to be vaccinated," wrote Rep. Katherine Clark, who has been calling on Baker to implement a vaccine preregistration system, like other states, where residents could enter their information ahead of time.
"With a waitlist, residents wouldn't have to flood a website every minute or hour, or be scrambling from link to link," Clark wrote. "We need to do better."
State Sen. Jo Comerford and state Rep. Bill Driscoll, the co-chairs of a newly created joint committee to conduct oversight on the state's COVID-19 response, also voiced frustration. Comerford called the four-armed octopus that displayed along the website's "crashed" message an "apt metaphor for an incomplete @MassGovernor creature without enough limbs to do its work."
This is what Commonwealth residents are seeing this AM as they log in — hopeful — to make their vaccine appointment. The four-armed octopus is an apt metaphor for an incomplete @MassGovernor creature without enough limbs to do its work. #mapoli pic.twitter.com/jo3pIt6aMR

— Jo Comerford (@Jo_Comerford) February 18, 2021
The legislative oversight committee is planning to hold a hearing on the state's COVID-19 response next Thursday. Driscoll tweeted Thursday morning that their list of questions "gets longer by the day."
During an appearance on GBH radio Thursday afternoon, Baker conceded that the state's scenario planning "didn't adequately prepare the site."
"My hair's on fire about the whole thing," the Republican governor said. "I can't even begin to tell you how pissed off I am, and people are working really hard to get it fixed."
The state had planned to post a total of 70,000 new appointments Thursday for the coming week at its mass vaccination sites. Despite the technical issues, the state announced Thursday night that 60,000 appointments were booked for the week, adding that the sites in Fenway, Foxboro, Danvers, Natick, Dartmouth, and Springfield are fully booked.
"While the mass vaccination sites are booked for the week, a small number of appointments for other locations will be posted over the next several days," the state added. "This includes pharmacies and regional collaboratives."
The state's website to find and book vaccine appointments experienced delays and technical difficulties and the administration sincerely apologizes for the frustration and inconvenience residents experienced over the course of the day. (1/6) pic.twitter.com/7H6MLa2R4B

— Mass.gov (@MassGov) February 19, 2021
"I know how important it is to people to get their shots, and it's part of the reason why we started with some very hard to reach populations, which put us a little bit in the hole in terms of the national race on vaccine productivity, but that's part of the reason why we got so aggressive about working to catch up," Baker said, referring to the state's recent focus on mass vaccination sites.
"But this is not satisfactory," he added. "It's not even — it's awful, and it's going to get fixed, and, you know, I'm going to work very hard to make sure it doesn't happen again."
This week isn't the first time that Baker, who repeatedly criticized state officials during his 2014 campaign over the launch of the health care website, has come under scrutiny for his administration's vaccine appointment website. When the state opened appointments to residents over the age of 75 late last month, many residents complained about difficulty with the multi-step and sometimes glitchy signup process.
The new, more streamlined vaccine appointment website also briefly crashed Wednesday, after the news that the state was expanding eligibility to residents over age 65 and people with multiple conditions that put them at increased risk of COVID-19 hospitalization and death. Even though the new eligibility didn't take effect until Thursday, more than 250,000 people visited the state's website Wednesday morning, according to Baker.
But the criticism hasn't just been about the website.
The technical issues have exacerbated public anxiety about securing the limited quantity of vaccine doses as the rollout expands, as well as concerns about equitable access due to the state's focus on mass vaccination sites and online signups. It has also fueled intensifying criticism of the GOP governor's handling of the deep-blue state's COVID-19 response (the Massachusetts Democratic Party even sent out an email Thursday fundraising off the recent website problems).
Baker has largely stood by the initially slow pace of the state's vaccine rollout, defending his administration's decision to — unlike most other states — prioritize particularly vulnerable and hard-to-reach populations during Phase 1, such as those in homeless shelters, prisons, and residential treatment programs, in addition to health care workers, first responders, and nursing home residents and staff.
But as critics stressed the urgency of more widespread distribution with more contagious COVID-19 variants on the rise, the state has pivoted toward mass vaccination sites where the doses can be most efficiently administered — even cutting off vaccine shipments to local health boards in all but the most hard-hit communities, which has also garnered criticism from some municipal and state officials.
State Sen. Becca Rausch tweeted Thursday morning that an effective vaccination effort "isn't solely about efficiency," especially as the state's efforts continue to focus on older residents.
Yesterday @CharlieBakerMA @MassGovernor decided to stop 1st #COVIDVaccine dose distribution to local health: pic 1

Today in my inbox: pics 2-3

Effective #COVIDVaccination isn't solely about efficiency. It's also about trust, access, + community.#MApoli #COVID19 #VaccineEquity pic.twitter.com/iiqeCIUzv4

— Becca Rausch (@Becca_Rausch) February 18, 2021
"Seniors want to go [get vaccinated] locally, they want to go to a place where they trust their physician," state Rep. Tami Gouveia told GBH's "Greater Boston" earlier this week.
Somerville Mayor Joe Curtatone called the recent shift "maddening."
"We stood up an entire clinic infrastructure and local outreach network, and then the state stiffed us," Curtatone tweeted Thursday.
This has been maddening. We stood up an entire clinic infrastructure and local outreach network, and then the state stiffed us. It's happened all over MA. https://t.co/uLV9o1zkIY

— Joseph A. Curtatone (@JoeCurtatone) February 18, 2021
However, amid competing calls to expand the rollout to new groups, Baker said Wednesday that the shift toward mass vaccination sites was informed by the criticism of the slow pace of the state's rollout.
"We started with a very deliberate and very particular and what I would describe as very equitably framed process at the beginning of this, but the big message we got from the public was, 'Vaccinate, vaccinate,'" Baker said. "And there's no question the fastest way to do this is with high-volume sites."
Still, officials have stressed that — website problems aside — it could take up to a month for the members of the 65-74 age group and those with multiple medical conditions to secure an appointment, due to the towering demand and constrained supply of doses.
State officials expect to begin getting 139,000 first doses of the vaccine a week; however, Baker said Thursday morning during a virtual address to the Greater Boston Chamber of Commerce that the demand for doses in Massachusetts is "roughly 450,000 asks" a week.
"We have tons of work to do going forward on this, but I think every governor would tell you that the biggest challenge they face at this point is supply," he said.
Lawmakers say those constraints don't absolve the administration from delivering a better experience for residents who have suffered through nearly a year of the pandemic.
"I am deeply disappointed that today so many Massachusetts residents are feeling frustration and anger on a day when we should be experiencing hope," Senate President Karen Spilka said in a statement Thursday, announcing the plans to hold a hearing next week.
"We expect answers from those responsible for this failure," Spilka said.