COVID
Here's who's eligible to get the COVID-19 vaccine in Massachusetts — and who's next
The state expanded the rollout to residents over the age of 55 and those with a single health condition on April 5, with plans to make everyone eligible by April 19.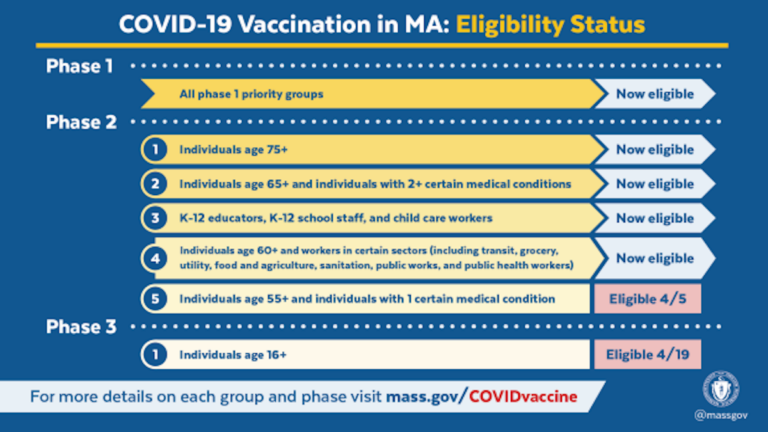 Massachusetts is hoping to vaccinate more than 4 million residents. But with a limited national supply of doses, the state can't allow everyone to sign up at once.
Officials are prioritizing individuals with the highest exposure to the coronavirus and risk of severe illness or death due to COVID-19, before gradually expanding the three-phase rollout to wider populations.
Here's who's currently eligible to book an appointment to get a COVID-19 vaccine in Massachusetts — and who's next up in the rollout:
Phase 2
Eligible March 22:
Individuals who are 60 or older
Certain workers (click here for a more detailed list):

Restaurant or cafe workers
Food, meatpacking, beverage, agriculture, consumer goods, retail, or food service workers
Grocery and convenience store workers
Food pantry workers or volunteers
Medical supply chain workers
Vaccine development workers
Transit/transportation workers
Public works, water, wastewater, or utility workers
Sanitation workers
Public health workers
Court system worker (judges, prosecutors, defense attorneys, clerks), other than court officers who are listed under first responders
Funeral directors and funeral workers
Eligible April 5:
Not yet eligible:
Phase 3
Eligible April 19:
All residents over the age of 16

If your group is not specifically listed in either Phase 1 or Phase 2, you will be eligible to receive the vaccine in Phase 3