COVID
Charlie Baker announces changes to state's vaccine website, as officials prepare to release another wave of appointments
"We certainly expect the site's performance tomorrow to be significantly better."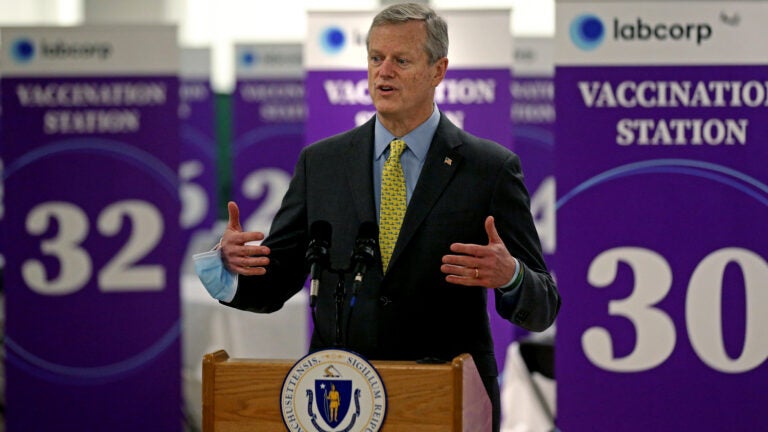 After many Massachusetts residents had "rough and rocky" experiences accessing the state's vaccine website last week, Gov. Charlie Baker says officials have bolstered the online portal to deal with the rush of users hoping to score an appointment this Thursday.
"We certainly expect the site's performance tomorrow to be significantly better," Baker told reporters Wednesday after touring a newly opened mass vaccination site in Natick.
Among the changes, Baker said, is a so-called "digital waiting room" on the scheduling website for the state's seven mass vaccination sites. Intended to prevent the types of outages that occurred last Thursday, the feature will send some users to a webpage with information about when they can proceed when the site experiences especially high traffic.
"It's basically the equivalent of creating a line," Baker said. "And people would then move from their position in the line onto the website. When the next opportunity to be on the website became available."
According to the governor, the site will also have "bolstered server capacity" to help manage heavier traffic.
The changes come after the state's vaccine website completely crashed for two hours and continued to experience technical difficulties throughout the day last Thursday, after the administration announced that residents as young as 65 and individuals with certain medical conditions could sign up for appointments — effectively increasing the population eligible to be vaccinated by nearly 1 million people. The fiasco led to state officials trading blame with one of its website vendors.
Residents did eventually manage to book around 60,000 appointments, according to the administration.
"But it was a really rough and rocky user experience," Baker said Wednesday.
The administration is planning to post another 50,000 first-dose appointments on Thursday across the state's mass vaccination sites at Fenway Park and Gillette Stadium and in Springfield, Danvers, Dartmouth, and Natick. However, unlike last week, when officials said they would be posted at 8 a.m., Baker said the appointments will go live "over the course of the morning" this Thursday. Still, he said they will likely be booked quickly.
"When you have 50,000 appointments and somewhere around a million people will be looking for them, we anticipate they'll go fast," Baker said.
Officials say that the state's network of retail pharmacies, like CVS and Walgreens, will additionally administer over 20,000 doses next week.
According to Baker, officials will continue making additional changes to the website to improve users' experiences. After some residents said they lost their selected time slot while answering initial online screening questions, the governor said they're planning to develop a "mechanism to make it possible to freeze an appointment, if you find one, and then begin the process of filling in the information."
"There are multiple entities that that website connects to, so we have to figure out a way to make sure that we can hold through other people's systems to make that work," he said. "But that's something many people have expressed an interest in having us do and it's something that we plan to put in place."
More big vaccination sites — with a regional focus
The new wave of appointments also comes as the vaccination site at the Reggie Lewis Center in Boston scales up to a mass vaccination site open to residents across Massachusetts. However, beginning this week, officials say they will continue reserving half of the appointments released each Thursday for priority booking of local residents by designated community partners.
After a soft launch this Thursday,  the Roxbury site will officially launch as a mass vaccination site Saturday with a capacity to administer 800 doses of the Pfizer vaccine per day and plans to ramp up to 2,500 daily appointments within about a month. The site will be open seven days a week from 9 a.m. to 5 p.m. with plans to extend to 10-hour days "within a few weeks."
"Breakthroughs in achieving wider, simpler, and more equitable delivery of vaccination are just as important as the breakthroughs that gave us the vaccines," said Dr. Atul Gawande, the co-founder and executive chair of CIC Health, which is taking over operations of the site (CIC Health also operates the mass vaccination sites at Fenway Park and Gillette Stadium).
The transition makes the Reggie Lewis Center the seventh of the state's seven planned mass vaccination sites.
Baker also announced Wednesday that the administration will put $4.7 million into its recently announced vaccination effort focusing on the communities in Massachusetts that have been hardest hit by the pandemic.
As state officials shift the limited supply of doses toward the more streamlined mass vaccination sites, Baker's administration also designated 11 regional collaboratives Thursday in partnership with local officials and hospitals around Massachusetts.
The collaboratives are required to vaccinate a minimum of 750 individuals per day, five days a week, and also administer 85 percent of their doses within 24 hours. They also must be open to all Massachusetts residents, but can focus outreach on local communities.
Following complaints that the focus on mass vaccinations sites leaves some communities behind, Baker said the collaboratives will "enable local officials to work with the vaccine process and to support players in their areas, while ensuring we continue to have a high efficiency distribution system."
In addition to existing collaboratives in Barnstable, Berkshire, Franklin, and Worcester counties, the new collaboratives announced Thursday include the Harrington Hospital in Southbridge, Heywood Hospital in Gardner, Lawrence General Hospital, Marshfield-Plymouth, Northampton-Amherst, Randolph, and Rutland.
A game changer on the horizon
Even as more appointments become available and vaccination sites ramp up, Baker continued to urge patience with the rollout Thursday. Officials have said it may take up to a month to vaccinate everyone in the newly eligible groups, unless there's a significant increase in the supply of vaccines.
"I know everybody would like to get vaccinated immediately if they qualify," Baker said Thursday. "But until we see an increase in federal supply, that's simply not going to happen."
One factor that could alter those dynamics is the pending federal approval of the single-dose Johnson & Johnson vaccine. Earlier on Wednesday, Food and Drug Administration officials confirmed that the vaccine was 66 percent effective at preventing moderate to severe COVID-19, meaning that the third vaccine could win final approval in the coming week.
"This could be a really big moment if in fact what folks are saying actually plays out over the course of the next 30 to 45 days," Baker said Wednesday.
Johnson & Johnson testified to Congress earlier this week that it could provide 20 million doses by the end of March and 100 million by the summer. And while slightly weaker than the two-dose Pfizer and Moderna vaccines, health experts say its a worthwhile tradeoff to get a critical mass of the population vaccinated faster.
Baker has repeatedly cited supply constraints as the biggest hurdle, with the state currently getting around 130,000 first doses a week and hoping to vaccinate over 4 million people. The governor said that having a third approved manufacturer would be "hugely important."
"We might end up at a point where we would have enough vaccine to actually service the capacity we've already got in place, which would significantly improve how fast people could get their appointment, how fast they could get through the system, and would make everybody a heck of a lot happier," he said.
For those who don't secure a vaccine appointment this week, Baker said his message was that, eventually, "you will."