COVID
Boston to move forward in reopening process, but delaying some initial changes
The city will enter a "modified version" of the second step of Phase 3 on Monday and plans to move into Phase 4 on March 22, if the public health data "supports" it.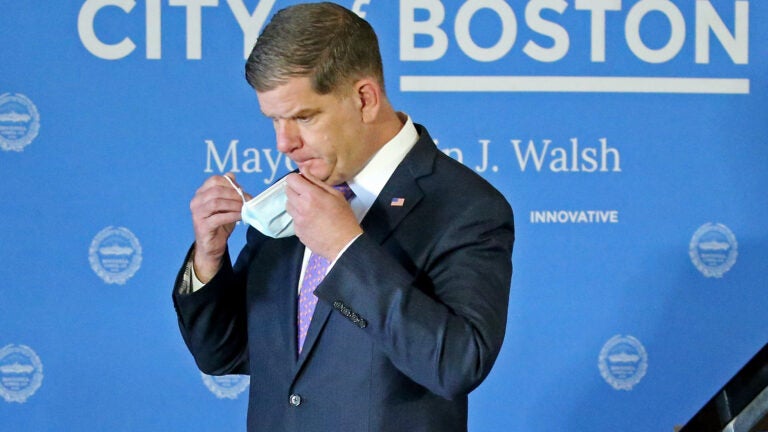 Mayor Marty Walsh's office says Boston is prepared to go along with Gov. Charlie Baker's plan to move forward in the reopening process, but the city is postponing some of the initial steps relaxing COVID-19 rules.
In a press release Friday, city officials said that Boston will enter a "modified version" of the second step of Phase 3 of the reopening plan on Monday that delays most of the changes until March 22.
Until that time, unlike the rest of the state, the city will require small indoor performance venues, such as concert halls and theaters, as well as certain indoor recreational attractions (laser tag, roller skating, trampolines, obstacle courses), to remain closed. Restaurants in Boston will also not be allowed to host live musical performances until March 22.
The one change that does take effect Monday in the city is the relaxation of sweeping capacity limits — which apply to offices, stores, places of worship, gyms, movie theaters, close-contact personal services, and museums — from 40 percent maximum occupancy to 50 percent. Beginning on Monday, the percentage-based capacity limit will also be removed for restaurants, though other social-distancing rules, like the six-foot spacing requirement between tables and limits on tables to six people and up to 90-minute stays, remain in place.
March 22 is also the day that the state is preparing to enter the first step of Phase 4, as the Baker administration announced Wednesday. The move would allow sports stadiums, including Fenway Park and TD Garden in Boston, to reopen with 12 percent capacity limits.
Walsh's office said Friday that Boston is prepared to move to the first step of Phase 4 as well on March 22, "if public health data supports continued reopening."
TD Garden has announced plans to host Bruins and Celtics games with fans on March 23 and March 29, respectively. Red Sox opening day at Fenway Park is scheduled for April 1.
For more information about industry-specific reopening guidance, visit https://t.co/WvlOZVh4Pv pic.twitter.com/hGUelb5pXl

— Mayor Marty Walsh (@marty_walsh) February 26, 2021
The news comes as some health experts, including the director of the Centers for Disease Control and Prevention, warn that now is not the time to relax restrictions meant to prevent the spread of COVID-19, with more contagious variants of the virus on the rise and only a small fraction of the population vaccinated. Massachusetts Attorney General Maura Healey called the state's move Thursday "pretty stunning."
Baker even acknowledged Thursday that he is "very nervous" about the spread of variants. But the Republican governor argued that the state's early focus on vaccinating health care workers and residents who are most vulnerable to COVID-19, combined with the declining infection rates, put the state in a position where it could begin moving forward again in the reopening plan.
Some business and attractions included Phase 4, including bars, nightclubs, and amusement parks, remain indefinitely closed across Massachusetts.