COVID
Massachusetts education commissioner says it will take 'several' years to make up for lost in-person learning time
"I think it's going to be a several year process."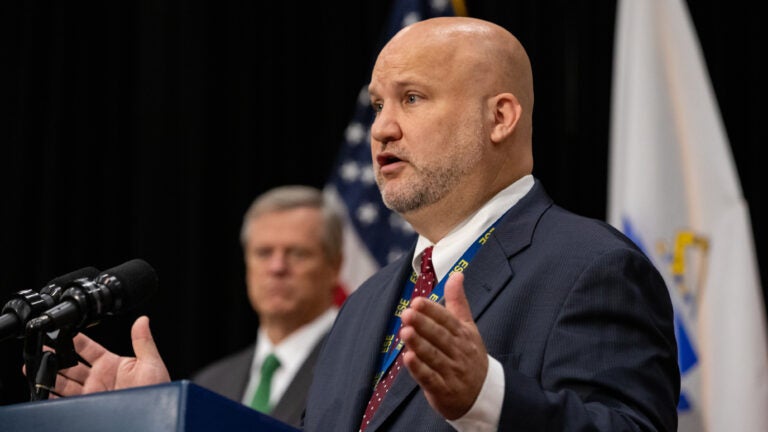 Gov. Charlie Baker's administration is moving to force K-8 public schools in Massachusetts to reopen this spring, but the state's education commissioner says it's going to take much longer to make up for the in-person learning time lost due to the COVID-19 pandemic.
"I think it's going to be a several year process to get our kids back to where they need to be," Jeff Riley, the Massachusetts commissioner of elementary and secondary education, said Friday morning during a press conference in Newburyport.
Baker noted one of the reasons the state is considering at-home MCAS testing this spring is simply to "get a sense about where kids are" academically in case they need summer programs to help them catch up. According to the governor, one of the difficulties teachers face is keeping track of how well students are absorbing information in remote models.
"I can tell if somebody is understanding me, even if they're wearing a mask, just by looking at their eyes and checking their body language," Baker said. "That's really hard to do in a virtual setting."
Riley, however, said he wasn't just referring to the academic toll.
"I think we have to work on the social, emotional needs of our students — make sure they have everything from the food they need to the counseling services to the special education supports," he said. "As a former special education teacher and adjustment counselor, I can tell you we've got to make sure our kids are in the right place mentally. And then after that we can take care of the academics."
Experts have raised concerns about the pandemic's mental health impact on students, many of whom have been largely cut off from regular interactions with friends and classmates due to remote or hybrid learning models. A recent report from the Centers for Disease Control and Prevention found that mental health–related emergency room visits among children from mid-March through October were 44% higher than in the same period the previous year. And as The Boston Globe recently reported, Boston Children's Hospital has reported a similar uptick.
"That is certainly one of the biggest concerns," Baker said of the social isolation.
State officials said earlier this week that roughly 400,00 students in Massachusetts — or nearly half of the state's public school enrollment — are in school districts that remain in remote-only learning models.
However, the Baker administration is increasing pressure on local officials to change that.
Baker, Riley, and other officials announced Wednesday that the state's Board of Elementary and Secondary Education will vote to change regulations to effectively mandate that all public school districts return to in-person instruction five days a week this spring. The phased plan would begin with elementary school students in April, followed by middle school students at a later date. It's unclear when, or if, school districts would be required to offer high school students the ability to return five days a week.
Under the plan, parents would also still have the option of keeping their children home to learn remotely, and individual districts would be able to apply for a waiver to get an exception from the full return.
During the press conference Friday morning, Baker and Riley highlighted Newburyport's adoption of the state's pool testing program for schools. Officials say that about 950 schools in 159 school districts have implemented the program. Riley said Friday that they expect "significantly more" will follow "in about a week-and-a-half."
Still, the plan to force schools to reopen has also been met with forceful opposition from the Massachusetts Teachers Union, which has noted that most local teachers — unlike in 28 other states — are not yet eligible to get a COVID-19 vaccine. The union has also raised concerns about ventilation in schools and the administration's three-foot social distancing standard, which is less than the CDC's six-foot guideline.
Baker has pointed to the growing body of evidence indicating that schools can be safely reopened even in communities with relatively high COVID-19 rates when mitigation strategies are implemented. Additionally, according to the CDC, in-person learning has not been associated with substantial community transmission. However, some say the evidence is less conclusive than proponents suggest.
Riley said Friday that the administration is "always willing to work with the teachers union." Asked what would happen if the MTA fights the reopening plan, he said that "I guess we'll have to cross that bridge when we come to it."
Get Boston.com's browser alerts:
Enable breaking news notifications straight to your internet browser.