COVID
Why one Massachusetts lawmaker says the state's vaccine rollout is a 'textbook case study of structural racism'
"This was an entirely predictable — and, indeed, predicted —problem."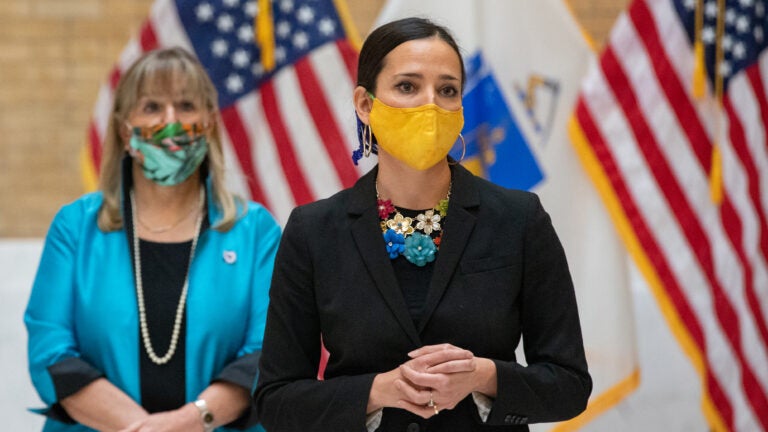 To some Massachusetts residents, the scramble to score one of the state's limited number of COVID-19 vaccine appointments may feel like a lottery. And with around a million Bay Staters eligible to be vaccinated but just 130,000 or so first doses arriving each week to Massachusetts, the odds of snatching a time slot through the state's issue-plagued website can indeed seem slim.
For some, slimmer than others.
State Sen. Sonia Chang-Diaz says the process is less like the lottery and more like a raffle, "where each incremental advantage buys you another ticket into the drawing."
"Life expectancy over 75? Ticket," Chang-Diaz said Thursday during a State House hearing on Gov. Charlie Baker's vaccine rollout, referring to the first group to become eligible for the vaccine this month.
"You know where to go to find information about vaccine sign-up? Ticket," the Boston Democrat continued. "Reliable internet connection? Ticket. Time to sit on the website for hours clicking through to find availability? Ticket, ticket, ticket, ticket."
English language proficiency? Car ownership and a drivers's license? Work flexibility to take an older companion to get their shot? According to Chang-Diaz, all worth additional tickets, especially as the state shifts vaccine supplies toward mass vaccination sites, for which new appointments are released online — and quickly booked — each Thursday morning.
With white residents more likely to live past the age of 75, more likely to be digitally literate, more likely to be proficient in English, more likely to own a car, and more likely to have flexibility in their jobs, Chang-Diaz says it's clear who is getting those advantages in the state's vaccine rollout.
"You could not find a more textbook case study of structural racism if you tried," she said. "Eight months after George Floyd, nine months after watching COVID rip through Chelsea and Dorchester and East Boston like they were foreign countries … when will we learn this lesson?"
According to U.S. Census data, Black residents make up 9 percent of the Massachusetts population, while Hispanics make up 12 percent. However, according to the state's weekly vaccine report, 5.1 percent of the first-dose shots administered in Massachusetts have gone to Black residents and just 4.3 percent have gone to Hispanic residents.
"When you tally up all the tickets I just mentioned, the results of this rollout are not surprising," Chang-Diaz said Thursday. "Black, Latinx, and lower-income Bay Staters — those who are the most likely to get infected with coronavirus — are the least likely to have gotten a vaccine. This was an entirely predictable — and, indeed, predicted —problem."
Baker has argued that the state's vaccine rollout began with a "very equitably framed process" that prioritized health care workers, nursing home residents and staff, and — unlike most other states — congregate care settings like prisons and homeless shelters during Phase 1. During the hearing, the governor noted that many members of those groups are people of color and alluded to the fact that vaccine hesitancy is higher in the Black community due to the legacy of medical racism.
"We wanted everyone, including those who might be hesitant about getting vaccinated, to have several chances to decide to get vaccinated," he said. "We also gave the hospital community extra time to engage and encourage their staff members to get vaccinated for the same reason. This took longer, but in many cases, it made a positive difference."
While the data suggests that people of color in Massachusetts have not received a proportionate share of vaccine doses, Baker said the state is doing better than its peers.
"We're second in the country with respect to the percent of our Black residents who've been vaccinated and are several points above the national average for our Hispanic population as well," the governor said.
"We know we have much more work to do here," he added.
Amid the shift to larger vaccination sites as the eligibility to get the vaccine expands, the Baker administration has launched an outreach program in the state's 20 hardest-hit cities and towns, and also exempted those communities from the decision to stop shipping doses to local health boards (though officials have shifted some doses back). Earlier this week, Baker announced that the state would pump $4.7 million into the equity outreach program.
Still, he faced questions Thursday about how the state was balancing the emphasis on the state's high-efficiency seven mass vaccination sites with the need to continue to ensure an equitable allocation of vaccines.
Baker said that the state's support for the outreach program focused on hard-hit communities would be the "most important" aspect, creating a "boots on the ground" campaign to encourage people to get vaccinated and help them figure out how. He also asked for local officials' help identifying hard-to-reach populations.
"I don't think anybody's going to be able to do this with a single answer," Baker said. "I think, in the end, it's going to be a variety of approaches that's ultimately going to be the way you try to cover the playing field."
Baker repeatedly stressed that the rollout is constrained by limited supply; while the state receives weekly requests for around 450,000 first-dose shots from vaccine providers, they only get around 139,000 a week through the federal government.
Chang-Diaz has called for an appointed vaccine equity director and mobile vaccine program to more aggressively close the racial vaccination gap, in addition to a more streamlined sign-up process.
Baker, however, thinks the expected increase in dose supply in the coming months will solve a lot of the state's problems.
"That will make it possible for a lot more people to get vaccinated," he said. "It will also make it possible for us to put more vaccines in the hands of many of the folks who are currently in a position to help us to do more."