COVID
Dr. Jha on why you shouldn't be worried about getting the Johnson & Johnson COVID vaccine
"What I've been saying to my family is, as soon as the J&J vaccine is authorized, if that's what you can get, you should get it as soon as it's your turn in line."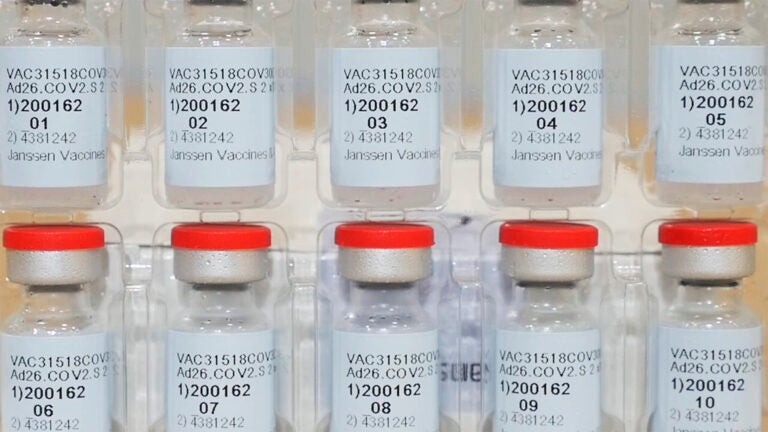 There will soon be three COVID-19 vaccines available to Americans after the Food and Drug Administration approved a dose developed by Johnson & Johnson for emergency use this weekend.
Data from clinical trials shows the single-dose vaccine is 66 percent effective at preventing moderate to severe cases of the disease — notably lower than the approximately 95 percent recorded for the two-dose vaccines created by Moderna and Pfizer — but Dr. Ashish Jha says the numbers shouldn't dissuade the public from lining up for a dose.
"What I've been saying to my family is, as soon as the J&J vaccine is authorized, if that's what you can get, you should get it as soon as it's your turn in line," Jha, dean of the Brown University School of Public Health, told NPR recently.
Making a comparison between the overall effectiveness of each of the vaccines is rather unfair, according to Jha. The Johnson & Johnson vaccine was tested in several places outside the United States, including countries in Latin America and in South Africa, where virus variants initially appeared, he said.
"So that 66 percent number really represents an amalgamation of a variety of different clinical trials. Moderna and Pfizer were not tested in those circumstances," Jha told NPR's "All Things Considered." "And even if you just look at the U.S. data, the Johnson & Johnson number then starts getting much closer to the Moderna and Pfizer numbers."
What people should consider more closely is how each vaccine prevents hospitalizations and deaths, Jha said. Almost all of the vaccines that have reported results have shown to be nearly 100 percent effective at doing that.
"Johnson & Johnson appears to be just as good as Moderna and Pfizer at preventing those," Jha said.
Where Johnson & Johnson's vaccine differs from the two others readily available, however, is its single-dose application and the fact it does not need to be stored at frigid temperatures. Those two components could offer new promise for having vaccines available in areas and regions where the requirements for handling the Moderna and Pfizer vaccines are challenging to meet.
Whether those factors determine where exactly the Johnson & Johnson vaccine is administered is something Jha said the nation will likely see "play out" in the rollout.
"The two-shot Pfizer vaccine is particularly hard to manage in, let's say, rural settings, hard-to-reach places. Doable, but harder. J&J vaccine — much, much easier on that front," Jha told NPR. "There are also certain people who may just decide they'd rather get a single shot than two shots. And, you know, and that may also influence who ends up getting what."
But concerns are already rising that the potential practice of sending different vaccines to different parts of the country could mean that vaccines that appear or are perceived to be more effective may go to more privileged communities and, in turn, fuel notions of systemic prejudice.
Governors and Biden administration officials discussed the issue on a recent call, according to The Washington Post. Gov. Charlie Baker offered that leading health experts must make the benefits of the Johnson & Johnson vaccine clear to the public.
Jha, in speaking to NPR, said "the J&J vaccine is not a lesser vaccine."
"We absolutely should not be distributing these things based on socioeconomic status or any of those things," Jha said. "We should really be getting all these vaccines out everywhere; we should be focused on disenfranchised groups, actually, for priority because they've been hit so hard."
On Twitter Sunday, Jha made a pitch for more states to refrain from holding back vaccine doses so they can instead give out more first doses with the anticipation additional ones will arrive in time for patients to receive their second shot.
"Vaccinate away, count on (second) doses arriving," he wrote. "They will."
While standout states like New Mexico use up nearly 100% of supplies

Others have large stockpiles

Makes no sense with so many millions of doses coming

So one way to get more 1st doses into arms?

Stop holding doses back

Vaccinate away, count on 2nd doses arriving

They will

— Ashish K. Jha, MD, MPH (@ashishkjha) March 1, 2021