COVID
What to know about the COVID-19 vaccination effort in Mass. this week
A weekly roundup of vaccination information you need to know.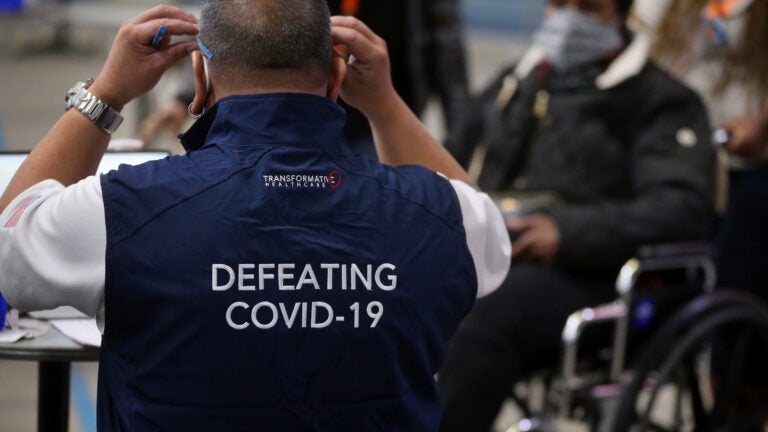 The effort to vaccinate as many Massachusetts residents as quickly as possible continues this week in the battle against the COVID-19 pandemic.
With officials providing frequent updates on the endeavor to get doses of the COVID-19 vaccines into the arms of state residents — facing bumps along the way — we have a summary, below, of what you should know this week about the vaccination rollout in Massachusetts:
The Food and Drug Administration gave its authorization Saturday, kicking off the rollout of millions of doses expected to reach Americans as soon as Tuesday. The Johnson & Johnson vaccine, which is comprised of a single shot, was found to have a 72% efficacy rate in the U.S. clinical trial. The company has said it will provide the U.S. with 100 million doses by the end of June. Read more about how the Johnson & Johnson vaccine differs from those developed by Pfizer and Moderna here.
Baker announced changes to the state's vaccine website last week, a move that followed residents encountering an overwhelmed, crashing site when they tried to book appointments on Feb. 18. Among the changes was a so-called "digital waiting room" on the scheduling website for the state's mass vaccination sites. Intended to prevent the types of outages that occurred the week before, the feature sent users to a webpage with information about when they would be able to proceed with booking an appointment when the site was experiencing especially high traffic.
Even with the updates, the approximately 50,000 appointments for mass vaccination sites released on Thursday were nearly all filled by 9:30 a.m. the morning they opened. Many residents reported that the displayed wait times they received in the "digital waiting room" varied wildly, sometimes increasing after they thought they had secured their place in line for an appointment. One resident told Boston.com they saw their wait time increase from 13 minutes to more than three days.
"If you have not been able to schedule an appointment yet, please try again next week – it may take several attempts over the course of a few weeks to get an open slot," the state said Thursday.
If you have not been able to schedule an appointment yet, please try again next week – it may take several attempts over the course of a few weeks to get an open slot.

— Mass.gov (@MassGov) February 25, 2021
The state's mass vaccination sites post their new appointments each Thursday when they update their schedules, while smaller locations offer fewer slots and tend to update their schedules daily.
During a State House hearing on Baker's vaccine rollout Thursday, the governor was grilled by lawmakers on the program's rocky beginnings that have left many residents frustrated and unable to book an appointment. While the governor acknowledged the problems and took ownership for the crashing of the state's vaccination website, he also defended his administration's strategy for the rollout of prioritizing those at highest risk for COVID-19 (including medical workers, those over 75, and individuals in congregate care settings or assisted living).
During the hearing state Sen. Sonia Chang-Diaz likened the process for being eligible and obtaining a vaccine appointment to a raffle "where each incremental advantage buys you another ticket into the drawing."
With white residents more likely to live past the age of 75, more likely to be digitally literate, more likely to be proficient in English, more likely to own a car, and more likely to have flexibility in their jobs, Chang-Diaz said it's clear who is getting the advantage in the state's vaccine rollout and who is being left behind.
"You could not find a more textbook case study of structural racism if you tried," she said. "Eight months after George Floyd, nine months after watching COVID rip through Chelsea and Dorchester and East Boston like they were foreign countries … when will we learn this lesson?"
Baker said Wednesday that his administration will put $4.7 million into its recently announced vaccination equity effort focused on 20 communities in Massachusetts that have been hardest hit by the pandemic. The funding will go toward reducing barriers by supporting and coordinating with local leaders as well as community and faith-based organizations to "strengthen existing efforts in these cities and towns," focusing in particular on communities of color, homebound seniors, disabled individuals, and "other hard-to-reach populations," according to a statement from the Baker administration.
Scrutiny over the vaccine rollout in Massachusetts doesn't seem to have made a dent in Baker's approval ratings. A survey from MassINC Polling released last week found that 74 percent of Bay State residents approve of the governor, with only 20 percent disapproving. Nearly the same amount — 71 percent — specifically approved of his handling of the COVID-19 pandemic.
Update: CareWell is updating patients that it should receive its supply for second-dose vaccines this week and clarified in a statement to Boston.com that is not canceling appointments, but rescheduling second-dose shots. 
CareWell CEO Shaun Ginter released the following statement:
"We have been following the news reports about vaccination anxieties. First, we apologize for any additional stress people have experienced during this trying time. Concern about postponed appointments is completely understandable. However, suggesting these appointments will be permanently canceled is premature.

"We at CareWell Urgent Care are assured by state officials that they are actively working on our request for second doses for all of our patients. These doses could arrive in our clinics as early as this week. We hope to keep as many current appointments as planned.  But due to shipment delays, we will reschedule some appointments and bring patients in for their second doses immediately after the new doses arrive.  We are confident everyone who has been scheduled for a second shot will receive it within the recommended interval."
Previous:
The Quincy-based urgent care company has been canceling appointments made by an "undisclosed number" of patients to receive their second doses of the COVID-19 vaccine, MassLive
reports
. CareWell Urgent Care has noted that the state has cut off its vaccine supply and is encouraging those who have had their second-dose appointments canceled to sign up for a slot at one of the state's mass vaccination sites. CareWell has delivered vaccinations to more than 6,000 people at 16 clinics across the state.
The Reggie Lewis Center in Roxbury has scaled up to serve as a mass vaccination site
Officials announced last week that CIC Health, the company running the Gillette Stadium and Fenway Park mass vaccination sites, would be brought on by the state to expand the vaccination site at the Reggie Lewis Track and Athletic Center at Roxbury Community College into a new mass vaccination site. Working in partnership with the college, the Black Boston COVID-19 Coalition, community leaders, the Boston Public Health Commission, Mass General Brigham, and the state, CIC Health said it will be reserving half of the appointments at the Roxbury site for "priority booking of local residents by designated community partners."
"Moving forward, CIC Health will also mobilize direct phone bank outreach to local residents to book appointments," the company said. "In addition, printed informational materials, website content, phone support, and on-site interpreter services will be available in English, Spanish, and eight other community-identified languages."
The expanded site officially launched Saturday, opening initially with capacity for 800 Pfizer vaccinations per day, with the expectation that number will ramp up to 2,500 daily appointments within about a month. To start, the site is open from 9a.m. to 5 p.m., seven days a week, with a plan to update to 10-hour days in the coming weeks.
Like the state's other mass vaccination sites, appointment slots at the center will be posted each Thursday. To learn more, visit their website: https://www.cic-health.com/reggie-lewis-center#begin
The free online service, VaccineFinder, will allow users to look for locations offering vaccinations near where they live and hopefully streamline the process of finding an available appointment.
As of Feb. 25., any enrolled veteran, regardless of age, can get the Pfizer vaccine at the auditorium of the Edith Nourse Rogers Memorial Veterans Hospital in Bedford. Veterans can call the vaccination line at 781-687-400 on weekdays to schedule an appointment, which are available every day from 7 a.m. to 4:45 p.m. Designated caregivers can also get the vaccine at the same time.
Boston Mayor Marty Walsh also issued a reminder last week that veterans 55 years old and older who are enrolled in the VA Healthcare System can get vaccinated at any VA health care facility in the city. For more information, visit Boston.va.gov.
The state of the vaccination rollout in Massachusetts
The number of people who have been fully vaccinated (as of Sunday): 531,258
According to The New York Times vaccine rollout tracker, Massachusetts falls in the bottom half of states based on the percentage of residents who have received both vaccine doses (7.2 percent). But Massachusetts is in the top 10 based on the percentage of the state population who have received one dose (18 percent). See how Massachusetts compares to other states and U.S. territories here.
General COVID-19 vaccination information to know
Here's who is currently eligible for booking appointments:
Phase 1
Listed in order of priority:
Phase 2
Listed in order of priority:
Here's who will be eligible next:
Frontline and essential workers, including early education and K-12 staff, transit, grocery, utility, and sanitation workers, are up next. See the full list here.
Here's how to make an appointment:
Search for and book a vaccination slot through the state's VaxFinder: https://vaxfinder.mass.gov/
Or visit: mass.gov/covidvaccine
Those who are 75 or older can connect with the state's vaccine hotline operator by dialing 2-1-1 Monday through Friday from 8:30 a.m. to 5 p.m. (press 2 for the call center).
According to the state, the mass vaccination locations will post their new appointments on Thursdays when they update their schedules, while smaller locations offer fewer slots and tend to update their schedules daily.
A map and list of COVID-19 vaccination sites in Massachusetts:
View the list of sites here.