COVID
'Thousands' of Johnson & Johnson vaccine doses expected to arrive in Massachusetts next week
Gov. Charlie Baker says the initial shipment will be followed by a "pause," before the company begins delivering "really significant amounts of additional vaccine" toward the end of the month.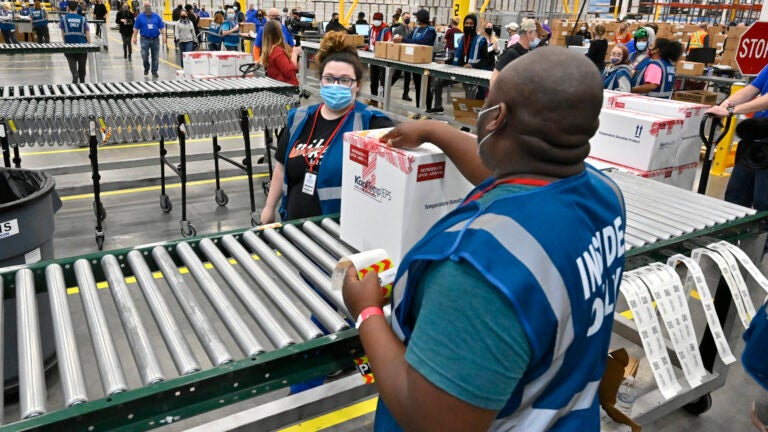 Massachusetts residents could begin getting Johnson & Johnson's single-shot COVID-19 vaccine as soon as next week, according to Gov. Charlie Baker.
"It is likely that we will get, for next week, a shipment," Baker told reporters Monday morning after touring the Morning Star Baptist Church vaccination site in Boston's Mattapan neighborhood.
Baker said doses of the Johnson & Johnson vaccine, which received federal approval Saturday, will "probably be distributed pretty evenly" across the state's network of both small and large vaccination sites.
The initial shipment will include "thousands" of doses from Johnson & Johnson's current 3.9 million-dose inventory, according to Baker. However, he said it will then be followed by a "pause" in deliveries for a few weeks as the company ramps up production.
"You probably won't see really significant amounts of additional vaccine until later this month," Baker said.
Still, the introduction of a third vaccine manufacturer will "dramatically boost our vaccination efforts," according to Baker, who has consistently cited the constrained supply of doses as the biggest challenge to the state's rollout, which has also been hamstrung by signup issues as eligibility has expanded.
Currently, the state receives around 139,000 doses a week through the federal government from vaccine makers Pfizer and Moderna, which also recently said they plan to ramp up global production. Baker said Monday that he expects to know more specifics about long-term delivery numbers and timelines toward the end of March.
"We're gonna know a lot more about what the flight plan for Pfizer, Moderna, and J&J in April, May, June, and July is going to look like, and that will tell us a lot about how to think about distribution, generally, not just here in Massachusetts but around the country," he said.
In addition to the increased manufacturing capacity, Baker said the fact that Johnson & Johnson's vaccine requires just a single shot — instead of two doses like Pfizer and Moderna — and that it does not need to be stored at ultra-cold temperatures will boost efforts to vaccinate residents around Massachusetts.
Baker also encouraged individuals not to discriminate between the three vaccines, echoing the advice of Dr. Anthony Fauci. The Johnson & Johnson vaccine was shown to be 66 percent protective against symptomatic illness due to COVID-19, compared to the around 95 percent efficacy rates of the Pfizer and Moderna vaccines. However, trials found that all three vaccines were 100 percent effective at preventing hospitalization and death due to the virus.
"These are all very effective," Baker said. "People don't need to pick one from another. People should get vaccinated. If you have a chance to get a vaccine, you should take it — whatever it is."