Coronavirus
With St. Pat's Day coming, Marty Walsh reminds Boston COVID rules still apply at bars, restaurants, and residences
"We are so close to a finish line here that what we don't need now is a step backwards."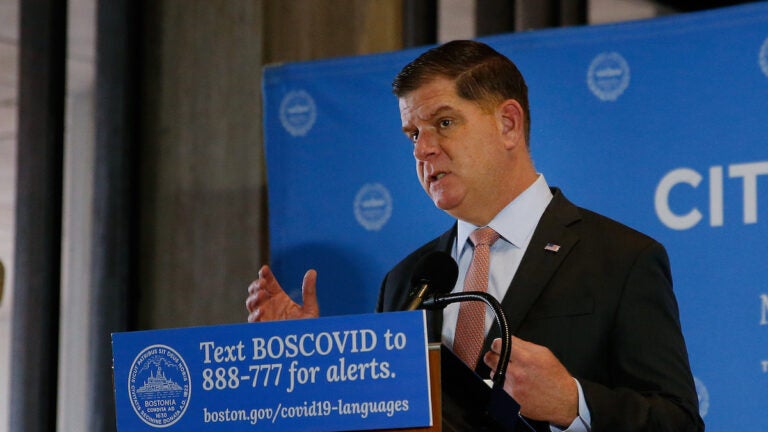 March has returned and with the coronavirus pandemic still rolling on, Boston's longstanding St. Patrick's Day traditions will, once again, be quite different than years past.
To be clear, there will be no exceptions to the city's COVID-19 rules for shamrock-laden shenanigans, Mayor Marty Walsh affirmed Monday.
"We are so close to a finish line here that what we don't need now is a step backwards," Walsh said. "We're opening up. The governor's opening up. We're trying to open up more businesses. We're trying to get fans in the stands at Fenway and at the Garden. We're trying to do that.
"But events like St. Patrick's Day and weekends like St. Patrick's Day can throw us back," the mayor continued. "They can become super spreader events and we could be in a situation where we're shutting everything down again."
Last year, the annual holiday arrived just as Boston and the country at large began to seriously consider the impact of virus spread, prompting many South Boston bars — usually packed with kelly-green-clad patrons — to voluntarily close.
Now, for the second year in a row, the St. Patrick's Day parade in South Boston has been cancelled and city officials are reminding those restaurants and bars the COVID-19 rules that took hold Monday under Phase 3 Step 2 of the state's reopening remain in effect, with or without the holiday festivities.
Restaurants must keep tables and chairs six feet apart or else separate them by non-porous, six-foot-tall barriers, even with capacity restrictions no longer in place. Patrons will be subject to a 90-minute time limit.
And Walsh reminded establishments on Monday that alcohol cannot be served without food service. Lines that form outside a restaurant or bar will also not be tolerated, he said.
"If you remember back to this time last year, it was at the beginning of the pandemic and we had lines on a Friday night, St. Patrick's Day weekend, we had lines up and down different streets in South Boston, other parts of the neighborhood," Walsh said. "And the restaurants took it upon themselves to shut down on St. Patrick's Day. They lost business that day. What we don't want to see is restaurants lose business this year. So please be cognizant of the people around you and to make sure that we stay safe."
Walsh also reminded residents that private gatherings are limited to 10 people indoors and 25 people outdoors.
"Hopefully, a year from now, St. Patrick's Day, there'll be no real rules or regulations in place and we'll be able to have the fun and the celebration that we all want to have," he said.
Return of outdoor dining
But Walsh also announced Monday the city will again allow restaurants to commence outdoor dining on public property starting on April 1 "or as soon as the weather permits it," he said. Officials will once more waive application fees for businesses seeking to enroll in the program, which ended in December as winter took hold.
Since applications were made available on Dec. 10, over 370 businesses have applied and more than 150 have already been approved, according to Walsh.
"We're doing targeted outreach for underrepresented businesses and communities, and will once again be restricting parking and closing certain streets to open up spaces for outdoor dining," Walsh said. "We'll have more details on specific streets in the coming weeks."
Applications moving forward will be reviewed on a rolling basis. You can learn more, or submit an application, at https://t.co/GskuLEYQ2L

— Mayor Marty Walsh (@marty_walsh) March 1, 2021
Vaccinations in Boston
Data published by the Boston Public Health Commission on Monday showed that the city's overall community positivity rate leveled out at 3.5 percent between Feb. 19 and Feb. 24 after declining from 6.8 percent about a month earlier. Data for Feb. 25, though still incomplete, showed the rate ticked up slightly to 3.7 percent.
"We're not really seeing a big trend here, but we did see the numbers go up a bit from the previous, I believe, last three, three and a half weeks," Walsh said. "It's not a cause for concern. But it's a good reminder not to take the positive trend that we've been seeing for granted. We still have and we all have lots of work to do."
Marty Martinez, the city's chief of health and human services, said officials would begin releasing weekly data on Monday to provide an overview of the number of people who have been vaccinated against the virus so far in Boston.
As of Feb. 23, the latest complete data set available, over 96,000 city residents had received the first shot of a two-dose vaccine, or about 16.5 percent of the population over the age of 16 that is eligible, Martinez said. About 42 percent of the vaccines administered through that date were given to people of color, he said.
Data sets will include specifics on vaccine recipients' ages and neighborhood demographics, "which will help us understand where we're making progress and where we need to do more," Martinez said.