COVID
The one-shot Johnson & Johnson vaccine is coming to Massachusetts. Some lawmakers say teachers should get priority access.
"If schools and students are a priority, make educators a priority."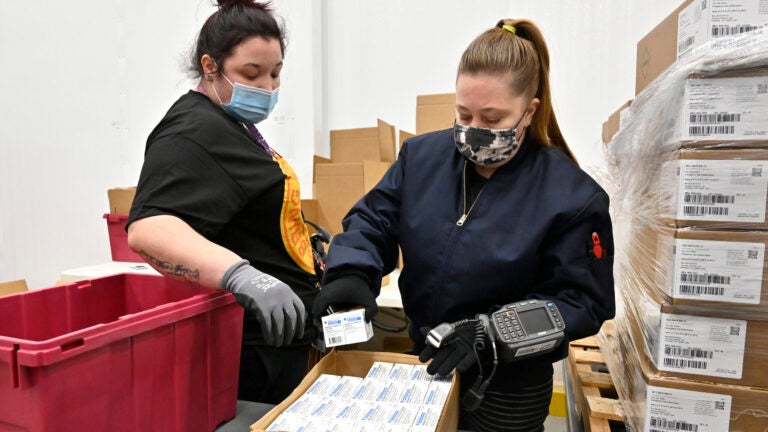 Massachusetts is expected to have "thousands" of doses of Johnson & Johnson's single-shot COVID-19 vaccine to distribute next week.
And with Gov. Charlie Baker's administration moving to force school districts to resume full-time in-person learning for elementary students in April, some lawmakers are calling for teachers to get priority access.
In a letter to the Department of Elementary and Secondary Education, state Rep. Patrick Kearney and 20 other legislators requested that the roughly 72,000 public school teachers, as well as administrators and staff, be given the Johnson & Johnson vaccine "so that when they are forced back into the classroom by DESE it is safe."
The letter comes after educators in Marshfield, including the district's superintendent, floated the idea following the Baker administration's announcement last week that it would move to require school districts to allow elementary school students to resume in-person learning five days a week.
"If schools and students are a priority, make educators a priority," Erin Palladino, a Marshfield High School social studies teacher, tweeted Sunday.
I agree with you 100% @EEPalladino and I contacted our state legislators about this possibility last week. Superintendents from across the region are doing the same. #vaccinateourteachers https://t.co/u4oDdO38Jt

— Jeffrey W. Granatino (@MarshfieldSuper) February 28, 2021
It's not clear exactly how many doses Massachusetts will have of the Johnson & Johnson vaccine, which requires just one dose and does not need to be stored in ultra-cold freezers.
Baker said Monday that the state's initial shipment from Johnson & Johnson's existing inventory next week would "definitely" be in the thousands. But according to the governor, that shipment will be followed by a "pause" in deliveries of the Johnson & Johnson vaccine as the company ramps up production. Baker said he doesn't expect the state to receive significant amounts of the vaccine until late March.
In the meantime, Massachusetts is getting around 139,000 first doses of the two-shot Pfizer and Moderna vaccines a week.
Teachers are currently next in line to get the vaccine in the state's three-phase rollout. However, unless they are older than 65 or have at least two qualifying medical conditions, they currently remain ineligible to sign up for appointments.
It's unclear when their group, which also includes other frontline workers, will become eligible. Baker said in mid-February that it would likely take over a month for the nearly 1 million people in the currently eligible group to schedule an appointment due to the limited supply of vaccine doses.
Supporters of the administration's move to reopen have cited the academic and social costs of remote learning, as well as limited evidence of COVID-19 being spread in schools when face covering and social distancing protocols are implemented. However, teachers unions opposed the move, noting that Massachusetts — unlike 28 other states — has not yet given teachers access to the vaccine.