COVID
Massachusetts is opening up vaccine eligibility to teachers next week
After the federal government moved to make appointments available to teachers at pharmacies, Gov. Charlie Baker announced that educators will be eligible to sign up for shots at all 170 vaccination sites beginning March 11.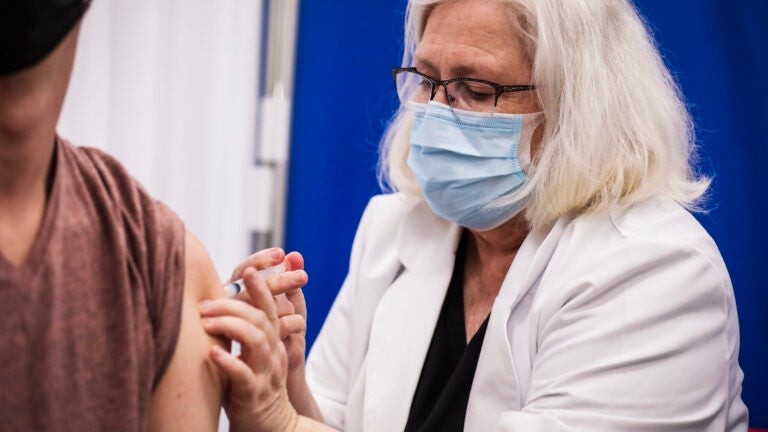 After the federal government's move to make the COVID-19 vaccines available to teachers at pharmacies, Massachusetts Gov. Charlie Baker announced Wednesday that the state will allow educators to begin signing up for appointments at all vaccination sites beginning next Thursday, March 11.
"When appointments are released next week on Thursday, K-12 teachers, childcare workers, and school staff will be eligible to sign up at all 170 vaccination sites that are open to all eligible residents around the commonwealth," Baker said during a press conference Wednesday morning in Gloucester.
Baker added that the state's mass vaccination sites will hold designated days for educators to get their shots, though details are still being worked out.
The change — which elicited an excited "Yes!" from Gloucester Mayor Sefatia Romeo Theken — is intended to streamline the process and limit confusion between state and federal eligibility guidelines, Baker said.
The move comes after President Joe Biden announced Tuesday afternoon that the federal government would use its partnership with retail pharmacies, like CVS, to make doses immediately available for K-12 teachers, school staff, and childcare workers across the country, in addition to other eligible groups.
"Throughout March, they will be able to sign up for an appointment at a pharmacy near them," Biden said during a speech Tuesday afternoon, challenging the country to administer at least one dose of the vaccines to every educator by the end of the month.
CVS confirmed Wednesday morning that they were aligning with the updated federal guidelines to make appointments available to pre-K through 12 educators and staff and childcare workers in Massachusetts, though appointments at the chain's 47 vaccination sites were fully booked Wednesday morning. A spokesperson for Walgreens, which is not part of the federal pharmacy partnership in Massachusetts, said the chain will update its online eligibility requirements to include K-12 educators, child care workers and K-12 school staff beginning on March 11.
According to Baker, educators should feel free to book an appointment at a pharmacy, as opposed to waiting until next week to become eligible to sign up for a shot at the state-run vaccination sites.
"If somebody can get an appointment, they should get an appointment," he said.
According to Biden, over 30 states had already made teachers eligible for vaccination. Massachusetts had not been one of them; under the state's three-phase rollout, teachers had been part of a broad group of essential workers — which includes food service, transit, and utility sectors — that were next in line to be eligible in Phase 2.
However, Baker's announcement breaks off educators — a group totaling 400,000 residents — from the larger group of workers. Given the fact that many already eligible residents, including those over the age of 65 or with at least two qualifying medical conditions, have yet to secure an appointment, Baker said the change next week will grow the pool of people in Massachusetts who are eligible to get a vaccine back to around 1 million.
Baker cautioned that it will probably take until mid-April before everyone in the soon-to-be eligible group gets their first dose of a vaccine, due to the limited supply of doses.
Massachusetts currently is getting around 150,000 first doses a week, the governor said. And even with Biden's announcement Tuesday that the country hopes to increase production to have enough doses for every adult in the country by the end of May, the state doesn't expect to see significantly increased shipments until the the end of March, according to Baker.
"We'd like everybody to get vaccinated as quickly as possible, but it will take time to move the current folks who are left in the 65-plus and two-comorbidity categories, who want to get vaccinated, through the system, as well as the 400,000 educators who would be part of this group," Baker said, stressing the members of the already-eligible groups can continue to book appointments.
"We obviously need a lot more doses, a lot sooner than the current guidelines that have been applied to us by the feds, if we're truly going to make our way through this group as quickly as possible, and rest assured that people will get their vaccine," he said. "But people will need to be patient, unless there's a big change in the available supply in the near future."
Baker has argued that the constrained supply of doses has added to residents' frustrations about booking vaccine appointments, amid problems with the state's online appointment portal over the last two weeks.
The governor had also faced increasing pressure from local Democratic lawmakers to do more to prioritize teachers for vaccination, amid the administration's push to reopen schools for in-person learning. The Republican governor said Wednesday that the board of the state's Department of Elementary and Secondary Education will meet Friday to finalize the administration's recently announced plan to mandate all public schools resume in-person classes this spring, beginning with elementary students in April.
That plan was met with opposition from the state's teachers unions, citing the lack of vaccination timeline for educators. While Baker has argued that many schools in Massachusetts and across the world have been able to reopen safely with proper protocols in place, critics said teachers should have access to the vaccines if state officials were going to force them back to class.
After Baker's announcement Wednesday morning, Massachusetts Teachers Association President Merri Najimy said she was was confident that "educators across the state are feeling joyful."
"We've just had a huge victory for our students, our school employees, the entire school community," Najimy said during a press conference Wednesday afternoon in Watertown, attributing the decision to move teachers up in the vaccine rollout to the advocacy of teachers unions, local lawmakers, and the Biden administration.
Najimy added the Baker administration should work with the unions to accept their "last-mile" vaccination plan, which calls for the distribution of vaccine doses to teachers' local communities.
She also said Massachusetts should prioritize higher education employees, as 35 other states have done. The Baker administration's rollout currently puts higher education employees in Phase 3, which isn't set to begin until April.
The Boston Teachers Union said Wednesday afternoon that it would begin work to help educators book appointments "immediately."
"While it is frustrating that the State is only giving this priority after a federal mandate, knowing that March 11 is on the horizon and that the federal government has made vaccines available through the pharmacy program is welcome news," BTU President Jessica Tang said in a statement.
Some lawmakers had asked Baker to set aside the state's allotment of Johnson & Johnson's recently approved single-shot vaccine for educators. However, the governor said Wednesday that Massachusetts received just 58,000 doses of the Johnson & Johnson vaccine, which were distributed to hospitals and community health centers and are expected to be administered over the course of the next week.
Baker said he doesn't expect the state to get any more of the Johnson & Johnson vaccine until at least the end of March, as the company ramps up production.
"If that changes, obviously, it makes it possible to do other things," he said. "Although I also want to see us use that J&J vaccine to do some mobile vaccination work, because of the ease associated with storing it and preparing it, and getting out in some housebound areas and some shut-ins and people who typically can't get to any site."
Baker also rejected the idea of designating a certain percentage of the state's supply of doses for teachers, noting that 90 percent of the deaths due to COVID-19 in Massachusetts were among people over the age of 65.
"Those folks need to continue to be able to access vaccines at the 170 sites where vaccines are available in Massachusetts," Baker said.
"We don't want to create confusion," he said. "We do want to see educators get vaccinated. We're going to move them up ahead of all the other groups that are part of the next step of Phase 2 to begin being able to schedule appointments next week. But I don't see how we can choose to take vaccines away from people who are over the age of 65 and significantly at risk of hospitalization and death from COVID, or people who have two comorbidities, many of which have already been proven time and time again to be terribly dangerous when it comes to COVID, and not include them going forward in the process."