COVID
As vaccine arrives, Jack Satter House residents reflect on year of isolation
"As I get older I realize my time is running out, and I feel cheated a whole year, not being able to do some things that I wanted to."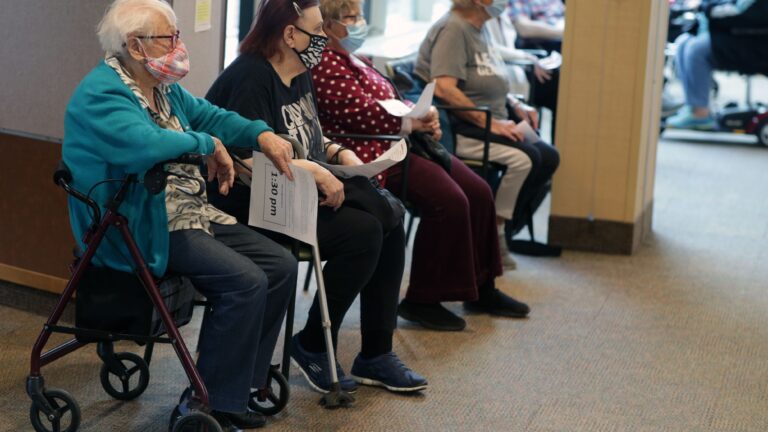 Day after day Claire Sheehan attended church services from her television screen.  
"I was thrilled when that came on," said the resident of Hebrew SeniorLife's Jack Satter House in Revere.
Praying the Rosary had always been one of the 88-year-old's favorite things, then the coronavirus pandemic rendered religious gatherings impossible. 
So she brought church to her apartment — and that faith is what carried her through the year. 
"It kept me upbeat," Sheehan said. 
As the months have passed, and places of worship have reopened, she's glad to finally gather in person again, though she still watches the daily services every now and then. 
On March 26 the Revere Board of Health issued a required quarantine for all Jack Satter House residents in the city's rush to protect the community. The facility was under lockdown conditions for seven weeks, though the isolation for some has lasted much longer than that. Nearly a year later, those same residents were some of the first to receive the COVID-19 vaccine. 
There have been 38 cases of COVID-19 among Jack Satter House residents, and of them, 11 have died from the virus. 
The pandemic pushed residents to worry, kept them from family during the holidays, and now, the vaccine is renewing hope. 
For Sheehan, the confinement portion of the pandemic was trying. 
"We couldn't go out, we couldn't go in the hall, we couldn't do our laundry, we couldn't do anything," she said. "And it was scary." 
The news stories on TV were "frightening" to listen to as well, and no one knew where they were going to end up or what was going to happen. 
Hoping to cheer Sheehan, one of her grandchildren stopped by and held a banner outside on the sidewalk that said "Nanny we miss you, We love you. We want to see you soon."
"That kept me going," Sheehan said. "I'm a very emotional person." 
Once she sees them, she's going in with a "hug me and hold me" mentality. 
"I miss that," she added. 
Soon residents had the opportunity to go out on their own for walks. They couldn't meet any friends or family members yet, but the fresh air was a welcomed change. On two occasions, eventually, Sheehan was able to see two of her daughters while socially distanced. 
Then winter came. 
"It's been a long, long time not seeing a family member," she said, adding "I'm very grateful for the internet because we get the opportunity to speak and see each other."
Guests still aren't allowed inside the building, and her children haven't been able to stop by to see her for walks due to the snowy weather. 
"Christmas time was the worst time of all because it was the first time in my entire life I didn't see any of my children," she said. "It's a big family, and you can't imagine when you have six daughters and you feel you can't even be with any one of them."
It also was difficult for her loved ones, who constantly checked on her to ensure her spirits were up — something Sheehan said was hard to do. 
"I was glad to see Christmas go," she added. "And usually I love Christmas."
But the weather is changing, and Sheehan said she's made a turn from "unhappiness, to a happier time now" because she knows she will be able to see them all soon. 
"I'm looking forward — making some kind of a life after this," Sheehan said. "As I get older I realize my time is running out, and I feel cheated a whole year, not being able to do some things that I wanted to.
"But I have a lot of faith, and I know that I can trust that eventually, things will get better," she said. "With hope, you know that this is going to end."
The other day Sheehan talked to her grandson over the phone and he said everyone was getting anxious to see her soon now that people are getting vaccinated. 
"And I said yeah, but you know you're a big strong guy and just make sure that you don't hurt your grandmother and you have to be able to squeeze me so you don't break my ribs," Sheehan said. "He laughed and I laughed. It was a moment for us."
Last April, Jack Satter House resident Paula Weiner told Boston.com that if the pandemic and related lockdown orders went on for longer than two months, things would likely get more difficult.
"I think I was afraid it would happen," she said. "But it just never did. I never had a problem with staying in."
Two months stretched into a year, but she hasn't found it too hard to keep her spirits high. 
Just the other day Weiner was talking to a friend who said she felt similarly. She didn't mind staying in her apartment all day and kept busy by watching TV or playing mahjong with women from Florida on her cellphone. 
Having most everyday needs taken care of by the facility's staffers, Weiner felt mostly at peace of mind. The only thing she needed to think about was connecting with the people she couldn't see. 
"I didn't have to worry about food, it's just calling family and making sure I'm staying in touch with them," she said. "I just didn't have a worry … Here, I'm not alone."
Weiner said she stays in her apartment more than she ever has, only going out every so often.
"I'm just afraid," she said.
On Wednesday nights she watches Chicago, and most days she tunes into other classic shows or plays games on her phone to pass the time — word puzzles have become a favorite. 
"I was hoping to keep my mind sharp, and I don't know if that worked," Weiner said with a laugh. "If I don't put something away where it was the last time, where I always put it, I go crazy looking for it. So I don't know if that's just old age, or if it's COVID brain. I'm not sure about that, but I'm gonna blame it on COVID." 
Weiner said her biggest project was focusing on a Bat Mitzvah class at the senior living community as she prepared for the Jewish ceremony she was never able to have at 12-years-old.
Preparations for it began in-person pre-pandemic, and everything moved onto Zoom afterward.  
"I just wish my parents were there to see that," she said. "My father was a very religious person and I think he'd be so happy." 
By August, Weiner and eleven other women dressed in celebratory attire, and each visited the chapel separately before coming together afterward for a socially distanced ritual of passing the Torah scroll between each other. 
"Everybody was happy with it," Weiner remembered. 
Throughout the rest of summer, she visited with her nieces on the beach, and sometimes she stopped by Wegmans, where another one of her nieces works. Beyond that, she hasn't been able to see many friends or family members. Instead, Weiner said "basically all we're doing is just talking on the phone."
She sees a lot of people walking around when she leaves her room to grab the mail, and sometimes she'll meet with others in the building, but not often.
"I'm not really crazy about doing that yet," Weiner said. Through participating in virtual plays and small group programs with other residents, she's found some community. 
When Weiner does get outdoors for a walk, she sometimes heads to Market Basket and picks up chicken tenders for a neighboring resident who loves the fried dish but can't go out to grab them. She'll stock up on a few things herself, and sometimes she'll head to Walmart, but more often than not she opts for items to be delivered. 
Though Weiner said the vaccine has served as a needed reminder that all the restrictions will eventually end. 
 She had heard horror stories about some older adults just trying to secure an appointment for their first shot, and not being able to, while others had to wait in lines in the cold to receive theirs. 
But those nerves melted away when the Jack Satter House brought the vaccine to its residents so they didn't have to search for it. 
"We just signed up and went downstairs," Weiner said. "And that was such a big deal. In the beginning I didn't want it, and then I spoke to my nurse and she just told me I was insane and that I needed to get it." 
So she did. 
"Oh my god like it was a load off my shoulders," Weiner said, adding how at 73-years-old she would have been just shy of the phase two first priority group and would have needed to wait longer before getting her shots. "And then I would be traveling to god only knows where."
But since the outbreak at the living facility, and as residents have contracted the virus over the holidays, getting them the vaccine was a priority. 
Revere Mayor Brian Arrigo said the first coronavirus cases at the Jack Satter House marked the beginning of the city's contact tracing operation.
"In the early days of the pandemic, we had to make some very difficult and painful decisions to protect our most vulnerable residents, and so it's a special day to be able to join the Jack Satter community as they receive their vaccinations and look forward to brighter days ahead," Arrigo said on Jan. 22 after 270 residents had received their first dose. "The residents of Jack Satter House were among the earliest and most significantly impacted by COVID-9 public health measures, and I'll never be able to fully express my gratitude to them." 
Before the vaccine arrived, when it was still just a rumor on the grapevine, Sheehan said she was scared and didn't want to take it. 
"I didn't know what was going in my body," she said. "So I held off."
Then she heard the announcement that the vaccine would be brought directly to the building. 
"My imagination was they're gonna take us somewhere and give us the vaccine, little did I know that it was going to be taken to us," she said. "That was the biggest relaxation for me. I didn't want to go out somewhere, to a foreign place that I had never been." 
The hopeful energy was visible throughout the clinic as well. 
"The fact that it did come, and the fact that everybody was so excited," Sheehan said, "I thought, well, if they're all happy I can't be all by myself saying I don't want to get it."
She said she's grateful to have had both doses now, without any side effects. 
"Whoever gave me the shots was very gentle," Sheehan added. And in the moment it happened, she prayed. 
"It felt that God was with me, and I was going to be okay, because I saw so many people around me happy and thrilled that they were getting it," Sheehan said. "At that point, I was beginning to be thrilled. It took some doing."