COVID
A Vermont college president worried about the risks of dorm isolation. So he moved in.
Col. Mark Anarumo, the president of Norwich University, had been through suicides of students during in-room lockdown. He thought he could help by moving into the dorm.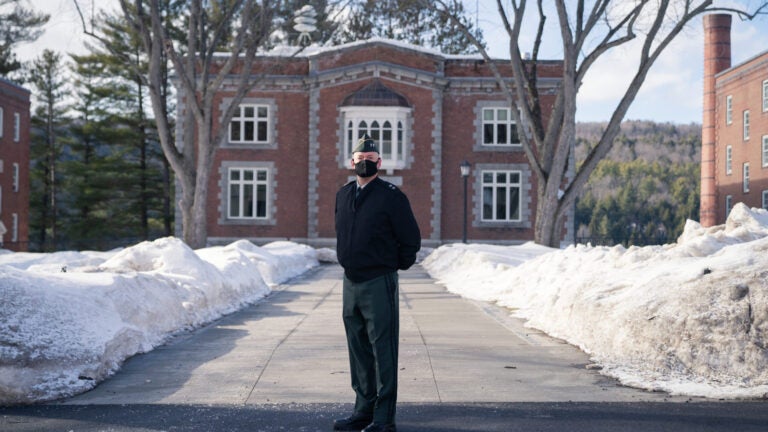 NORTHFIELD, Vt. — Derek Furtado, a sophomore at Norwich University, had just stepped out of the shower in his dormitory and was shaving, a towel wrapped around his waist, when he looked to his left and saw the figure of a man in military uniform.
"That was when my heart sunk," recalled Furtado, a cadet who plans to commission into the Coast Guard. He pulled himself together, stood at attention and said, "Good morning, sir!" The circumstances were not ideal. "He has two stars on his chest," Furtado said. "I'm in a towel."
But he would have to get used to it, because it turned out that Col. Mark C. Anarumo, the university's president, was his new hallmate.
Anarumo, a recent arrival to this private military college, had decided that the best way to support students forced to quarantine during the coronavirus pandemic was to move into their dormitory.
He had been the one who gave the order for in-room quarantine, a decision he made, he said, with a feeling "between caution and dread." He knew — because he had lived through it — that isolating students in their rooms put them in another kind of danger.
"So that's when I decided, I've got to move into the dorm," he said. Anarumo, 50, who retired from the Air Force in 2020 and has a doctorate in criminal justice, said he wanted to be treated like any other resident. That meant accepting the lone single that happened to be available, No. 512.
Why, he wondered to himself, would there be only one unoccupied single? When he arrived there, after hauling his laundry basket up four flights of stairs, he understood. On the other side of the wall, 18 inches from his bed, there was the sound of flushing toilets.
"It was loud for various reasons," Anarumo said. "I didn't expect the noise level necessarily."
'You go inside'
The risks of in-room isolation had become clear in the spring, when Anarumo was still teaching at the Air Force Academy, in Colorado Springs, Colorado. The younger cadets had been sent home, but nearly 1,000 seniors were quarantining on campus for the two months until graduation.
The conditions were strict: The seniors were in single rooms, eating takeout meals and studying remotely. If they were spotted within 6 feet of one another, they were sent on marches as punishment. Anarumo was at home, preparing to leave for his new job, when he got a call that there had been a suicide in the dormitory. Two days later, there was another.
As some parents lashed out over the lockdown conditions, the administration relaxed them, allowing seniors to double up in rooms and leave campus to buy meals. The Academy's leaders revisited all their early decisions, reconsidering the risks posed by isolation, Anarumo said.
"There's a phrase the military call 'going inside,' it means getting inside your own head," he said. "Sometimes, when you're in isolation, you go inside, and you kind of get lost in your own thoughts, without the forced interaction."
Anarumo had been through this before; over three decades in the Army and Air Force, he had lost 11 men and women to suicide. Once, he had carried home the remains of an airman back to the United States, "and the mother attacked me," he said. "It was horrible, but that was the responsibility."
By the time he arrived at Norwich as its new president, Anarumo felt strongly that the benefits of quarantine needed to be weighed carefully against its toll on mental health.
"I am concerned enough about the mental health on campus that I believe we may have a suicide if we do not break the pressure and let people leave, and incentivize their departure," he recalled telling the university's board.
Mental health researchers are just beginning to gather data on the effects of the coronavirus on the estimated 26 million college students whose lives were disrupted — in some cases sent home abruptly, and in others confined to their rooms, cut off from healthy distractions like friends and exercise.
"We're enforcing physical loneliness," said Dr. Rachel C. Conrad, director of young adult mental health at Brigham and Women's Hospital. "There's not really anything to compare it to, exactly, from our history."
In January, Norwich offered a prorated refund of room and board to any students who decided to go home. Of approximately 2,400 undergraduates, about 1,670 returned to campus by Jan. 18. They knew they would have to isolate in their rooms for a week upon their return, but there was bad news: In the first testing cycle, 32 students tested positive. Then the number climbed into the 60s and then to the 80s.
On Jan. 25, Anarumo ordered that students return to in-room quarantine. This time, they had no idea how long it would last.
'Just pretend I'm not here'
Anarumo figured he was ready for dormitory life; in Iraq and Afghanistan, he had lived for periods of three or four days in dirt foxholes, where, after dark, you could not turn on a flashlight.
Living that way was mentally draining. With few distractions, he found himself fixating on the next time he was allowed to eat. He eventually stopped smoking, he said, "because the desire for it, the anticipation, becomes anxiety." To stay alert, he would review the names and positions of all the players on his childhood Little League team.
Anarumo moved into Room 512 in what he believed was a low-key manner, posting a letter on his door requesting "ZERO special attention," he told Seven Days, a weekly newspaper. Then he closed it, leaving only for visits to the bathroom. The students knew he was there, that was clear, because they stopped playing rap music in the showers.
"They started playing 1950s doo-wop — like, how old do they think I am?" he said. "I had to put a note in there — 'Look, guys, play your music. Just pretend I'm not here.' " (It was not clear whether that message got through, he added, since the next thing he heard was "Ave Maria.")
The students were finishing their second week of in-room isolation.
The dormitories were surrounded by banks of crusty snow, and there were only a few hours of weak sunlight a day. Two-thirds of Norwich's students are cadets, living in a military-style environment. Now, the rigid structures that had defined their days — the 7:30 a.m. formation, grid of 45-minute classes and 5:30 chow — had vanished. They stopped wearing uniforms. Some felt that work and life began to blur.
Gabriel A. Williams, 19, a sophomore who hopes to join the Secret Service, recalls spending four or five days inside a 10-by-10-foot room without seeing a single person, except to brush by them in the bathroom or cafeteria, and that he "kind of shut down."
"Quarantine was a mess," he said. "I knew people who were waking up at noon, missing morning shower. They were waking up at 5:30 in the afternoon."
With no idea when restrictions would lift, it became easy to obsess about each new announcement, and the possibility that restrictions would lift. When good news did not come, the sense of disappointment could mount into something closer to anxiety.
"We are not meant to be like this, so secluded," said David J. McQuillan, 21, a junior and vice president of the student government. "I understand why some people might call it a prison."
One thing that Anarumo could do from his dormitory room was hear them out: Complaints about residential life, about the food and uncollected trash, were already simmering on social media. "The pot was boiling," Williams recalled. "People were angry, very angry around campus, very angry."
Williams had these thoughts on his mind when he dialed Anarumo's number, and they talked for half an hour about life on campus. Knowing he was in a dormitory, it was harder to stay angry, said his friend Jamaal M. Shaw, another sophomore, who was also on the call.
"We saw how he was living and also that he wanted to see what it was to be a cadet," Shaw said. "That's something. Even though it's very small, it's something, that he took that extra measure to see if morale was high."
Anarumo, a father of four, had warned students not to break quarantine rules by visiting him in person. But every now and then, he found a student waiting in a common space, craving face-to-face contact.
"They'd be waiting for me in the stairwell, all quiet," he said. "I said, 'Hey, can I help you? Are you OK? Do you need to talk?' And they said, 'Yeah.' And then I would see the tears." At moments like that, he said, "they needed to see me in person."
By mid-February, when the in-room quarantine was lifted, the number of students on campus had dropped to about 1,100. Many of those who remained had found strategies to cope with isolation.
Meredith A. Osburn, 21, a junior who hopes to become a nurse, said she wrote out a detailed schedule each day in a planner and stuck to it, which she said increased her sense of accomplishment. McQuillan created physical quadrants within his room — one desk for work and one for play — to break up the undifferentiated days. Williams, finding himself in a "dark place," asked to be placed with a roommate.
Furtado, 19, the sophomore who ran into the president in the shower, said the quarantine had forced him to "downshift," after years of two-hour swim practices and regimented workouts. The experience gave him no choice but to, as he put it, "slow down to a walking pace." He tried yoga.
"Everybody travels so fast that they don't get a chance to slow down," he said. "Rather than go a million miles an hour and go on to the next thing."
Anarumo's stint in the dormitory ended after five days so he could travel to Colorado on university business. By the time he returned to campus, the number of infections was dropping fast, and students were soon allowed to play sports and socialize with others in their own dormitories.
This week, the number of positive cases on campus dropped to zero.
That does not mean Anarumo has stopped worrying about what students may be going through in their rooms, he said. "I will always be scared to death," he said. "Even when everything's perfect."
He plans to return to a dorm on campus this month.