COVID
What to know about the COVID-19 vaccination effort in Mass. this week
A weekly roundup of vaccination information you need to know.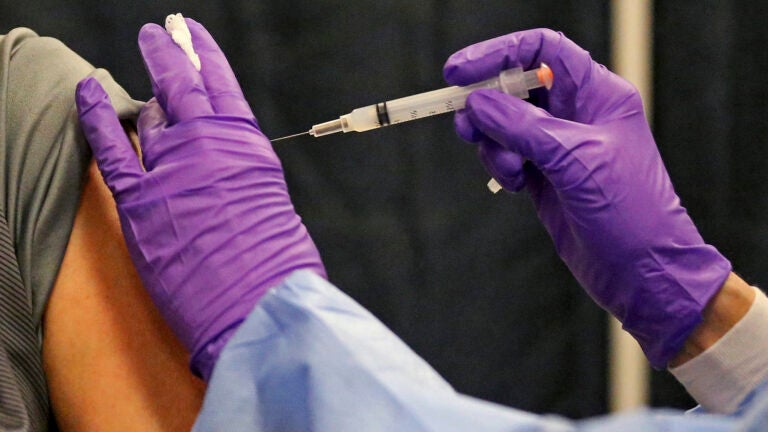 Massachusetts continues to press on in the effort to vaccinate state residents as quickly as possible to protect against COVID-19.
Officials have been providing frequent updates on the endeavor to get doses of the COVID-19 vaccines into the arms of state residents — encountering more than a few snags along the way. Below, we have a summary of what you should know this week about the vaccination rollout in Massachusetts:
Gov. Charlie Baker announced last week that the state will allow educators to begin signing up for appointments at all vaccination sites starting Thursday, March 11. The update came after the federal government moved to make the COVID-19 vaccines available to teachers at pharmacies. The update from Baker also came as local pressure ramped up on the governor to put out a more "aggressive" teacher vaccination program, with the state pushing to require schools to begin fully reopening in April.
Earlier in the week, some lawmakers were pressing Baker to give teachers priority access to the Johnson & Johnson vaccine. State Rep. Patrick Kearney and 20 other legislators requested that the roughly 72,000 public school teachers, as well as administrators and staff, be given the Johnson & Johnson vaccine "so that when they are forced back into the classroom by DESE it is safe."
The letter was published a few days before Baker moved to open vaccine eligibility to teachers, but efforts to facilitate the quick inoculation of educators continue to be put forward this week. Unions representing teachers and firefighters are expected to meet Wednesday with the state's health and human services secretary to present their proposal to have firefighters administer COVID-19 vaccines to school workers, The Boston Globe reports.
Baker said last week that the expectation is that an initial shipment from Johnson & Johnson to Massachusetts will include "thousands" of doses from the company's current 3.9 million-dose inventory. The governor said he expects those doses to be distributed "pretty evenly" across the network of small and large vaccination sites in the state. But the initial shipment will be followed by a "pause" in deliveries for a few weeks as Johnson & Johnson ramps up production.
"You probably won't see really significant amounts of additional vaccine until later this month," Baker said.
Barnstable County officials announced last week that they will dispense 1,200 doses of the one-shot vaccine this week, starting with about 600 doses on Tuesday and about 600 more on Thursday at the Cape Cod Community College gymnasium.
The newly-approved vaccine doesn't need to be kept frozen or followed by a booster shot, like its Moderna and Pfizer counterparts. Officials, including Baker, are raising concerns that even if decisions to send the shots to harder-to-reach communities make practical sense, doing so could drive perceptions of a two-tiered vaccine system — with marginalized communities potentially feeling they are getting an inferior vaccine. In a call between governors and Biden administration officials, Baker stressed the need for health officials to clearly communicate the benefits of the one-shot vaccine.
In what is becoming a weekly occurrence, the number of new vaccination appointments posted Thursday for Massachusetts were filled within hours after their release, which state officials blamed on a limited supply of doses from federal authorities.
No new first-dose appointments were available at three of the state's mass vaccination sites — Fenway Park, Gillette Stadium, and the Reggie Lewis Center  — last week. By 10:40 a.m., the state announced that all appointments at mass vaccination sites had been booked.
"Unfortunately due to limited supply, it will take about a month for all eligible residents to secure an appointment," officials wrote on Twitter. "Thank you for your patience. Please check back next week."
In the three weeks leading up to last week, Massachusetts had been posting upwards of 50,000 new vaccine appointments online each Thursday for the state's mass vaccination sites. But last Thursday morning, just 12,000 such slots were available — and none at three of the state's largest sites.
Baker said last week the main reason for the change was that it's time for residents who already got their first dose at those high-volume locations last month to get their second dose. And since there has been no major increases in total supply, those second doses are taking up an increasingly large percentage of the state's available vaccines. Baker estimated that more than 70 percent of the shots being given at mass vaccination sites this week are going to be second doses.
The governor said the lowered number of first doses is going to be a "constant issue" until the state's supply of vaccines increases.
Massachusetts spent almost two decades and millions of dollars developing a blueprint for how the state would mobilize its network of local public health departments in response to an emergency situation, but The Boston Globe reports the state quickly abandoned that plan after the first COVID-19 vaccine was approved, opting instead to hire private companies to run its mass vaccination sites.
"The state has invested in this," Dartmouth public health director Christopher Michaud told the newspaper. "They took the playbook, threw it in the dumpster, and privatized the whole thing."
Massachusetts is reportedly paying more than $1 million per week to the for-profit startup CIC Health that is running the mass vaccination sites at Fenway Park and Gillette Stadium.
Read the full report at the Globe.
Baker announced last week that the mass vaccination site at Fenway Park will be moved to the Hynes Convention Center later this month, ahead of plans to allow fans back at the ballpark for Red Sox opening day April 1.
According to the governor, the Hynes Convention Center site — located a half-mile away in Boston's Back Bay — will begin accepting patients on Thursday, March 18. Fenway's last day as a vaccination site will be Saturday, March 27.
Boston rolled out a pilot version of the city's mobile coronavirus vaccine clinic on Friday, beginning at the MLK Building in Roxbury. The mobile clinic consists of EMTs and paramedics who set up sites inside the designated building where they're stationed for the day.
Marty Martinez, chief of health and human services for the city, said last week the mobile clinics will first focus on Boston Housing Authority buildings, which house older adults and people with disabilities. As more doses become available and eligibility expands, the city will look to expand the program. With spring weather in the near future, Martinez said officials are also considering holding outdoor pop-up vaccination sites at parks and courtyards throughout Boston.
The state of the vaccination rollout in Massachusetts
The number of people who have been fully vaccinated (as of Sunday): 703,676.
According to The New York Times vaccine rollout tracker, Massachusetts falls in the bottom half of states based on the percentage of residents who have received both vaccine doses (9.6 percent). But Massachusetts is in the top 10 based on the percentage of the state population who have received one dose (21 percent). See how Massachusetts compares to other states and U.S. territories here.
General COVID-19 vaccination information to know
Here's who is currently eligible for booking appointments:
Phase 1
Listed in order of priority:
Phase 2
Listed in order of priority:
Effective March 11
Here's who will be eligible next:
Frontline and essential workers, including transit, grocery, utility, and sanitation workers, are up next. See the full list here.
Here's how to make an appointment:
Search for and book a vaccination slot through the state's VaxFinder: https://vaxfinder.mass.gov/
Or visit: mass.gov/covidvaccine
Those who are 75 or older can connect with the state's vaccine hotline operator by dialing 2-1-1 Monday through Friday from 8:30 a.m. to 5 p.m. (press 2 for the call center).
According to the state, the mass vaccination locations will post their new appointments on Thursdays when they update their schedules, while smaller locations offer fewer slots and tend to update their schedules daily.
A map and list of COVID-19 vaccination sites in Massachusetts: