COVID
Boston doctors send letter to Biden administration urging action on global COVID-19 vaccine inequities
"Transmission anywhere is a risk for transmission everywhere."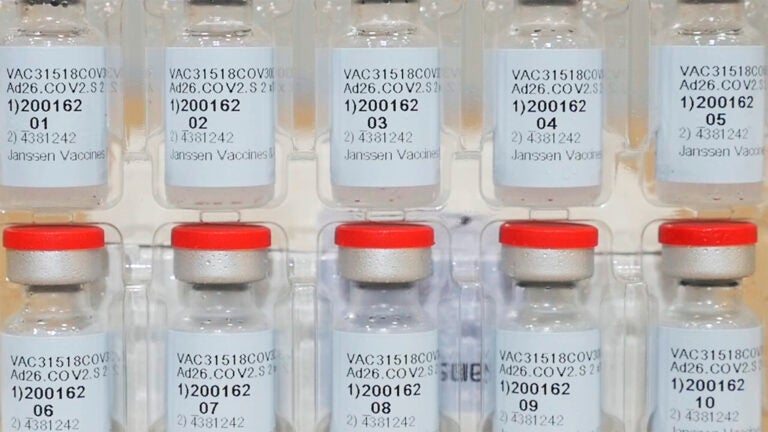 Dozens of doctors and infectious disease experts in Boston are sounding the alarm, seeking to draw attention to global inequities when it comes to access to COVID-19 vaccines.  
In a letter addressed to the Biden administration last week, the physicians from local institutions — including Massachusetts General Hospital, Brigham and Women's, Beth Israel Deaconess Medical Center, and Harvard Medical School — presented their concerns with a call for global solidarity as countries move forward in the coronavirus pandemic. 
"We believe that every human life has equal worth, and the current reality of vaccine production and distribution, which results in the vaccination of residents in high-income countries while leaving billions of people in low- and middle-income countries without access, is a deep moral failing," the doctors wrote in their letter. 
Dr. Louise Ivers, executive director of the MGH Center for Global Health and interim chief of the infectious diseases division at Mass. General, told Boston.com the letter emerged as concerns grew among physicians, scientists, and administrators working in global health and infectious diseases watching the rollout of vaccines in the United States and elsewhere. 
"We collectively determined that one way for us to express our solidarity and our interest in this issue and the way for us to raise concerns would be to write this letter," she said. 
The medical professionals lay out a series of steps in the letter for the Biden administration and leaders in the pharmaceutical industry to take in order to address their concerns about the "profoundly unequal" distribution of vaccines globally.
Ghana received its first shipment of vaccines in late February, more than two months after the United States and other high-income nations began rolling out inoculation campaigns for their residents, the doctors point out in their letter. 
"The United States and other high-income nations have secured, through pre-market agreements, enough vaccine doses to immunize more than their entire populations," the physicians wrote. "Of the 128 million doses administered worldwide by mid-February, 75% were administered to residents of 10 high income countries, while 130 other nations had not yet received a single dose."
Join us in our call to @POTUS and leaders of the United States pharmaceutical industry to commit to more equitably distributing the #COVID19Vaccine. Thread (1/6)

Read and sign the letter: https://t.co/i1tCzOhg9w pic.twitter.com/hHnl4SyPhP

— Global Health @ MGH (@GlobalHealthMGH) March 8, 2021
'For no good reason'
Ivers told Boston.com there are direct impacts on people and countries if they are not able to get access to vaccines. If health care workers don't get protected with the vaccine, not only will countries see the  impact on those front line workers, but there will be other implications for their health care systems as well. Health care workers cannot take care of other illnesses because they are becoming infected with COVID-19, she said. 
If there isn't substantive rollout of the vaccine, ongoing transmission of the virus in communities and places where the inoculations are not available will continue.
"If we don't get access to the vaccine all around the world, we might see variants continue to emerge from communities that are not vaccinated, and they could be variants that are stronger against the vaccine, they could be transmitted more," Ivers said. "If we don't control the virus in all places, we risk the virus, including variants, coming back around to infect other communities again."
Historically, medical and biomedical innovations that the United States or Europe have had access to immediately have taken a very long time to get elsewhere in the globe, especially to poorer nations, the doctor said. 
That delay, Ivers said, has been "for no good reason" beyond that the countries have not been in a position to purchase the innovations. 
"This is true in other vaccines, it's true in pneumonia vaccines for children, it's been true in other discoveries," the infectious diseases chief said. "So what we're calling for is for us to not to allow history to repeat itself, and not to allow us to stand by and just wait for less well-off countries to get access to a vaccine that is really critically important to containing the pandemic."
Ivers said she and her colleagues are also raising the moral question of why all of one country should be vaccinated, when another country doesn't have any health care workers inoculated against the virus because they don't have the financial ability to purchase, much less hoard and stockpile doses. 
In their letter, the doctors sought to remind the public and officials of the notion that some innovations — such as vaccines — should be considered a public good and not solely as something private only to be held for profit. 
"We are calling on the vaccine manufacturers and the leaders of the pharmaceutical industries to strongly consider if they can deliver a notion of global solidarity, whereby we're asking them to be part of this flexibility around intellectual property and sharing their knowledge with other countries to be able to produce the vaccine for themselves, even if they're not able to produce enough here," Ivers said. 
The idea of working together, of the globe being in the pandemic together, was a common theme during the first surges of COVID-19 in March and April last year, the doctor pointed out. 
That message and talk of solidarity has not translated to equitable access to the vaccines. 
"We have this amazing biomedical achievement," she said. "They're such a phenomenal contribution to the pandemic and really are our light at the end of the tunnel. So, the idea that only some people who are privileged enough to by chance live in countries where we have access to this can benefit — we're trying to really renew those conversations from last spring about solidarity, focused on the notion of a global solidarity."
Ensuring and pushing for equitable access to COVID-19 vaccines on the global level would not just save the lives of people who otherwise will be hospitalized and potentially die from the disease, it will bring economic benefits by allowing those countries to open up and stabilize their economies and businesses, allowing people to get back to work and school.  
"We think it's a really important issue of fairness and justice and equity to make sure that that happens," Ivers said. 
Getting people to 'step back'
The doctor said she believes one of the challenges in achieving the steps she and her colleagues are pressing for is getting people to "step back" for a moment from the focus on their immediate communities, which they have been understandably zeroed in on, to see that work can be done simultaneously at home and globally on the vaccine rollout.
"Focusing on your own families, your own communities, your own region is a natural human instinct at first," Ivers said. "I do think the fact that we have had such a devastating pandemic in the U.S., in Massachusetts, in Boston — that is obviously at the forefront of many people's minds … We don't have to choose one or the other, we don't have to say we have to work at home only or globally. I think it can be hard for people to reconcile that."
Humans, she said, tend to take the notion of scarcity as natural, so people are likely to believe by default that there are not enough vaccines and it is necessary to hoard them in order to take care of the immediate communities.
Doing so, neglects the fact that scarcity of vaccines does not have to be the "natural state," Ivers said. 
"We could actually make choices that would allow us to have this massive amount of vaccine in production," she said.  
The other challenge in achieving equity in vaccine access, according to the doctor, is profiteering.
"We have a system that is allowing certain private companies to profit tremendously" Ivers said.  "I'm not trying to make a statement against any profits, but I think in a global pandemic one might ask — what's the limit on profit that's needed and wouldn't it be more just and more fair to actually have a global solidarity than to just continue to accumulate profits for small groups of people or small groups of industries? I think that's a big hurdle to get over."
The recommendations Ivers and her colleagues make range from committing additional funding to COVAX, the World Health Organization's facility for global vaccine distribution, to ensuring that pharmaceutical manufacturers use their "full production capacity to manufacture currently approved vaccines."
Ivers is hopeful that the public will get behind the call for equity, knowing that in addition to the moral and economic reasons for pushing for greater access, there is still a need to extinguish transmission of COVID-19 in order to protect everyone from new variants. 
"Transmission anywhere is a risk for transmission everywhere," she said. "You can't really contain a pandemic in just one place and think that you're going to be successful in the long term."
Read the full letter below: