COVID
Massachusetts lawmakers say grocery store workers are not being 'treated equitably' by vaccine rollout
The group is urging Gov. Charlie Baker to further prioritize supermarket employees.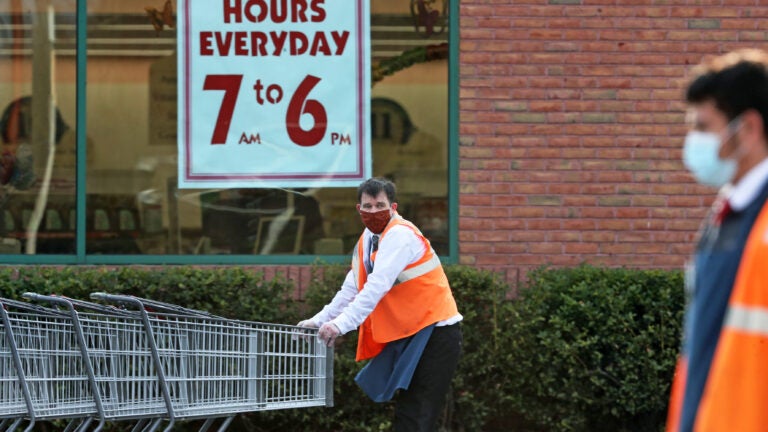 Massachusetts recently moved up teachers in the state's vaccine rollout. Now, several dozen lawmakers are calling on Gov. Charlie Baker to give grocery store workers the same treatment.
In a letter Tuesday, 35 state lawmakers, led by Sudbury Rep. Carmine Gentile, implored Baker to "prioritize the vaccination of supermarket workers in a most expeditious manner." Gentile noted that grocery store workers are disproportionately people of color, a community that has been hard hit by the pandemic due to structural inequities.
Joined with 34 colleagues in the Mass House & Senate today calling for @MassGovernor to prioritize vaccination of supermarket & grocery store workers, many of whom are Black or Latino- 2 groups suffering elevated % of COVID-19 infections and deaths.

— Carmine Gentile (@CarmineLGentile) March 9, 2021
In their letter, the group of Democratic state representatives and senators said that grocery workers "have not been treated equitably by the vaccination roll-out."
"Each time a supermarket worker begins their shift they are exposed to the virus by community spread," they wrote. "Yet every day, 24 hours a day, 7 days a week, supermarket workers report to their shifts and remain on the bottom of the vaccine roll-out process."
Supermarket workers aren't quite at the "bottom" of the state's three-phase vaccine rollout. Rather, they're included in the third priority group in Phase 2 along with a number of other frontline workers.
Educators had also been lumped into that group. However, Baker announced last week that they would allow teachers and other school staff to begin signing up for appointments at any of the state's vaccination sites this Thursday, after President Joe Biden moved to make them eligible to get a vaccine at pharmacies participating in a federal vaccine partnership. The decision also came as the Baker administration moves to force all public elementary and middle schools to resume in-person classes five days a week by next month.
Due to the limited supply of vaccine doses, officials say it will likely take until mid-April before everyone in the currently eligible group — which also includes residents over the age of 65 or with at least two qualifying medical conditions — secures a first-dose appointment.
The letter Tuesday comes after unions representing transit and supermarket workers spoke out last week, arguing that it was unfair they were being left behind as teachers were moved up in the process.
The United Food and Commercial Workers International said this week that, across the country, 139 of the 835,000 grocery store workers represented by the union have died due to COVID-19. At least 530 of the country's 3.5 million educators have reportedly died from the virus.
Baker said last week that the reason the administration moved teachers up in the process was to be consistent — and avoid confusion — with newly changed federal guidelines allowing educators to get a vaccine at certain retail pharmacies. The Republican governor also reiterated that the state is currently constrained by the limited supply of doses.
"I think it's unfair that I can't currently vaccinate everyone in Massachusetts who wants to get vaccinated," Baker said. "But it's a fact, it's a reality — until there's more vaccine, we're going to be playing this this waiting game."