COVID
Live updates: The latest news on the coronavirus pandemic in Massachusetts
Follow the latest reports on COVID-19 in Massachusetts below.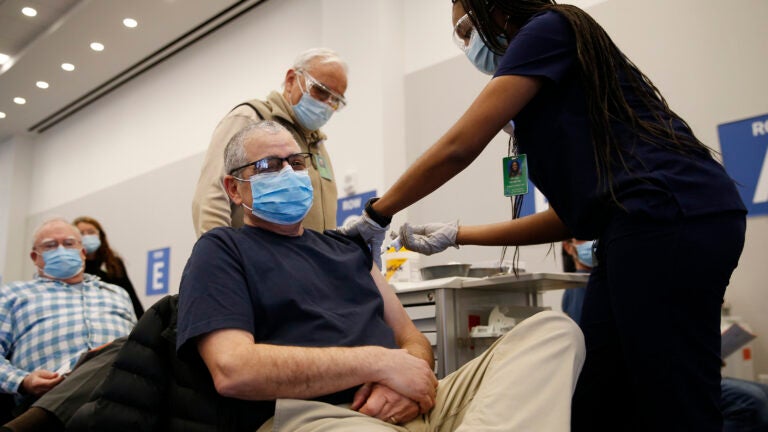 State officials say all mass vaccination site appointments for next week have been booked (March 11)
Massachusetts posted 40,000 new first-dose appointments at the state's mass vaccination sites for next week Thursday morning.
Officials announced shortly before 11:30 a.m. that they had all been booked.
Starting Friday, March 12th, all appointments at mass vaccination locations will be booked through the Google Cloud preregistration system. Eligible people will be able to preregister tomorrow at https://t.co/pdiq2gijKq

— Mass.gov (@MassGov) March 11, 2021
Thursday morning was the last time the state will post mass vaccination appointments in bulk. Beginning this Friday, the state is transitioning to a pre-registration system for mass vaccination sites, in which residents can provide eligibility and contact information ahead of time and receive a notification when it's their turn to book an appointment.
Gov. Charlie Baker also said Wednesday that around 63,000 new appointments will be made available next week at local boards of health and regional collaboratives in Massachusetts. According to Baker, those sites will post appointments "more regularly than once a week." Eligible residents can continue using the vaxfinder.mass.gov website to locate sites near them.
Baker said another 95,000 first doses are being allocated through the federal pharmacy partnership to CVS vaccination sites in Massachusetts for the coming week.
CVS makes 34 additional Mass. locations COVID-19 vaccination sites (March 11)
CVS has added 34 of its locations to its list of COVID-19 vaccination sites in Massachusetts, making the total count 85, spread throughout the state, according to WHDH.
The CVS website indicates that the shots are being given for free, and that those eligible to receive a vaccine need to make an appointment.
As of Thursday morning, all locations in the state were listed as "fully booked," according to the site.
Massachusetts has added teachers and school staff to the list of those eligible to receive a vaccine, and as of Thursday they were allowed to make appointments at state vaccination sites, although appointments have been available for teachers at CVS since last week.
Worcester wants a waiver to state's school return requirements (March 11)
WORCESTER, Mass. (AP) — The school superintendent in Massachusetts' second-largest city says she will seek a waiver to rules announced earlier this week by state education officials requiring districts to move to full-time, in-person learning by April.
Worcester Superintendent Maureen Binienda told The Telegram & Gazette on Wednesday the district already has a plan for a return to the classroom and she doesn't want to upend it.
The state is requiring a return to full-time, in-person classes for elementary school students on April 5 and for middle school students on April 28. The return date for high school students remains undetermined.
Binienda said she will seek a waiver to put off the start of full-time, in-person learning for kindergarten through eighth grade in Worcester until May 3. The district has plans to brings some high needs students to the classroom part-time later this month. Worcester is currently still in remote learning.
If the district's waivers are denied she said she would have to meet with the school committee to discuss the situation.
— Associated Press
Mobile vaccination clinics to be held at 7 Boston faith centers (March 10)
A mobile vaccination clinic will be making the rounds to seven Boston churches in neighborhoods at high risk for the coronavirus throughout the month of March.
The program, operated by the Whittier Street Health Center, begins Wednesday, March 10, at Pleasant Hill Baptist Church on Humboldt Avenue in Dorchester, where teams will administer vaccines to recipients eligible under Phase 2 of the state's vaccination plan from 10 a.m. to 4 p.m., according to a statement from the health center.
Each church will receive 150 doses of the Moderna vaccine.
"Whittier requires sufficient space for three vaccinators, two registration clerks, and two health ambassadors. Our goal is to administer 25 vaccines per hour to spread out the schedule, avoid crowding and prevent long waiting periods," Frederica M. Williams, president and CEO of Whittier Street Health Center, said in the statement. "Since launching our COVID-19 initiatives with faith-based leaders, we have seen a promising response from members of the community. Our faith leaders have done an amazing job supporting the testing activities throughout the pandemic, and we are excited to see the vaccines soon go out to their facilities so we may begin assisting the minority communities in our area."
According to Williams, the mobile clinics will head to public housing developments next. The team will return to the churches in April to administer second doses of the vaccine.
See the full mobile vaccination clinic schedule.
— Christopher Gavin