Coronavirus
Massachusetts is launching a vaccine preregistration system Friday
Here's how it works.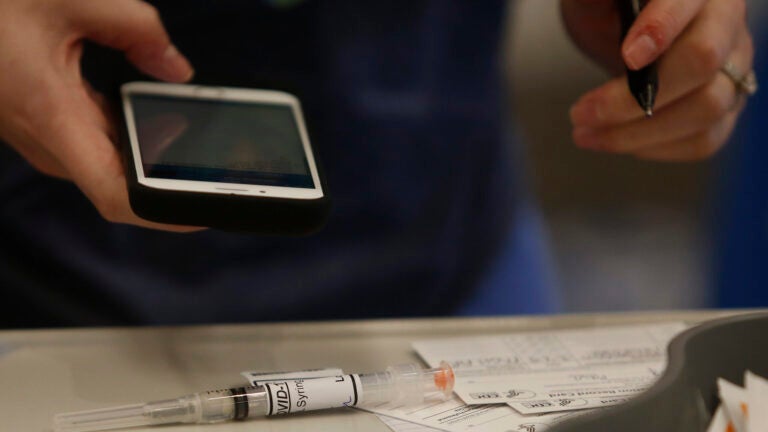 All Massachusetts residents will be able to register ahead of time for a COVID-19 vaccination appointment, under a new preregistration system Gov. Charlie Baker's administration is launching this Friday, overhauling the way Bay Staters have secured time slots at the state's mass vaccination sites.
"The process will hopefully ease some of the anxiety, and the burden folks have been experiencing trying to secure an appointment because of the constrained supply of vaccine," Marylou Sudders, the state's health and human services secretary, said during a press conference Wednesday.
Officials say the new system will initially only allow individuals to pre-register for an appointment at the state's seven mass vaccination sites when it goes live mid-morning Friday. It will be available through the state's mass.gov/covid-19-vaccine website, as well as through the 2-1-1 vaccine hotline for older residents.
How does it work?
Residents start by filling out an online form with basic information like their name, address, and eligibility information, such as age, occupation, and whether they have any prioritized medical conditions. The form will also ask for residents' email address and phone number, and whether they prefer to be contacted by email, text message, or phone call.
Once registered, residents will be added to a list and appointments will be offered to those who are eligible under the three-phase rollout on a rolling basis.
Sudders says residents will get a notification a day before it's their turn and appointments are available in their area.
The next day, those who selected email or text as their preferred contact method will receive an individualized link that only they can use to view and book an available time slot at one of the seven mass vaccination locations (Gillette Stadium in Foxborough, Fenway Park in Boston, the Reggie Lewis Center in Boston, the DoubleTree in Danvers, the Eastfield Mall in Springfield, the Natick Mall, and the former Circuit City in Dartmouth).
Residents will have a 24-hour window to book their appointment after they're sent the link.
"So don't panic," Sudders said.
Those who don't book an appointment during the 24-hour window simply go back onto the list to wait for another appointment.
Residents who selected a phone call as their preferred contact method will receive a call with information for booking the appointment online. During the initial preregistration process, they will also have the option to request help over the phone with booking an appointment.
According to Baker, residents will get weekly updates on their registration status. They can also opt out of the system if they find an appointment another way (or for any other reason).
"People should keep in mind that it will probably still take several weeks for eligible residents to be notified that there is an appointment available for them, because we're still receiving a real limited federal supply of vaccine doses," Baker said.
The preregistration system will replace the current process, in which thousands of mass vaccination site appointments for the following week are publicly made available in bulk each Thursday morning. Baker said this Thursday will be the last time appointments will be posted that way. After that, all mass vaccination site appointments will be booked through the preregistration system.
"So you can try and secure a mass vaccination appointment tomorrow morning through the traditional [vaxfinder.mass.gov website]," Baker said Wednesday. "But if you're not successful, you can plan to pre-register on Friday, and then be notified on a first come, first serve basis."
The announcement comes amid mounting pressure from state and federal lawmakers — including nearly the entire Massachusetts congressional delegation — for a preregistration system, amid criticism of the current signup process, which involved hundreds of thousands of residents rushing onto the administration's beleaguered vaccine website each Thursday morning.
"Wow! What a great idea, @MassGovernor," state Sen. Diana Dizoglio, who filed legislation in early February to create a preregistration system, sardonically tweeted Wednesday, questioning why the process hadn't been set up earlier.
Baker had said that creating a preregistration website, which other states have done, posed some technical challenges, given the number of different signup systems used across the more than 170 vaccine sites in Massachusetts.
During the press conference Wednesday, the governor said that officials are planning to incorporate other local vaccine providers into the new system by April, in addition to the mass vaccination sites.
Baker said the preregistration system is intended for currently eligible residents: residents over the age of 65, those with qualifying medical conditions, and — beginning this Thursday — K-12 school employees. However, he also said that any resident — regardless of age, occupation, or health status — could register; they just won't be offered an appointment until their group is eligible under the three-phase rollout.
"We prefer people to sign up if you're eligible, but if people want to sign up otherwise, sure," he said.
Asked if the system if prepared for the rush of traffic Friday due to its "first come, first serve" nature, Baker noted that the tool was built in partnership with Google's Cloud computing platform, which has set up preregistration sites in other states and done pressure tests in preparation for Friday.
"They're pretty confident that we won't have any issues," Baker said.