COVID
Massachusetts relaxes COVID-19 travel restrictions for fully vaccinated individuals
Maine and Vermont recently made similar exceptions.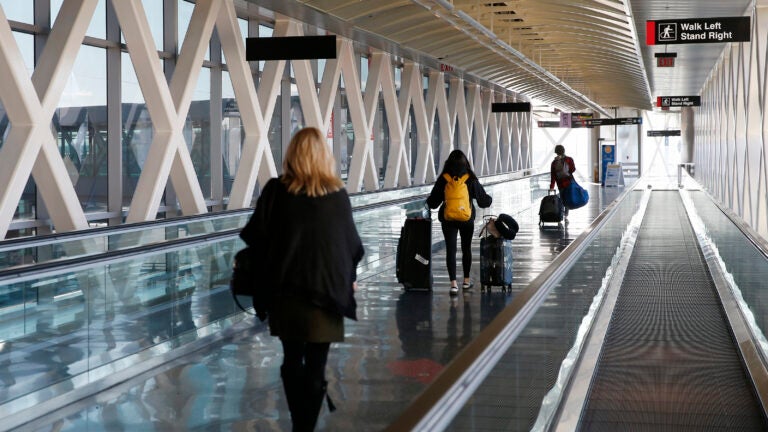 Individuals who have been fully vaccinated against COVID-19 for at least 14 days are no longer required to quarantine or have a recent negative test result upon arriving in Massachusetts, under a new exception quietly made to the state's emergency travel rules this week.
The updated rules — which apply to most people visiting or returning from states with high COVID-19 rates — say that asymptomatic individuals who have gotten both doses of the Moderna or Pfizer vaccine or a single dose of the one-shot Johnson & Johnson vaccine more than 14 days ago do not need to quarantine for 10 days or have a negative COVID-19 test upon arrival in Massachusetts.
The change, which was first reported Wednesday afternoon by WCVB, appears to have been made Monday, according to archived versions of the state's website.
Maine and Vermont made similar exceptions to their otherwise strict travel restrictions in recent weeks for vaccinated individuals.
The updated rules in Massachusetts say fully vaccinated visitors must still have documentation of their shot(s), including the date(s) of administration, available if asked. The exception also does not apply to vaccinated individuals who have symptoms of COVID-19.
#BREAKING: Massachusetts quietly changes travel order to say fully vaccinated individuals do not need to test negative or quarantine upon their arrival in Massachusetts. #WCVB

From https://t.co/eexWXRJ9C1: pic.twitter.com/HfXti5sgA8

— Ben Simmoneau (@bensimmoneau) March 10, 2021
According to the Centers for Disease Control and Prevention, nearly 33 million Americans — or 10 percent of the population — have been fully vaccinated.
The CDC also released guidelines this week saying that fully vaccinated individuals can gather indoors with other vaccinated people, as well as households where everyone is at low risk to COVID-19, without masks or social distancing. However, the federal agency is still discouraging all individuals against nonessential travel.
The new travel exception in Massachusetts comes as officials have exempted an increasing, if far-flung, number of states from the quarantine rules in recent weeks, due to declining national COVID-19 rates.
As of this week, non-vaccinated people traveling or returning to Massachusetts from anywhere besides Hawaii, Missouri, Oregon, Puerto Rico, or Washington state still have to adhere to the rules.
Violators could be hit with fines beginning at $500 per day.
However, it's unclear how tightly the restrictions have been enforced since the the threat of fines was added in July. While there are some limited exceptions for cross-state travel, WCVB reported in December that the number of visitors who had filled out the required travel form since August was dwarfed by the number of people of who had flown into Boston's Logan Airport during that same time period (and that doesn't count visitors traveling by car or train). At the time, state officials also told the outlet that no fines had been issued.
Get Boston.com's browser alerts:
Enable breaking news notifications straight to your internet browser.